Lady Gaga wants you to feel her pain in the Netflix documentary 'Five Foot Two'
Reporting from Toronto —
"Do I look pathetic?" Lady Gaga asks, covering her face with her hands to hide her tears. She is lying on a couch in her apartment, only a towel covering her body. A physical therapist places an ice pack on her cheek and massages her head.
"I'm so embarrassed," she says, sobbing quietly.
For the past few years, the musician has been suffering in private like this from chronic pain that began after she broke her hip in 2013. She's spoken publicly about the injury before — describing how MRIs revealed she had a quarter-sized hole in her hip — and this month told fans she'd been diagnosed with fibromyalgia.
But a new documentary about the 31-year-old exposes the extent to which the condition has affected her life. "Gaga: Five Foot Two," which begins streaming on Netflix this Friday, is suffused with raw moments like the one of the pop superstar — born Stefani Germanotta — crying on her couch. Directed by Chris Moukarbel, the film follows Gaga over the course of a year, through the release of her most recent album "Joanne," her breakup with fiancé Taylor Kinney and her performance at the 2017 Super Bowl halftime show.
It's a portrait of an artist who has little emotional filter, someone unafraid to be vulnerable with those around her: She cries when meeting fans. She cries playing a new song for her grandmother. She cries over how lonely she feels at night. She cries in the recording studio. And she cries when her body hurts.
"You have to cry. It's not good to keep things inside. It makes you sick," she says. She is sitting in a hotel conference room, empty save for two awkwardly placed chairs, hours before the documentary premieres at the Toronto International Film Festival. Her bottom lid is lined with thick black and gold glitter, and she is wearing platforms that are at least seven inches high and look like an extreme version of a heel an exotic dancer might wear.
She has spent the past two nights performing concerts at a local arena, but will announce just over a week later that she must reschedule the six-week European leg of her Joanne world tour because she is "suffering from severe physical pain that has impacted her ability to perform."
As fans, so often we're cynical about these types of announcements — surely she isn't that sick. Maybe ticket sales were bad. Maybe she's just over it.
But Gaga is hopeful the film will show just how real her pain is — and the level of obligation she feels to her fans. Why, for instance, doesn't she just sit at a piano and sing instead of forcing herself to perform elaborate dance routines?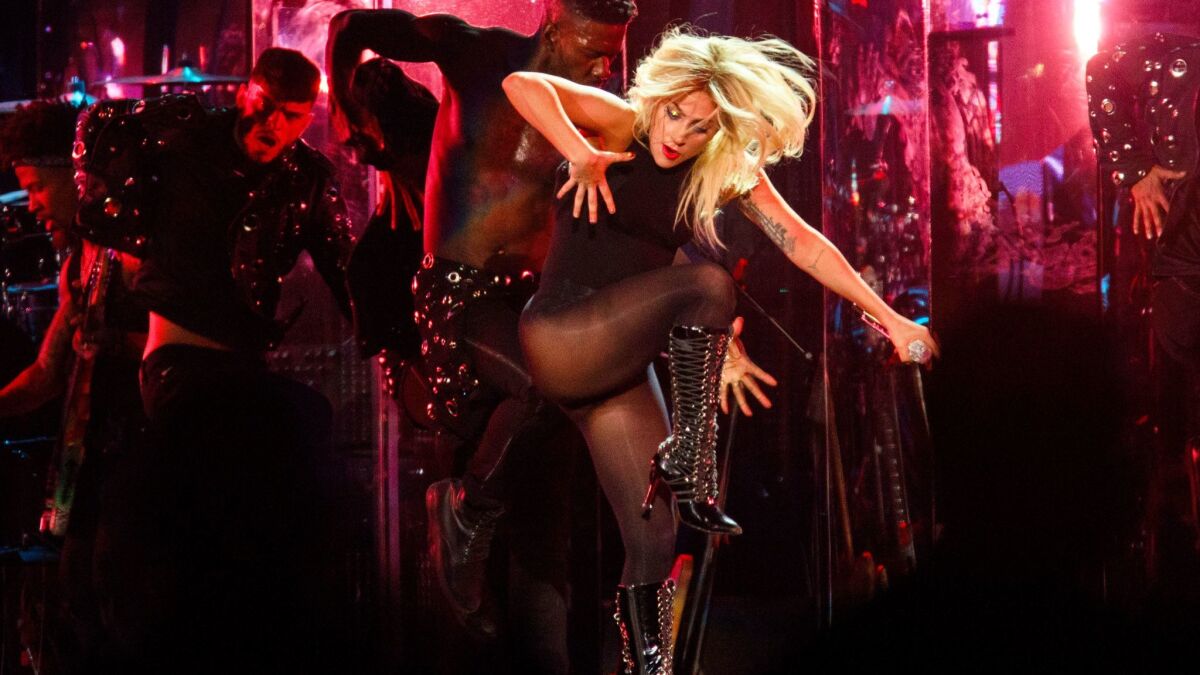 "Because I can't let it take me down," she says, referring to her condition. "It's me honoring who I am, honoring my message to my fans since the beginning. If you feel at a deficit, if you feel like an outsider or alienated in some kind of way — and pain and anxiety, for me, is extremely alienating — you can't give up. If I were to give up, it would be against everything that I stand for."
Last year, Gaga's longtime manager Bobby Campbell casually began discussing the idea of a documentary with Live Nation — which produced the film — and the entertainment company suggested Moukarbel as director. The filmmaker had made similarly personality-driven docs, including one about the street artist Banksy and another focused on Chris Crocker, the "Leave Britney alone!" guy.
After meeting with Campbell, Moukarbel was given a test run with Gaga in June 2016, when he was told to show up at her Malibu home with his camera. He arrived to find her makeup-less, dressed in a tiny bodysuit and sweatpants, cooking chicken in her kitchen. Within minutes, she was talking about a fight she was in with Kinney, explaining how she no longer had a tolerance for "bull … with men."
"I trusted that Chris was approaching the film from a place of respect, so I never worried anything [Gaga] may say or do would turn into something salacious or sensational," Campbell wrote in an email. "I wanted her to feel free enough to truly be herself and allow the cameras to disappear. I was never interested in creating a documentary that was a hyper-produced, filtered look into her life. This was about allowing her to feel empowered in her vulnerability."
I didn't want it to be a commercial for me and why you should love me and think I'm perfect.
— Lady Gaga
Gaga agreed to let Moukarbel trail her only if she never felt aware of the cameras surrounding her, meaning the director often had to shoot all the footage by himself. "If anyone had been standing there saying, 'How are you feeling?' the whole time, this deal is off," Gaga recalls. "I wanted to fully invest in being the subject of this documentary as opposed to the director. I didn't want it to be a commercial for me and why you should love me and think I'm perfect."
That being said, there were instances when Gaga asked Moukarbel to turn off his camera — usually when a scene involved those other than herself — and he always obliged.
"She could have stopped the film at any point. I'm not in the business of trying to humiliate people," acknowledges the director. "I can totally imagine people going into this really cynical about it. But this isn't some objective truth. This isn't journalism. She's not a politician. I'm not breaking some story. It's an impressionistic portrait I made about someone I'm really fascinated by, and I think a lot of people are."
When Moukarbel caught a particularly personal moment on a hot mic, for instance — Gaga was in a different room talking to her assistant, who had sound equipment on — he requested her permission to use the audio in the film. The clip ended up being one of the most raw in the movie, with the singer discussing how she goes "from everyone touching [her] all day and talking at [her] all day to total silence."
"All these people will leave, and then I'll be alone," she says, her voice quaking.
"There's no reason to lie and put a bow on it to make it look pretty in the times when it's not," she says now. "It's very different living in the public eye all the time. It changes you. It's extremely isolating, and it is even more isolating when the world thinks that you're living the high life."
If Moukarbel had filmed Gaga at the start of her career a decade ago — when she was more into meat dresses and mile-high wigs and Kermit the Frog coats — he wouldn't have captured the same woman, she believes. She's changed, she says, becoming stronger when it comes to protecting her dignity and taking ownership over her body.
"And yet, there's also this anxiety that came over me when I became very famous and that has also been a very big change," she admits. "I guess I do feel liberated by this coming out. Because it's exhausting to feel like you have to hide things about yourself.
"Look, the truth is that there's a fair amount of reality to the fact that some people really relish in the pain of famous people," she continues, holding intense eye contact. "There's an element of humiliation, like we're just court jesters. And it's very exhausting to live in that when you're already feeling like you have to live up to a standard for others. I guess what I've learned is that everybody's gonna have an opinion, but it's important for me to know that I'm who the [hell] I am. And you can take it or leave it."
Follow me on Twitter @AmyKinLA
---
Get our L.A. Goes Out newsletter, with the week's best events, to help you explore and experience our city.
You may occasionally receive promotional content from the Los Angeles Times.