5 black female artists converge for the Marsai Martin star vehicle 'Little'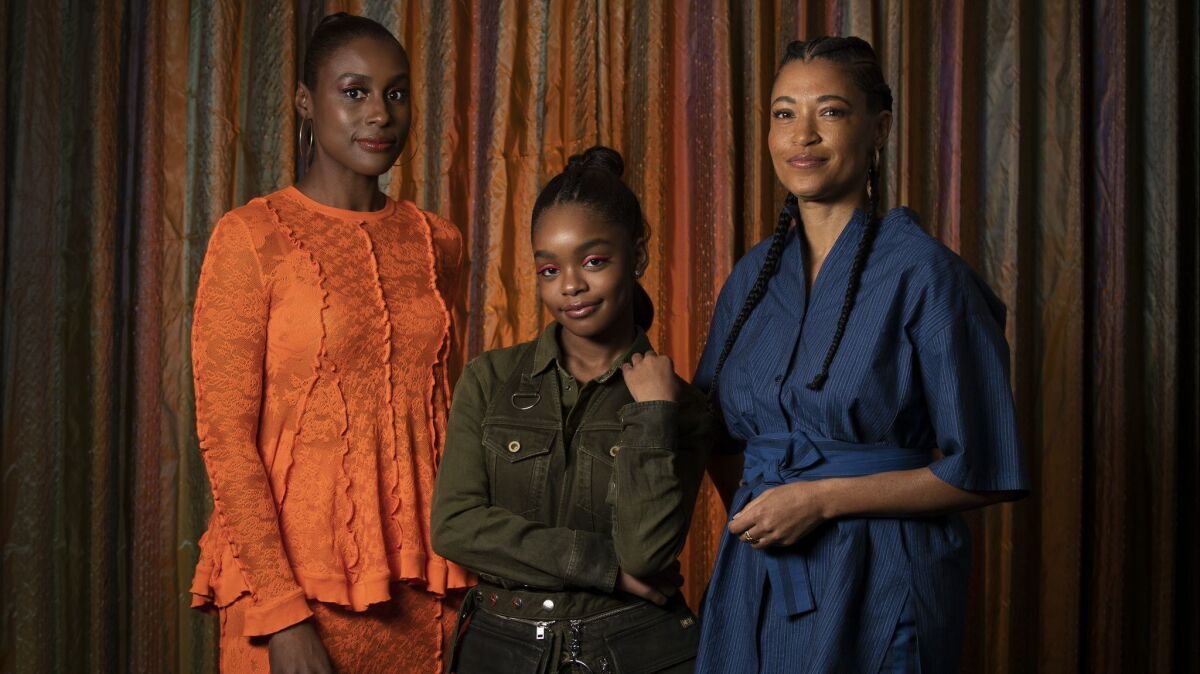 The 14-year-old "black-ish" actress Marsai Martin makes history as Hollywood's youngest executive producer ever with "Little," the body-swap comedy she produced and stars in, out Friday.
The five-time NAACP Image award winner plays Jordan Sanders, a science nerd who realizes that one way to gain an edge over the bullies at school is to become one herself.
The film, distributed by Universal, flips the premise of Tom Hanks' 1988 hit "Big" on its head: rather than jumping forward in age, an adult Sanders (played by Regina Hall) reverts to her high school self overnight following an altercation with an amateur magician.
Like Martin, Hall is also an executive producer on the project. And "Insecure" star and creator Issa Rae rounds out the cast in her first starring film role as April, Sanders' long-suffering assistant.
In addition to the three leads, it took the combined might of two other black women to get the project off the ground: director Tina Gordon and "Girls Trip" screenwriter Tracy Oliver.
Even in Hollywood's increasingly diverse climate, it is a rare feat for five black women to have the opportunity to work together in major roles both in front of and behind the camera.
"It doesn't happen often," said Martin.
"Rarely," said Rae. "Unless it's an Ava DuVernay project."
"I can't think of a time, honestly," said Oliver. "Even with 'Girls Trip' it was me and a bunch of dudes" behind the camera.
"I have not had the experience of having three black female leads," added Gordon. "It was great to be able to look to my left, right and just have so many different generations of black women in these roles. It was a first for me."
[People assume] when they see three black women on the posters, it's supposed to be only for black girls. But this is for everyone to enjoy.
— Marsai Martin, star and executive producer of "Little"
It was this lack of opportunities for black women to work amongst each other in elevated roles that drove Martin to pitch the film at the precocious age of 10.
"I wanted to create something where black women felt welcome, where we all could feel comfortable in who we are," she said. "And to prove to other people that we can play different characters than the ones we play over and over again.
"It's not for a certain audience either," she added. "[People assume] when they see three black women on the posters, it's supposed to be only for black girls. But this is for everyone to enjoy. It's definitely important to me, and I feel like it can be important to anyone who can learn from these things."
Although "Big" became an unexpected blockbuster 16 years before she was born, Martin's parents introduced her to the comedy (which earned Hanks his first Oscar nomination in 1989 and was helmed by the late Penny Marshall — one of the few women to carve out a successful directing career in Hollywood).
"They taught me about how they first met, the different places they used to go and of course, the films that they used to watch when they were younger," she said. "One of them was 'Big.' "
When Oliver, who calls "Big" one of her favorite movies, was tapped to reimagine the film from a black female perspective, she mined her own adolescent experience for inspiration.
"I remember being in middle school and hating it and thinking how awful it was," she said. "And as an adult, I don't want to go back there. I don't want to go back to the awkwardness of being a child and all the stuff we had to deal with growing up."
The film was stalled for years due to script delays and scheduling conflicts. Before signing on as director, Gordon — who previously helmed the Craig Robinson/Kerry Washington comedy "Peeples" — was brought on to work on a final draft of the script. For her part, she was inspired by the spotlight shining on bullies online, in the news and in the current administration.
I was thinking about ... how there was a lot of meanness in the world and in our government. I started thinking mainly about how bullies work.
— "Little" director and co-writer Tina Gordon
"I was thinking about the climate we live in and how there was a lot of meanness in the world and in our government," she said. "I started thinking mainly about how bullies work."
After stumbling across an article that posited that bullies are formed around the time they themselves are bullied, "I thought, 'That's a story we could spin around,' " said Gordon. "I started thinking about how to make a bully, and that's sort of the nucleus of how I started spinning the story."
After meeting Martin, she further tailored the script to the actress' strengths. "I met Marsai and realized she had the comedic chops to really go toe-to-toe with Issa Rae," said Gordon. "So I kind of moved the script to more of a buddy comedy with Issa."
The two actresses may be a generation removed, but their rapport shines through on-screen.
"I was really nervous meeting her and getting to work with her because she is someone that I've always wanted to work with and she's also a creator herself," Martin said of Rae. "So I didn't see it as working with her just as an actor but also as 'This is the story I created; I hope you like it, [fellow] creator.' She's someone that I really look up to. And getting to know her throughout this whole film and getting to build our chemistry was incredible. I love her so much now."
"I loved watching Marsai," said Rae. "There's just something so heartwarming about being in that first scene with her. From our first scene we shot together, the chemistry between us was clear."
All the women involved note that the entire production, from development to shooting, was incredibly collaborative. For Gordon, it was crucial to understand each actress' process and allow them the space to run free.
"They all come at comedy very differently," she said. "Marsai is very prepared, Regina is improvisational, and Issa is very herself and has a very specific rhythm. So when they had scenes together, they helped each other with improvisation, they helped each other build their characters.
"You handle each one differently," she added. "Issa [is] very focused and more quiet before she starts the scene. Regina likes to try things in her first take and was taking big swings comedically. You have to let her run wild and you end up getting gold onscreen."
Because of Hall's penchant for improvisation, many of the jokes that made it into the final version of the film were off the cuff. "We pretty much played in every scene," said Gordon. "Almost every scene there is some improvisation."
"The great thing about working with Tina is she really let us have freedom," said Hall. "We got to have fun and play around a lot, and that's a huge thing in comedy. There's so many gems you find in just being able to improv and do something that you just feel in the moment is really funny."
"We got to play with the page," agreed Rae. "Tina Gordon really facilitated that and made sure it felt comfortable and open and collaborative. And Regina, when she was on set, she was just the best joke-pitcher ever. She was behind the scenes just throwing jokes out and giving notes."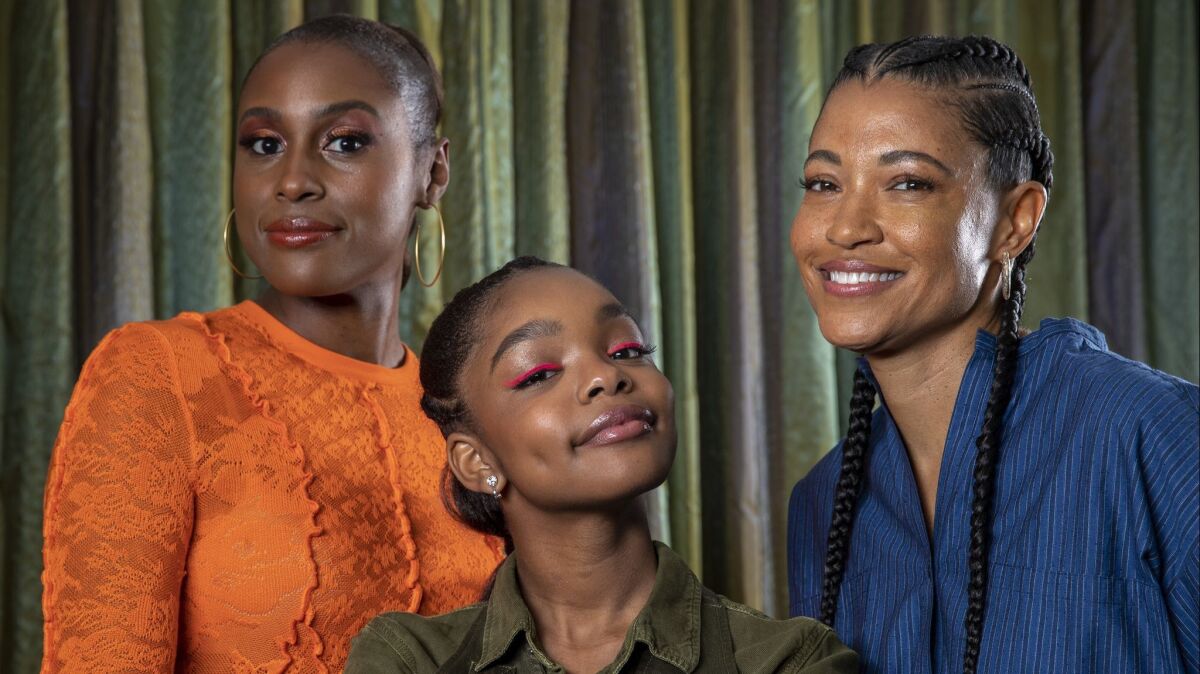 Martin's experience on "Little" inspired her to launch her own production company, Genius Productions. In February, it was announced that Genius signed a first-look production deal with Universal. A comedy starring Martin, with the working title "StepMonster," is already in the pipeline.
"Since I was already creating something as big as 'Little,' I wanted to create more content," she said. "Now that I'm in a great circle and know my surroundings [in the industry] and I'm getting older and more mature, I wanted to create more content for me and the young black girls after me. And for everybody who doesn't feel like they belong."
That spark of creativity struck preternaturally young for the teenager, who used to draw comics and make up stories to perform with her friends. "Actually doing it for a living at such a young age and continuing to do what I love is absolutely amazing," she said. "I'm doing it not just for me but for everyone else coming up next."
That timing couldn't be more ripe, particularly in comedy.
"I'm in shock that there are so many opportunities for us [today]," said Oliver, who has also reimagined the 1996 comedy hit "The First Wives Club" as an upcoming half-hour series for BET. "It wasn't that long ago when Issa and I were doing 'The Misadventures of Awkward Black Girl' and we were literally told there was no way that someone who looked like her could be on television. This was pre-'black-ish,' pre-'Insecure,' pre-'Atlanta.' The landscape was completely white, and it was really discouraging. I think we're all a little afraid that it's going to disappear, but it's been awesome to see."
"We have all the opportunities at our fingertips," said Rae. "I'm just excited to see the different [roles] we can play and excited to collaborate with other funny black women just to see how we can broaden the genre."
"Female comics are becoming more and more authentic and empowered to just be funny their way," said Gordon. "So I feel like there's no going back; the genie's out of the bottle.
"There's so much untouched territory; I'm excited because so much hasn't been told," she added. "There's so many great, authentic comedic voices emerging. I'm hopeful because there's been such a desert of those kinds of female comics that have been allowed to be on the big screen. At the bottom line, Hollywood is very numbers-driven — so I just hope that audiences come out for this so that we can make more."
follow me on twitter @sonaiyak
Get our L.A. Goes Out newsletter, with the week's best events, to help you explore and experience our city.
You may occasionally receive promotional content from the Los Angeles Times.