Exclusive: Meryl Streep will play Aunt March, not Marmee, in Greta Gerwig's 'Little Women'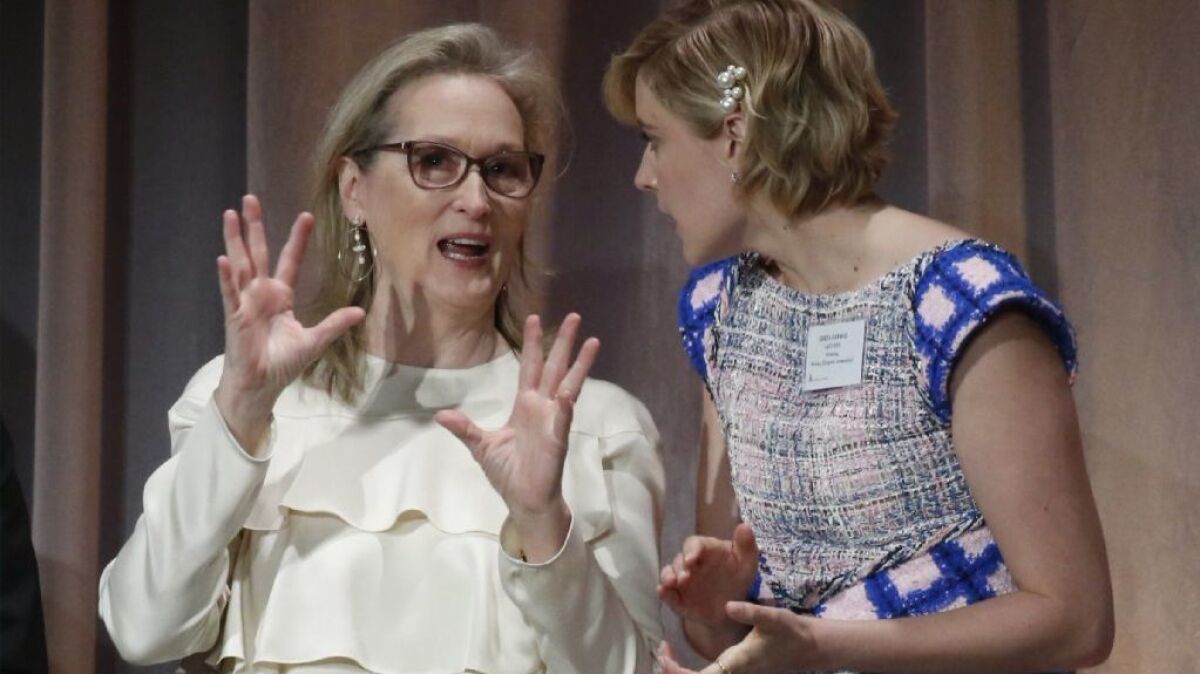 When news broke that Greta Gerwig would be directing a new version of Louisa May Alcott's "Little Women" as her follow-up to "Lady Bird," we heard that Meryl Streep, Emma Stone, Saoirse Ronan, Timothée Chalamet and Florence Pugh were in talks to star.
But who would they be playing?
Anyone with a passing knowledge of Alcott's classic novel about the March sisters could connect the dots: Ronan would play the fiercely independent Jo, Stone would fit as the sensible eldest sister Meg and Pugh would be a natural as the confident youngest sister, Amy. (Quiet Beth's casting TBD.) Chalamet would, of course, make a lovely Laurie, the crush-worthy boy-next-door.
And Streep?
"Meryl Streep gets to play any part she wants to play," says Robin Swicord, who wrote the 1994 film version of "Little Women" and will, along with Amy Pascal and Denise Di Novi, produce the Gerwig adaptation.
It was presumed by many that Streep would play Marmie, the March sisters' beloved mother. But, Swicord tells The Times, Streep will portray Josephine March, the girls' wealthy, hard-to-please aunt.
Streep's choice makes sense from an age standpoint, as the 69-year-old actress is closer to the elder March family member's maturity.
But the acerbic aunt may also be the meatier part in Gerwig's movie. Though Aunt March hasn't enjoyed nearly as much screen time as Marmie in most previous film and television adaptations of "Little Women," Swicord says Gerwig's screenplay focuses more on the sisters' young adult lives after they leave the family home.
"It's really taking a look at what it is for a young woman to enter the adult world," Swicord says, adding that Gerwig's screenplay jumps back and forth in time, focusing more on themes than narrative.
"It's very adult and interesting and thoughtful … and, of course, given the material, it's always going to be romantic," Swicord says. "Greta has a wonderfully associative, well-furnished mind. Her take on the novel more than convinced us that we could bring something new to the screen."
Swicord says filming will begin Oct. 1 in Boston with an eye toward a fall 2019 release date.
Twitter: @glennwhipp
---
Get the Indie Focus newsletter, Mark Olsen's weekly guide to the world of cinema.
You may occasionally receive promotional content from the Los Angeles Times.