Mariano Llinás' 'La Flor' is the dazzling, epic centerpiece of Locarno in Los Angeles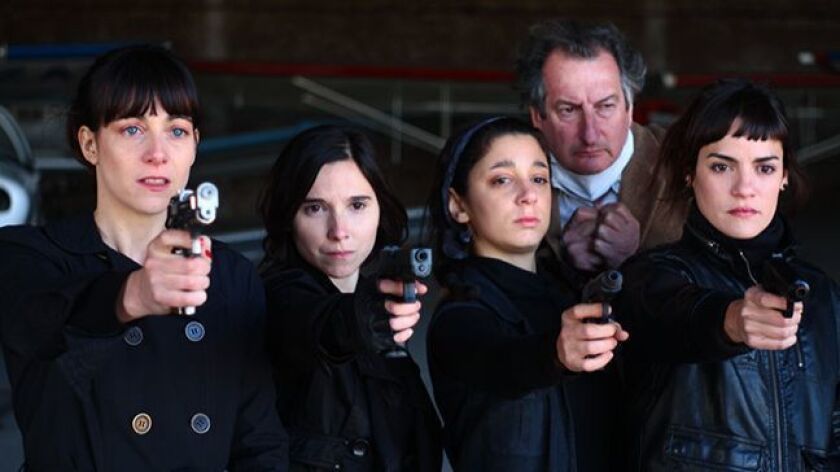 Film Critic
The closing credits for "La Flor," an astonishment from the Argentinean director Mariano Llinás, take about 40 minutes to unfold. That might seem indulgent for a curtain call, but it's actually pretty economical when you consider that the movie itself runs 868 minutes and took a decade to complete. To say that the experience was worth the wait — or that the rewards of this movie are worth the sit — would be to settle for a kind of descriptive cliché that the extraordinary, unclassifiable "La Flor" itself seems determined to avoid.
What is this movie — a dazzling collision of stories and genres, flashbacks and voiceovers, games and riddles — about? You might say it's about a remarkable quartet of lead actresses (Elisa Carricajo, Valeria Correa, Pilar Gamboa and Laura Paredes) who appear in a variety of roles, capacities and situations in five of the six episodes. It's about the enduring pleasures of narrative storytelling, but also the predictable, arbitrary nature of so many narratives. More than anything, it's about exploding your assumptions of how movies are supposed to work. "Supposed to" has no place in the Llinás Cinematic Universe.
That makes "La Flor" a fitting centerpiece for Locarno in Los Angeles, an event now in its third year of showing highlights from the Locarno Film Festival. While American studio movies and awards contenders are a regular part of Locarno's August program — last fall's edition included "BlacKkKlansman" and "The Equalizer 2," both of which screened at the Swiss town's famous Piazza Grande — the festival is better known for programming movies that stand in proud defiance of the cinematic status quo, and are thus often deemed too challenging or rarefied for the tastes of American art-house patrons.
That's an unfortunate perception, which makes Locarno in Los Angeles a welcome, even vital addition to the L.A. cinephile's calendar. That's true even of this year's slimmed-down, rescheduled and relocated edition, curated as usual by the critics Jordan Cronk (founder of the regular screening series Acropolis Cinema) and Robert Koehler.
Previously held in April 2017 and 2018 at the Downtown Independent, the event has now shifted to June; all but one of the films will screen at the Laemmle Music Hall in Beverly Hills. The exception is the program's opening-night film, the 1937 Cary Grant-Irene Dunne screwball classic, "The Awful Truth," which will play Thursday at the Los Angeles County Museum of Art's Leo S. Bing Theater. (It screened in Locarno as part of a retrospective tribute to its director, Leo McCarey.)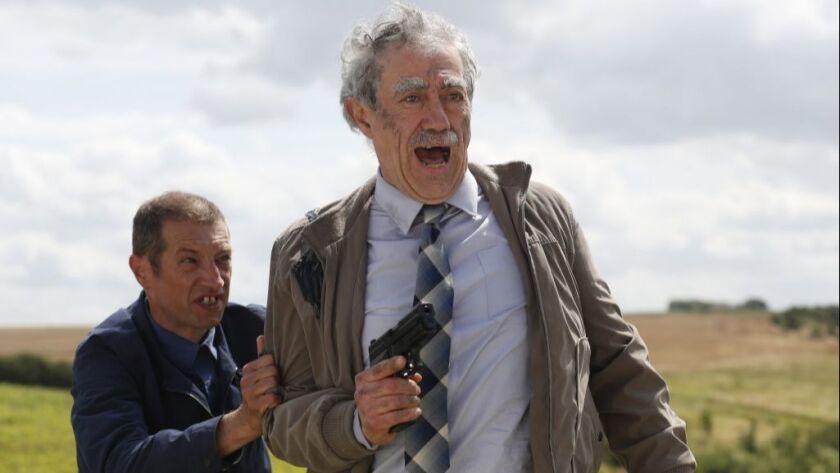 The weekend-long program consists of five features, though that's somewhat misleading since one of them is the 14½-hour "La Flor," which spans several features and contains narrative multitudes. This playful, absorbing, sometimes confounding and ultimately overwhelming work, which showed twice at the 2018 New York Film Festival, is being presented in three large chunks over three days, with intermissions. That makes it an apt way to savor the rush of each episode's headlong momentum while also giving yourself time to process, though not necessarily solve, the picture's many mysteries.
It begins with a wry prologue in which a poker-faced Llinás himself lays out the film's oddball structure in a notebook. What follows, however, is anything but diagrammatic. The first two chapters offer a deep plunge into genre: Episode one is a science-fiction/horror yarn about a mummy who terrorizes an archaeological site, while episode two is a musical melodrama about a scorned pop diva, with a freaky subplot involving a cult with a bizarre sideline in scorpion venom.
Both those stories come to an abrupt halt but don't truly end (as Llinás has already warned the audience in advance). And if you're hooked by then, as I was, you'll find it easy to submit to the third episode, a labyrinthine 5 1/2-hour espionage thriller in which the four lead actresses play four skilled assassins, each with a backstory that unfurls in extended flashback. What's fascinating here is the degree to which Llinás embraces the tools of duration and attenuation, rejecting the standard machinations of thriller plotting and gleefully recalibrating the audience's rhythms. He turns seemingly unpromising digressions into objects of the utmost narrative fascination.
The movie's anarchic streak comes to the fore as it barrels into its final stretch. The fourth episode is a mischievous behind-the-scenes meta-satire that gradually but insistently collapses the boundaries between fiction and reality. The fifth episode, the only one not to feature any of the four lead actresses, is a remake of Jean Renoir's 1936 classic, "A Day in the Country." As for the sixth — well, I should probably leave you something to discover for yourself, not that "La Flor" has any shortage.
Much will be made of the work's extreme length, though in a streaming-obsessed culture where no one thinks twice about binging a 10-part series on Netflix, it seems odd to complain about marathon running times. Still, you can understand a casual moviegoer's resistance: "La Flor," as sweeping and addictive as much of it is, doesn't have the structural predictability that a more conventional serialized narrative does. It's too freewheeling, too experimental, too eager to carve out fresh avenues of meaning. At a time when duration is no guarantee of depth, it's the definition of a must-see.
By comparison, another Locarno in Los Angeles entry, "Coincoin and the Extra-Humans," feels like a snap at just under 3 ½ hours. This four-part work, from the French auteur Bruno Dumont, returns us to the northern farming village that was beset by a string of hideous murders in "Li'l Quinquin" (2014), the director's first foray into long-form television. This time, the mysterious threat appears to be an attack of extraterrestrial cow patties, enormous heaps of foul-smelling gunk that fall out of the sky to slime the characters at random.
It's a crude visual and aural gag that somehow keeps paying dividends, as does a wacky subplot that finds certain characters suddenly giving birth anally to their own doppelgangers. Even back when he was cranking out self-serious, sub-Bressonian art films such as "L'Humanité" and "Flanders," Dumont has always had something of a prankster's sensibility, and here, as in "Li'l Quinquin," he places his gift for quirky deadpan comedy in service of an indictment of small-town ignorance, racism and xenophobia. It's hit-and-miss, though as alien investigations go, it's a sight more interesting than the new "Men in Black."
Another crime story set against a strange French landscape is the subject of Virgil Vernier's striking, coolly observed "Sophia Antipolis," although this time we are not in the north but the south of the country, not far from Nice. Here sits the science and technology park known as Sophia Antipolis, a real-life place founded on ideals of community and collective innovation. But in Vernier's movie, which follows several characters through a set of overlapping mini-narratives, it becomes an altogether dubious vision of human progress, a reminder of our capacity for alienation, cruelty and violence.
Another reminder: Andrea Bussmann's "Fausto," which bends Goethe's play through the prism of an ethnographic study set on Mexico's Oaxacan coast. Shot in low light and bathed in expressive shadows, this quietly haunting 70-minute feature allows this colonialism-ravaged landscape and its inhabitants to tell their own stories and mythologies, and finds in each one an elusive but intuitive parallel to "Faust," with its warning of the limitations of humanity's thirst for power and knowledge. Like so much in this adventurous festival, it asks us to set aside everything we think we know about the moving image and allow ourselves to be transported anew.
------------
Locarno in Los Angeles
'The Awful Truth': June 13, 7:30 p.m., Bing Theater, LACMA
'La Flor,' Part 1: June 14, 8 p.m.
'La Flor,' Part 2: June 15, 11:30 a.m.
'La Flor,' Part 3: June 16, 11:30 a.m.
'Coincoin and the Extra-Humans,' Part 1: June 15, 8:30 p.m.
'Coincoin and the Extra-Humans,' Part 2: June 16, 8:30 p.m.
'Fausto': June 15, 6:30 p.m.
'Sophia Antipolis': June 16, 6:30 p.m.
All screenings at Laemmle Music Hall, Beverly Hills, except where noted.
Info: acropoliscinema.com/locarnoinlosangeles2019
---
Inside the business of entertainment
The Wide Shot brings you news, analysis and insights on everything from streaming wars to production — and what it all means for the future.
You may occasionally receive promotional content from the Los Angeles Times.