Cinematic ends and beginnings abound in a stellar 56th New York Film Festival lineup
Film Critic
Should you find yourself in New York over the next 17 days and in an insufficiently apocalyptic frame of mind, you might want to check out Jean-Luc Godard's "The Image Book," one of the more mind-blowing titles in this year's excellent New York Film Festival.
There are, as the title suggests, a lot of images here, most of them cherry-picked from other movies — Nicholas Ray's "Johnny Guitar," Alfred Hitchcock's "Vertigo" and Pier Paolo Pasolini's "Salo, or the 120 Days of Sodom" are just a few of many — and then interspersed with documentary footage of various wartime atrocities. For 90 minutes or so, the history of motion pictures and the history of human civilization seem to collide in a frenzied symphony of destruction, exacerbated by the fact that nearly every clip appears to have been distressed and distorted, as though scoured with acid.
"The Image Book" is a bulletin from a doomed world, a despairing document that nonetheless produces a strange exhilaration. If this mad, synesthetic scramble of a movie represents the 87-year-old Godard's swan song — and given his tendency to be both playful and extremely prolific, there's no guarantee that it is — it concludes his landmark career on a note of remarkable promise. It's nice to think that the end of the world, and of cinema as we know it, can still occasion new creative possibilities.
But then, for Godard, an end always feels like a beginning. And it is only fitting to begin with this filmmaker, who has been a fixture of the New York Film Festival — presented annually by the Film Society of Lincoln Center, and running this year from Sept. 28 to Oct. 14 — going all the way back to its inaugural 1963 edition, when the festival screened "RoGoPaG," an omnibus film directed by Roberto Rossellini, Godard, Pasolini and Ugo Gregoretti.
The Pasolini-directed segment of "RoGoPaG" featured a performance by none other than the late Orson Welles, another titan of cinema who, against all odds, has managed to claw his way back to this year's festival lineup. His long-gestating final feature as a director, "The Other Side of the Wind," will premiere in the Special Events sidebar, alongside "They'll Love Me When I'm Dead," Morgan Neville's documentary about "Wind's" troubled 48-year production history. (Both titles are being released by Netflix.)
Godard and Welles are just two of the filmmaking greats whose legacies have helped shape the reputation of this festival, with its fierce championing of world auteurs and its willingness to program work that sometimes gets assailed by that overused, under-examined word "difficult." Difficulty, of course, is in the eye of the beholder, and from this critical vantage, there nothing especially hard, challenging or forbidding about the 30 features set to screen in this year's main slate, the festival's 56th. (The selection committee is chaired by the festival's director, Kent Jones, and also includes Dennis Lim, the Film Society's director of programming, and Florence Almozini, associate director of programming.)
Certainly there is nothing but pure pleasure on offer from the festival's opening-night attraction, "The Favourite," a viciously entertaining English-language period piece from the Greek director Yorgos Lanthimos ("The Lobster"). Featuring superb performances by Emma Stone, Rachel Weisz and especially Olivia Colman, it's a delectably twisted tale of courtly manipulation and rivalry that brilliantly reenergizes the conventions of the British historical costume drama. Bouncing back from the grim misfire of "The Killing of a Sacred Deer," Lanthimos channels his emotionally brutal, formally severe style into a tragicomedy of genuine beauty and stealth emotion.
Like several other films playing in the festival, "The Favourite" will soon be opening in theaters, and its plum opening-night slot and ecstatic reviews (it already screened at the Venice and Telluride festivals) suggest the Fox Searchlight release is being positioned for a potentially lucrative Oscar campaign. Similar expectations are being lined up for the festival's centerpiece gala, "Roma," Alfonso Cuarón's gorgeous evocation of 1970s Mexico City, and the closing-night selection, "At Eternity's Gate," Julian Schnabel's vibrant portrait of the final years of Vincent Van Gogh, played in a remarkable performance by Willem Dafoe.
Netflix, which is releasing "Roma," is making a strong bid for fall prestige-cinema dominance with three other titles in the main slate. These include Alice Rohrwacher's nimble Italian fable "Happy as Lazzaro"; Tamara Jenkins' superbly acted marital dramedy "Private Life"; and Joel and Ethan Coen's "The Ballad of Buster Scruggs," a lovingly shot, erratically executed western omnibus that strings together six twisty yarns, at least two of which are gems (the ones with Tom Waits and Zoe Kazan, respectively).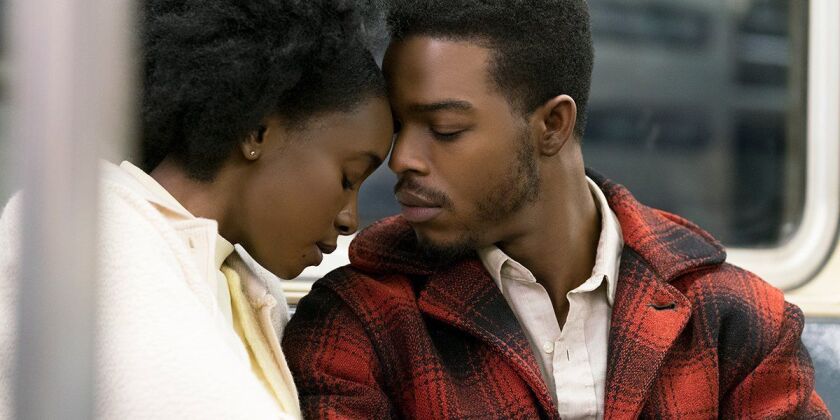 Another hot main-slate ticket is "If Beale Street Could Talk," Barry Jenkins' follow-up to "Moonlight." This achingly lush and romantic ensemble drama, swooningly adapted from James Baldwin's Harlem romance, will fittingly make its U.S. debut in that neighborhood's historic Apollo Theater, marking the first time the festival has held a screening at that venue. "If Beale Street Could Talk" first showed at Toronto, where it was one of several titles that set Oscar prognosticators' tongues a-wagging.
Still, as impossible as it may be to avoid awards-season chatter this time of year, it's best to leave your Oscar barometers at home and approach the New York Film Festival — and really, any event worth its salt — with eyes and mind wide open. I doubt many industry accolades await the likes of "High Life," Claire Denis' magnificently deranged psychosexual space odyssey starring Robert Pattinson as a death-row astronaut, or Alex Ross Perry's riveting backstage drama "Her Smell," though I'd say Elisabeth Moss deserves to run the table for her epic portrayal of a punk rocker gone very, very wrong.
One of the reasons this festival has been worth returning to, year after year, is the assurance that it will be governed by a rigorous curatorial sensibility. The main slate reliably screens some of the best films that have shown at earlier events (including Cannes, Sundance, Berlin and Venice), while showing little concern for snagging the sort of world premieres that can give a festival bragging rights. For NYFF, bragging rights are a matter of quality, not exclusivity.
And so it's only to be expected that some of the festival's strongest titles first premiered at Cannes this past May, including Godard's "The Image Book"; "Cold War," a scalpel-sharp account of doomed love and tragic history from the Polish filmmaker Pawel Pawlikowski; "Burning," a breathtakingly complex psychological thriller from the South Korean writer-director Lee Chang-dong; and the Palme d'Or-winning "Shoplifters," a piercing family drama from the Japanese filmmaker Hirokazu Kore-eda.
Elsewhere among the Cannes-to-NYFF gems, not enough has been written in praise of two Chinese-language triumphs: Jia Zhangke's sensationally entertaining gangland melodrama "Ash Is Purest White," centered on a wonderful performance from Zhao Tao, and Bi Gan's gorgeous and innovative noir reverie "Long Day's Journey Into Night," which features one of the most entrancing technical stunts (complete with 3-D) in recent memory. Both are festival must-sees, as is "3 Faces," a beguiling tale of deception, rural intrigue and female resistance whose New York premiere will regrettably not be attended by its director, Jafar Panahi, still banned from traveling by the Iranian government.
Festival-goers with especially adventurous appetites may be inclined to seek out Mariano Llinás' 15-hour epic "La Flor," the longest film in the main slate and the longest Argentinean picture ever made. It consists of six genre-shuffling stories, each featuring the same four lead actresses: Pilar Gamboa, Elisa Carricajo, Laura Paredes and Valeria Correa.
Promising a shorter sit, and a snap at four hours, is "Watergate," a blow-by-blow account of the political scandal that brought about President Nixon's downfall. Although its dramatic Oval Office reenactments sometimes gum up the works, the movie, screening in the festival's Spotlight on Documentary sidebar, has been assembled in characteristically absorbing and analytical fashion by Charles Ferguson ("Inside Job"). It also bears a pointed, defiantly optimistic subtitle: "Or, How We Learned to Stop an Out-of-Control President." Maybe the end isn't in sight after all.
---
Get the Indie Focus newsletter, Mark Olsen's weekly guide to the world of cinema.
You may occasionally receive promotional content from the Los Angeles Times.