Ruth Negga on Mildred's quiet defiance and how 'the Lovings' story isn't over'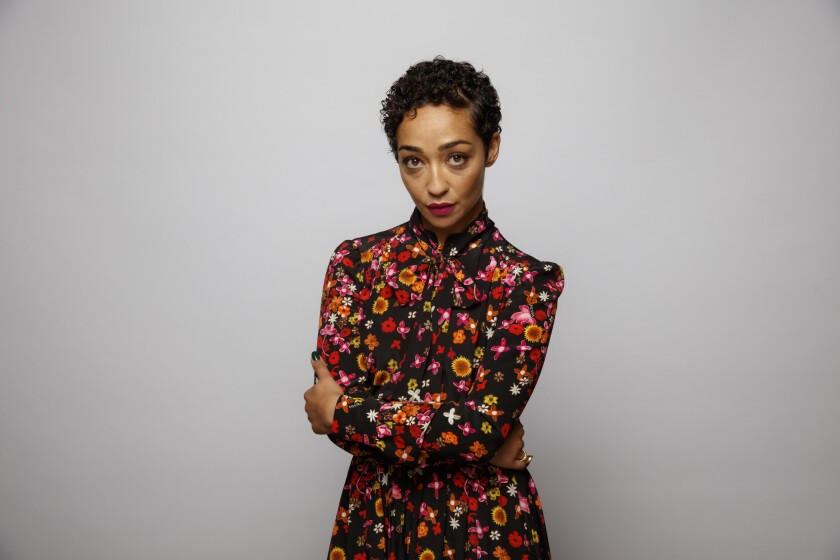 Of the many movies the civil rights era has inspired, few have placed a woman at their center. But it is a quietly powerful black Virginia wife and mother played by Irish Ethiopian actress Ruth Negga who takes the lead in changing history in writer-director Jeff Nichols' new fact-based drama, "Loving."
"Loving" stars Negga and Australian actor Joel Edgerton as Mildred and Richard Loving, an interracial couple arrested for violating Virginia's anti-miscegenation laws in 1958, whose marriage led to the landmark 1967 U.S. Supreme Court decision Loving vs. Virginia. Jailed while pregnant with their child and forced to live out of state, Mildred wrote a letter to Atty. Gen. Robert Kennedy, setting in motion the case that would affect the lives of generations of interracial and same-sex couples.
"I was moved by the Lovings' story because of my own background as a mixed-race person," said Negga, who was born in Addis Ababa, Ethiopia, to an Ethiopian father and Irish mother and moved to Limerick, Ireland, when she was 3. "I was also drawn to this great love story that has never been told."
Negga's nuanced performance in "Loving," which premiered to strong reviews at the Cannes Film Festival last spring and which opens Nov. 4, has put her in the spotlight in a breakout year. This year the 34-year-old actress has also played a gun-toting vigilante in AMC's supernatural hit "Preacher" and a monarch in the big-budget film adaptation of the video game "Warcraft."
Ruth Negga and Joel Edgerton star in the Focus Features film "Loving."
Early on in his planning for the film, Nichols auditioned Negga at the urging of casting director Francine Maisler. In preparation, the actress, who was in Los Angeles to shoot a recurring role on Marvel's "Agents of S.H.I.E.L.D," had been studying archival footage of the Lovings from the 2011 HBO documentary "The Loving Story."
"Ruth had the voice, she had the posture, the facial expressions," Nichols said. "It wasn't until after we were done and I started to speak with her that I realized she had an Irish accent. By then the die was already cast. She was Mildred. When she left the room I turned to [producer] Sarah Green and Francine and said, 'Well, do we really have to see anyone else?'"
In an interview in Los Angeles in October, Negga, her high heels tossed on the floor beside her, elbows propped on her knees, carried herself with a casual tomboyishness.
"Mildred would never sit like this," Negga said, gesturing at her open knees, before standing and demonstrating her character's more upright affect. The actress said she absorbed Mildred's more formal mannerisms from studying the documentary, and during production she fell asleep at night listening to audio of Mildred's voice.
"In the documentary, Mildred's looking for shorts and shoes to put on her daughter," Negga said. "And she bends over into the wardrobe from the top down, she just bends."
During preproduction, Negga met Peggy Loving, the only daughter and survivor of the Lovings' three children. "I spent most of that meeting just silently crying," Negga said. "We both cried. And she said, 'You have a good spirit to play my mom.'"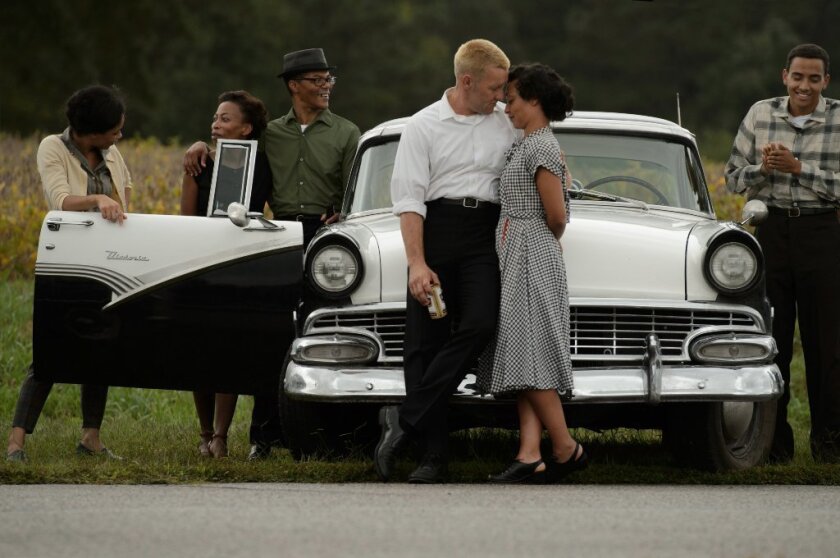 Nichols shot on location, including a Virginia courthouse where the couple faced a judge and the jail where Mildred was confined while pregnant, for a scene she considers a turning point in her character's awakening.
"Mildred was the spine of the couple," Negga said. "She saw what maybe Richard didn't want to see, that they weren't going to get out of this by running away or putting their heads in the sand. She was a very astute woman. After those five days in jail, she realized that the fairy tale was over."
Mildred didn't set out to make history, Negga said, but in penning the letter to Kennedy and speaking to journalists about her marriage, she engaged in a form of sober defiance.
"Black women then had a lot of resilience, a lot of tenacity and a lot of fight in them," Negga said. "It's not the fight of being loud or big, because that kind of fight could get you killed. It's the innate knowledge that something isn't right."
Much of Nichols' movie focuses on the Lovings' daily life — his work as a bricklayer, her trips to the market, a relaxed moment laughing together in front of the television set. Some of the scenes are re-creations of still photos taken by Life magazine photographer Grey Villet, played in the movie by Michael Shannon, and they paint a portrait of a couple that was happy, despite the outside world telling them they shouldn't be.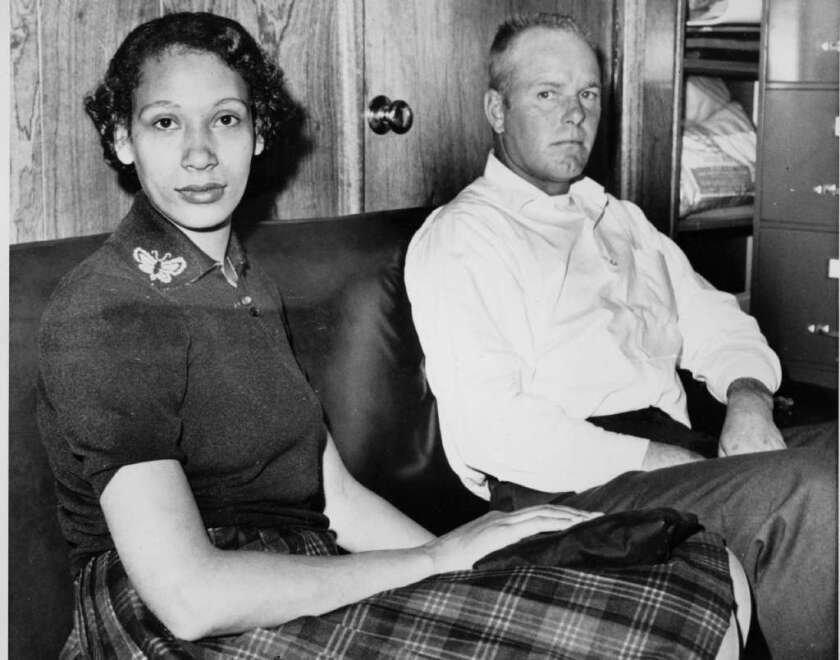 "In the archive footage of this couple, there is this energy between them that is so beautiful and so alive," Negga said. "Joel and I wanted to re-create that out of a respect for the pair, but also because it looked like fun, because they actually giggle and just look like such a really lovely relationship."
Negga's own parents had a different kind of relationship, she said. They met at an Addis Ababa hospital where he worked as a doctor, she as a nurse. When Negga's mother brought her daughter back to Ireland, Negga's father stayed behind in Ethiopia, dying in a car crash when his daughter was 7. Raised among her 20-odd Irish cousins in Limerick, with a detour to London, Negga developed a facility for accents, an ability to adapt her surroundings and a love of the weekend trip to the video store.
She studied acting at Trinity College in Dublin, moving on to perform in theater and television before being discovered by Irish director Neil Jordan, who cast her in a key part in his 2005 film "Breakfast on Pluto." Though she worked steadily over the last decade, including in smaller roles in "Agents of S.H.I.E.L.D" and "World War Z," and a performance in "12 Years a Slave" that ended up on the cutting room floor, 2016 is the year of Negga's breakout as a lead in the United States.
That she is making that leap in such a personal and timely film suits the actress wholly.
"We're living in a very tumultuous time," Negga said. "People are looking for integrity somewhere, for a direction to take. The Lovings' story isn't over."
See the most-read stories in Entertainment this hour »
Follow me on Twitter for more movie news: @thatrebecca
ALSO
Review: 'Loving' tells the moving tale of a husband and wife who made history because their love was a crime
#myLovingDay: How the Lovings' trials paved the way for today's multiracial families
One man's quest for Loving Day, a holiday for multiracial Americans
Celebrating the day when the love of an interracial couple conquered centuries of hate
#mylovingday: What Loving looks like in 2016 for our readers
---
Inside the business of entertainment
The Wide Shot brings you news, analysis and insights on everything from streaming wars to production — and what it all means for the future.
You may occasionally receive promotional content from the Los Angeles Times.