'Tully' is just the latest film to show why Mackenzie Davis is such a force on screen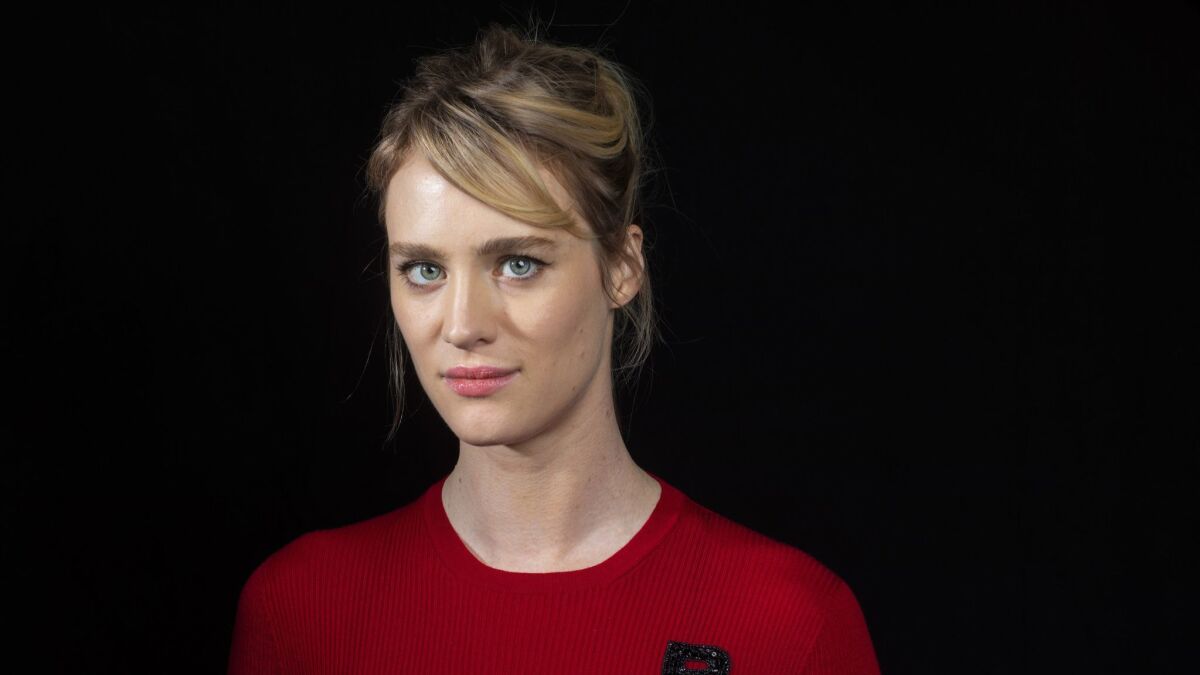 With a screen presence that exists on a spectrum between earthy and ethereal, actress Mackenize Davis comes across as both otherworldly and familiar. Which is what makes her role in the new film "Tully" one of the best showcases for her talent yet.
The third collaboration between screenwriter Diablo Cody and director Jason Reitman, "Tully" is a story of reassessment and renewal, what happens when the reality of middle-aged responsibility confronts the wacky wisdom and ambitious idealism of youth.
Davis plays the title character, a night nurse who enters the life of a woman named Marlo — played by Charlize Theron — to help out after the birth of Marlo's third child. As Tully becomes a bigger part of Marlo's life, they both confront who they are and who they will become.
"It feels very different from other roles I've played. I felt so comfortable playing this part in a way that was really satisfying," Davis said during a recent interview in Los Angeles. "Not to be cynical and not to be sardonic and not to have a wall up — I find some of the characters I play have a real hardness to them that is really fun but also so different from me that it can feel really sad. The labor can be really nourishing and fun but leave you feeling really drained. With this the labor was really energizing."
They are both brave, brilliant women who happen to have incredible chemistry. And my job is: the camera better be … rolling.
— "Tully" director Jason Reitman on Mackenzie Davis and Charlize Theron
Even after four seasons on AMC's acclaimed but little-watched tech-drama series "Halt and Catch Fire," Davis may be better known to many for her appearance in the award-winning "San Junipero" episode of Netflix's "Black Mirror" anthology series.
Her film work includes last year's "Blade Runner 2049" and the 2016 indie drama "Always Shine," for which she won a best actress prize at the Tribeca Film Festival. It was recently announced she will star in a "Terminator" reboot.
But it was her first film role, in Drake Doremus' "Breathe In," and her subsequent work on "Halt" that caught Reitman's eye. He had read with her for a role in another film, and when it came to find an actress to play off Theron he knew where to look.
"Mackenzie is clearly one of the bright lights of her generation," Reitman said. "She just kind of pops from the screen."
Some of the characters I play have a real hardness to them that is really fun but also so different from me that it can feel really sad.
— Mackenize Davis
Because Davis plays a character who only arrives at night, when the rest of the house is asleep, her scenes are entirely with Theron. The two actresses make for an interesting pairing, as the low-simmering rage and frustration of Theron's Marlo is tempered by the beatific generosity of Davis' Tully.
Reitman said the chemistry between the two was immediate.
"I wish I could say that I brought some magic to the table and got over some impressive hurdle," Reitman said. "But the truth is — [Billy] Wilder talked about it — you pick a great screenplay and you pick great actors and a lot of it is going to work itself out. And that's the truth. They are both brave, brilliant women who happen to have incredible chemistry. And my job is: the camera better be … rolling."
Davis, 31, hails from Vancouver, Canada, and studied acting in New York before moving to Los Angeles. Part of her career learning curve has been discovering how interviews can be a platform for talking about the things she actually wants to talk about, "gaming the system" as she put it. While promoting "Always Shine" in late 2016, Davis and director Sophia Takal spoke about issues of representation and identity faced by women in front of and behind the camera.
In the time since, the broader cultural conversation has shifted toward those issues as well, meaning that they have remained a through-line in Davis' interviews. And while these are still topics very much on Davis' mind, returning to them again and again can be taxing.
"I would also like the conversation to produce change and move fast, because you get tired spinning your wheels," Davis said. "And you just want it to happen and to stop being asked about it. It's an interesting conversation, but it's only interesting in so far as there is action, and pretty immediate action."
The issues touched on by "Tully" have provided more to think and talk about. Although the movie is ostensibly about motherhood, it is also about grappling with how one sees oneself and the sense of satisfaction one does or does not derive from where they are in life. Davis found a lot to wrestle with within Cody's script.
"I think in this era of people striving to tell more authentic stories about women — regardless of whether it's a story you can directly relate to or not — you relate to the authenticity of the telling of it," Davis said. "It makes you feel seen even if you are not a part of that particular demographic.
"So I felt seen as a woman in this movie of people talking about how [difficult] it is, the upkeep of the facade of a perfect life, to be a perfect woman," she said. "Even though I don't have children and that's not part of my upkeep, I still can relate to the upkeep itself."
Since "Halt" began, Davis has been able to jettison the sort of girlfriend/sidekick/ingénue parts that Hollywood would conventionally put forward for someone in her career position. This has led to an unpredictable filmography, yet one that somehow still hangs together, even as she moves between smaller-scaled films such as the upcoming "Izzy Gets the … Across Town," on which she takes her first producer credit, to big-budget bonanzas like "Blade Runner 2049."
"I think everyone has an idea of what they want to do, I just don't think everyone knows how to achieve it," said "Always Shine" director Takal, who has remained close to Davis. "She can look at the landscape and the environment and understand how the choices she makes will affect other choices she'll have to make down the road."
Davis recently finished shooting "The Turning" for director Floria Sigismondi and costarring Finn Wolfhard ("Stranger Things") and Brooklynn Prince ("The Florida Project"). Even with her "Terminator" movie on the horizon, she noted that it takes all kinds of projects to make a career.
"If you do big movies, you get to make smaller movies, because all of a sudden you have this power," she said. "I would only make small movies if I could only make small movies, but there's a limit to that, to how long that can last. So you have to invest in yourself and then go back to making the scrappy movies."
With her mix of insight, intuition and intelligence, there should be little doubt of what Davis can accomplish when she sets her mind to something. And she acknowledges, somewhat reluctantly, that she wants even greater control over her material.
"I want to be in charge of the stuff that's being made," she said. "I feel sort of weird talking about it because every actor says they want to direct, and I don't want to talk about it until I have something to talk about."
ALSO
Charlize Theron and Mackenzie Davis breathe the miracle of life into the dark motherhood story of 'Tully'
Charlize Theron and Diablo Cody on busting the myth of the supermom in 'Tully'
'We Gotta Get Out of This Place' actress Mackenzie Davis breaks out
Mackenzie Davis brings an edge to the sharp vacation thriller 'Always Shine'
SIGN UP for the free Indie Focus movies newsletter »
Follow on Twitter: @IndieFocus
---
Get our L.A. Goes Out newsletter, with the week's best events, to help you explore and experience our city.
You may occasionally receive promotional content from the Los Angeles Times.