Q&A: 'Madding Crowd's' Matthias Schoenaerts talks love, loyalty and sheep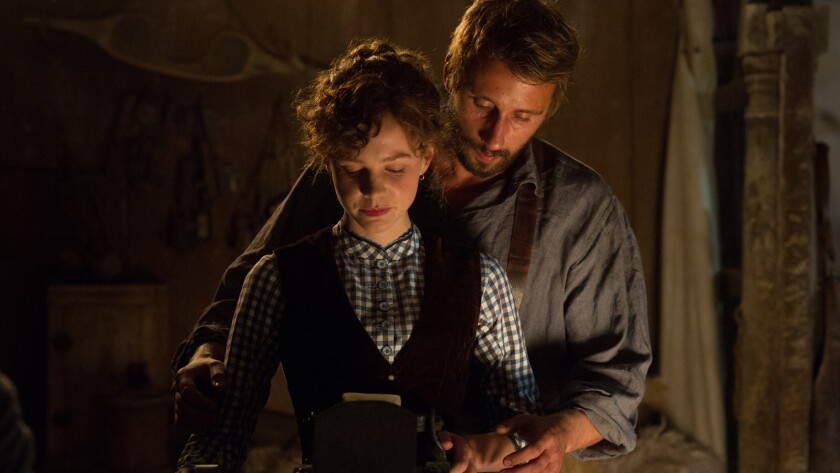 Of the three men vying for Carey Mulligan's affections in "Far From the Madding Crowd," Matthias Schoenaerts plays the one you actually hope will win, a broad-shouldered shepherd named Gabriel Oak. An adaptation of an 1874 Thomas Hardy novel about a young woman who unexpectedly inherits a farm, "Far From the Madding Crowd" is one of several films that have showcased Schoenaerts' quiet masculinity.
Best known for his performance as a former prize fighter in the 2012 romantic drama "Rust and Bone," Schoenaerts next plays a soldier battling PTSD in "Close Protection," a film premiering at the Cannes International Film Festival this month, and he recently finished shooting a role in a complex love triangle in Tom Hooper's "The Danish Girl."
The 37-year-old Belgian actor spoke with The Times by phone recently about love, feminism and sheep.
In "Far From the Madding Crowd," you play a shepherd on a 19th century English farm. What did you learn about farming?
We did a boot camp, and I learned everything there is to learn about herding sheep, washing them, shaving them. I learned how to make fire. But I loved that. You would never be able to do those things if you had a regular job. It brings out the playfulness, brings out the kid in me. I embrace it.
Nature is a major component in the film. The elements, earth, wind, fire, the sea — it has an enormous effect on you. You start breathing differently. The sounds are different. It brings you to another place, which was important for Gabriel because he's always on his own, he's always in tune with nature.
Why is your character so loyal to Bathsheba Everdene (Mulligan)? She's turns him down, and she's kind of a handful.
He's selfless. Of course he's hurt by her not falling for his proposal, but at the same time, at the time of his proposal she hardly knows the man. It's not totally unrealistic to say no. His feeling doesn't change because she doesn't want him. What he stays loyal to is what he feels. Otherwise, love would be selfish. If he wouldn't get what he wants and then his feelings change, what kind of love is that? And he remains loyal, truthful, honest, and he's very consistent in his loyalty.
That is what I found truly admirable, this man who is able to listen to a woman and to accept all her mood swings and still be a man. He's not a pushover. He stays very dignified. He never loses his dignity. He will always give her the truth, even if she's not ready for the truth. She fires him when he gets to the real stuff.
This novel has been adapted for the screen several times. Why do you think it endures?
It's a very nuanced and profound portrayal of this independent woman, which is very relevant nowadays. When you consider that this book was written more than 100 years ago, women were not at all portrayed in that way. It was pretty unconventional. Still nowadays in the movie industry... we're missing out on a lot of those parts.
Female actresses are not offered the same opportunities as male actors, so I think we're still in a very — how do you call it? — masculine-dominated industry. So I think this part for an actress is a great gift and blessing, but at the same time, it's a tough road to tackle because you can still turn her into an arrogant young lady.
You grew up speaking Dutch. Is it hard to act in other languages?
Actually I think English, as well as French or American, they sound right with cinema. My home language, Dutch, I don't really feel like it lends itself to cinema.
There's a lot of interest in "The Danish Girl," the Tom Hooper movie you've been filming this spring in which Eddie Redmayne plays one of the first known recipients of sexual reassignment surgery. What can you tell us about it?
It tells the true story of Einar Wegener [Redmayne]. We go to Paris, where the art scene's flourishing. It becomes this very complex love triangle and friendship triangle and loyalty triangle. Einar, who's a young man and wants to be a woman, of course that complicates the relationship he has with his wife. That's where I come in, 'cause I'm this art dealer living this flashy life and not being able to attach myself to someone, but of course my deeper need is to find someone to connect to.
Slowly but surely, I start tending toward Einar's wife, Gerda, who is still very loyal to Einer, but she needs a man to some extent. And Einar understands that, so there's no jealousy between these three people. It's a very altruistic and understanding structure.
You also play explorer William Clark in an upcoming HBO series about Lewis and Clark. How much did you know about them?
If I watch television, it's usually National Geographic. So that's how I knew about them. It's not something we learn in school in Belgium. I look forward to Lewis and Clark being kind of a spiritual journey.
Do you think you'll ever take a role in a big-budget Hollywood action film?
I like good cinema whether it's small independent cinema or a huge project. For me it's all about, is it going to blow people's minds, in a creative way, in an emotional way. That's the experience we're sharing with an audience when we go to a movie theater.
---
From the Emmys to the Oscars.
Get our revamped Envelope newsletter, sent twice a week, for exclusive awards season coverage, behind-the-scenes insights and columnist Glenn Whipp's commentary.
You may occasionally receive promotional content from the Los Angeles Times.