Classic Hollywood: Marilyn Monroe exhibit at Paley Center showcases both her legend and her real life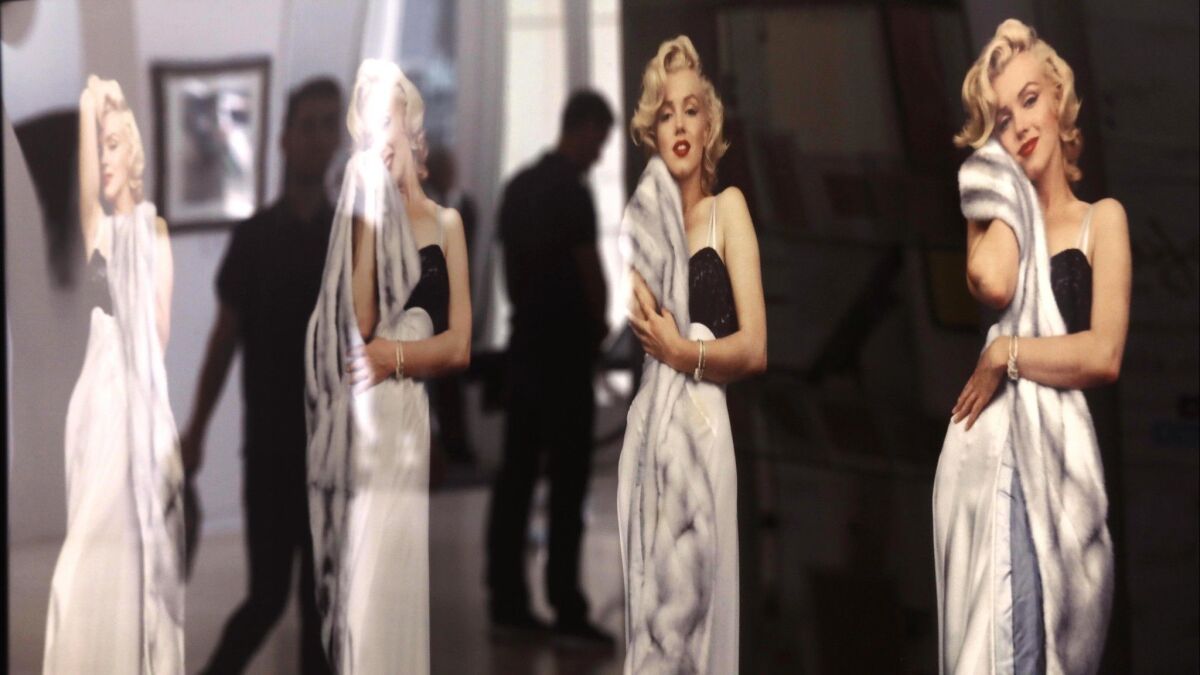 It's hard not to be dazzled by the iconic costumes and oversized Milton Greene photos of Marilyn Monroe at the "Essentially Marilyn: The Exhibit" on display at the Paley Center for Media in Beverly Hills. —
But just as riveting in their own way are small childhood photos of Norma Jeane Baker with her handwritten notes in pencil on the back. In one photo she and a little boy are standing next to each other. On the back she wrote: "First boyfriend. Lester Bolender and Norma Jeane, both age 5." And on another baby photo she inscribed "Me when I was very small."
Of course, it's difficult to believe that Monroe would be anything but larger-than-life.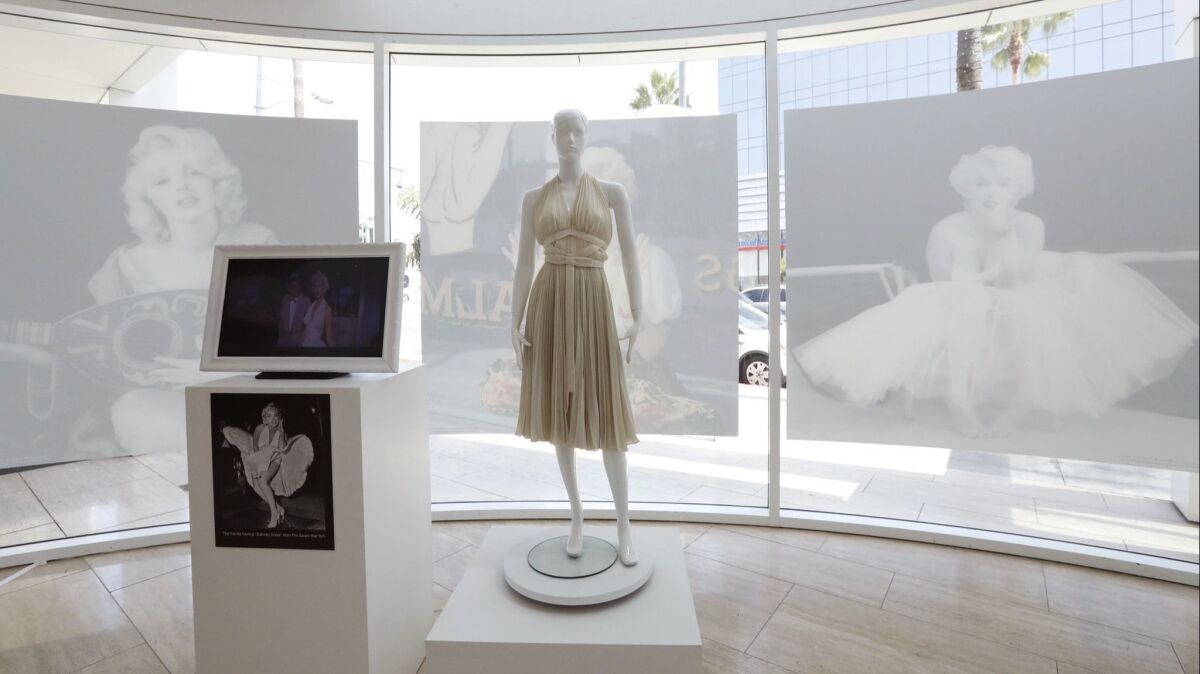 "Essentially Marilyn," which runs through Sept. 30, is the latest collaboration between the Paley Center and the renowned auction house Profiles in History. They previously presented Debbie Reynolds historical auction items and items from Liza Minnelli and her parents, Judy Garland and Vincente Minnelli. The Monroe memorabilia will go on sale at the end of October.
The exhibit is just a fraction of what will be offered at auction. "There are maybe 100 items here," said Joe Maddalena, CEO of Profiles in History as he toured the exhibit in the first-floor gallery at the Paley.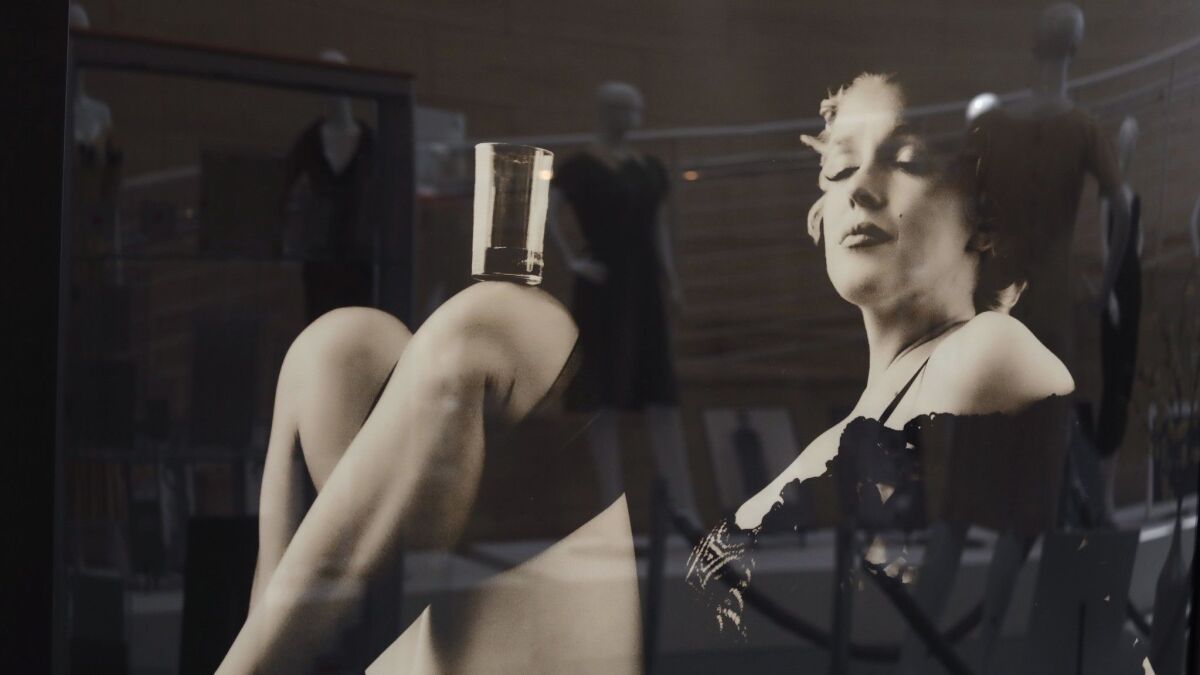 Maddalena said there will be roughly 300 items in the auction, including 16 costumes from Monroe's famous films including "Gentleman Prefer Blondes" and "There's No Business Like Show Business."
"The rest are scripts, photographs, artifacts and mementos. We have her SAG card. We have her nomination plaque for her Golden Globe for 'The Seven Year Itch,'" Maddalena said.
All of the items come from one anonymous collector.
At the Paley, Maddalena stopped in front of a large black and white photo of Monroe with Ben Lyon, who was the head of casting at 20th Century Fox in 1946 when he met Norma Jeane Daugherty. (She married her first husband, James Dougherty, when she was 16 and divorced him in the fall of 1946). He ordered a color screen test on the fledgling actress, signed her to her first contract, became her mentor and even named her Marilyn Monroe.
"The legend goes, he said to her, 'Who's your father?' And she says, 'I think my father is a man named Monroe.' He said, 'That's a good solid name.'" Lyon thought she looked like the Broadway musical star Marilyn Miller, with whom he worked in the 1931 film "Her Majesty Love." Hence, she became Marilyn Monroe.
"The inscription on the photograph reads: 'Dear Ben. You found me, named me and believed in me when no one else did. Many thanks and love. Forever, Marilyn.''
Maddalena believes that photo and inscription is pivotal to the collection "because it confirms the story — this is the guy who literally created Marilyn Monroe.''
But a part of her remained Norma Jeane.
"This is the shooting script to 'The Seven Year Itch,"' Maddalena said, pointing to a script page filled with the actress' handwritten notations and corrections. "What's interesting is when you read one of Marilyn's scripts, Marilyn talked about herself in the third person. She would say 'Marilyn would do this. Play it as Marilyn would walk in the room, not Norma Jeane.' She would have this dialogue with herself about who she was and who her character was. Marilyn Monroe is a character."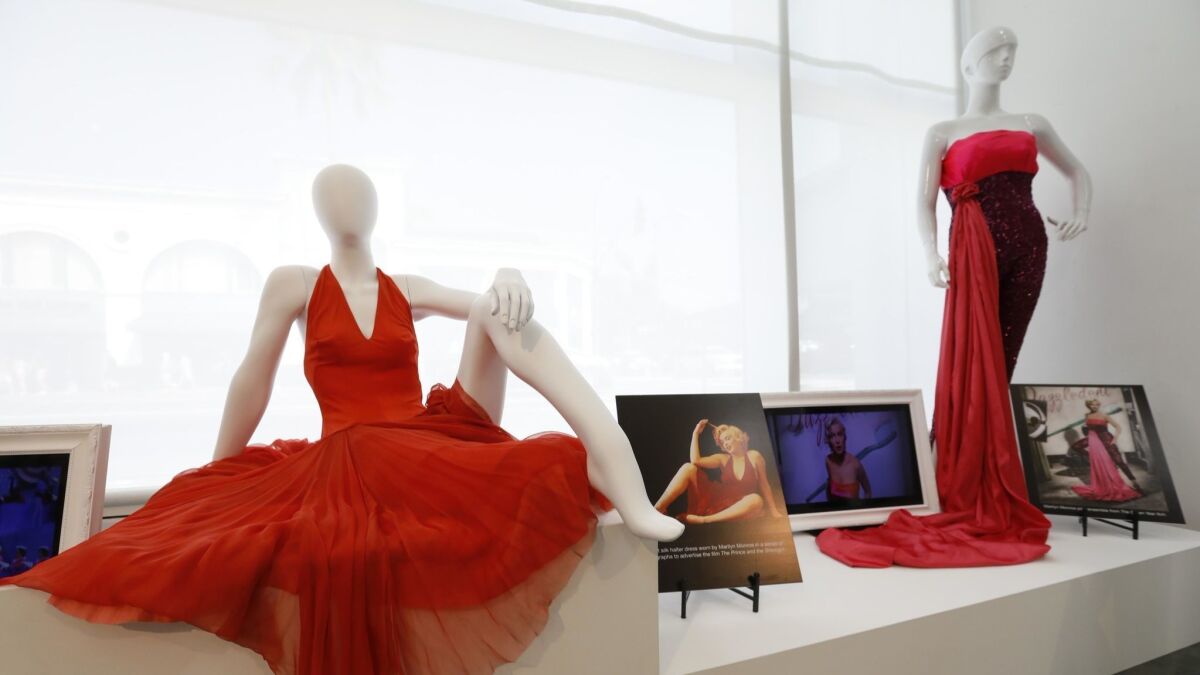 Maddalena walks over to well-crafted, comfortable dresses Monroe used as day wear. "Her favorite designer was this man named Jax in New York City," said Maddalena. "These were her favorite things. They fit her body."
Monroe's white chiffon over white satin ballgown from her 1957 romantic comedy, "The Prince and the Showgirl," is so frail, it is being displayed on a chaise lounge.
Maddalena's favorite costume is a stunning cream-colored patterned sequin gown from the 1953 Technicolor romantic comedy "How to Marry a Millionaire." He's also partial to a sexy red halter dress she wore for a Greene portrait used to advertise the exhibition.
The most recognizable dress in the exhibit is a version of Monroe's "Subway Dress" from "The Seven Year Itch." The dress on display was handmade by Bill Travilla some 40 years ago based on his design for the original worn in the film; he used it for tours and exhibits.
One entire wall is adorned by the large-form portraits shot by Greene six decades ago. Many, Maddalena said, are unpublished.
He believes that the world is still fascinated with Monroe 56 years after he death at the age of 36 because she "transcended everything. You can go anywhere on this planet and they know who Marilyn Monroe is. She was like a comet. She roared so bright and died. We never saw her age."
"Essentially Marilyn: The Exhibit"
Wednesdays through Sundays, noon to 5 p.m. through Sept. 30. Admission is free. Paley Center for Media, 465 N. Beverly Drive, Beverly Hills. https://www.paleycenter.org
---
Get our L.A. Goes Out newsletter, with the week's best events, to help you explore and experience our city.
You may occasionally receive promotional content from the Los Angeles Times.