Martin McDonagh on 7 Oscar nods for 'Three Billboards' — and the fierce woman at the center of his film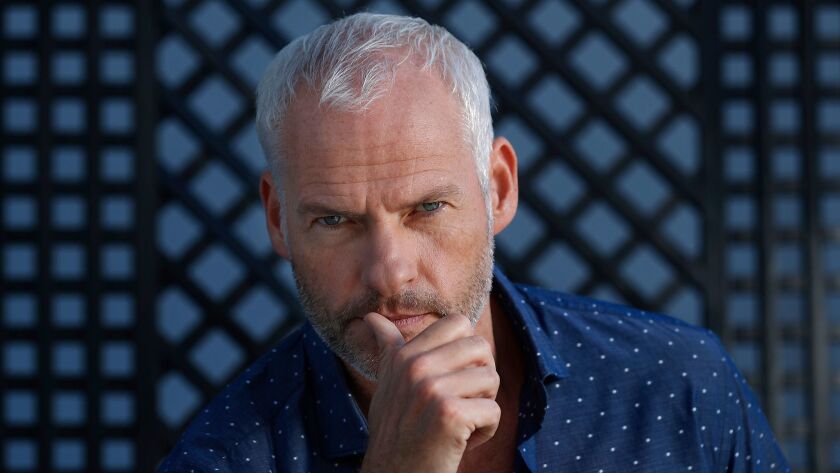 Irish director Martin McDonagh's "Three Billboards Outside Ebbing, Missouri" earned seven Oscar nominations Tuesday morning, including best picture. Lead actress Frances McDormand was recognized along with supporting actors Woody Harrelson and Sam Rockwell, and the film is up for original score and editing too. The Times caught up with the filmmaker, who is nominated in the original screenplay category, shortly after the news Tuesday.
How would you say your awards season is going?
[Laughs] It's great. We were just at the SAGs a couple of nights ago and had a fantastic time with all the gang there. It was great to get all the actors back together. And I just got back to New York and … just thrilled, thrilled. … I was very hopeful that Frances and Sam were going to get a nod, but I'm delighted that Woody's in there too, so I can't wait to have fun with them over the next month, but especially on March 4 [the day the winners are announced].
Who was the first person you called when you got the news?
I didn't call anyone, but I texted a few people. I texted Carter Burwell, who did the music, and Jon Gregory, who did the editing, and just told them congratulations. And then Woody and Sam. And then I spoke to the producer, and we had a little chat. But I'm more of a texter than a phoner.
LIVE UPDATES: Oscar nominations 2018 »
You haven't spoken to Frances yet?
No, not yet.
This is your third Oscar nomination, the second for original screenplay. (He won for the short film "Six Shooter" and was nominated for writing "In Bruges.") How does it feel to be recognized again in this category?
It's cool, actually. I hadn't even thought about that for a moment. It's great. It's lovely to be recognized for that. But mostly, because all those actors are friends, and the editor and composer are friends, it's even better to have the whole gang of us going on the same day. So that's more of it. It's all about teamwork, making a movie, and I'm really glad that they've been recognized too.
Were you disappointed that you weren't among the director nominees?
No, not at all really. Because we got nominated in some surprise places too. And for me it's just, when Woody and Sam and Fran are there, that just gladdens my heart. That's the most important thing for me, I think.
What were the surprises?
I was hopeful that Jon Gregory, the editor, was going to get nominated, but you never know in those sort of categories, so I'm thrilled that he has. And Carter Burwell is a brilliant composer, and I'm just delighted for him as well because he's always been great but he hasn't been recognized for the great artist that he is. So especially I was very happy for Carter.
COMPLETE LIST of 2018 Oscar nominations »
How does it feel to see Frances get so much love this award season?
It's amazing. I mean, we all know how brilliant she is, but she really especially hits it out of the park with her performance in this movie, I think. And she gives such a strong performance, and it's such a strong character, so I'm really happy to be putting a film out there with a woman as strong as Frances in the lead. It's a great thing to be part of.
What made her the ideal lead?
She's got an integrity to her and a fierceness. She's probably the best actor of her generation, I think. But there's an integrity to everything she does that is completely perfect for the part. And she's not sentimental about her choices, and that was especially what we needed, I think.
Why do you think Sam's performance has earned him so many awards?
I think because it's such a complicated, dark character, and Sam tried to show even the human qualities even in a character as dark as that. And he's such a wonderful actor and a decent human being that I think that's what we needed in that character. And Sam just pulled it off brilliantly.
How do you plan to celebrate today?
I've got to go into rehearsals for my new play, so there's some work to done — which is kind of good because it's a nice distraction. But then I'm in New York, so I'll find a nice bar or restaurant and hang out with my girlfriend and have a couple of margaritas, I think.
follow me on twitter @sonaiyak
---
Get the Indie Focus newsletter, Mark Olsen's weekly guide to the world of cinema.
You may occasionally receive promotional content from the Los Angeles Times.