Actor Max Minghella follows in his father's footsteps with directorial debut 'Teen Spirit'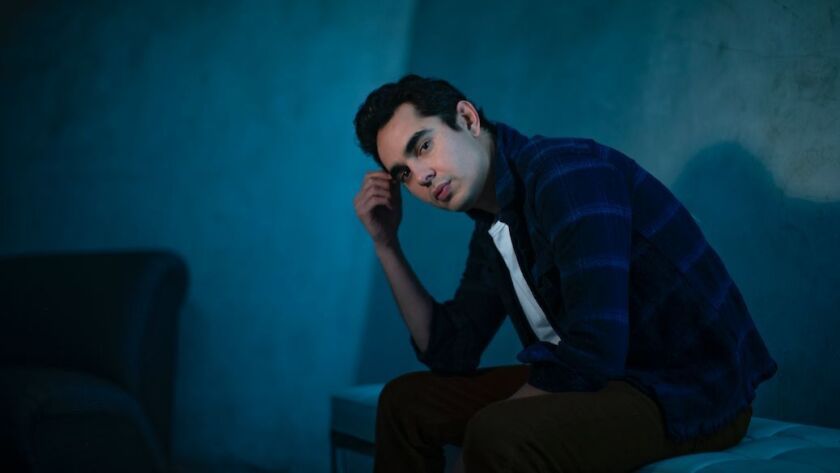 At weddings, Super Bowl parties, late-night backyard hangs — Max Minghella was always off in the corner with his camera.
"I can't tell if he used it as a crutch, like, 'I don't want to interact with people,' or if he found it more interesting to view social events through a lens," says actor Jamie Bell, who calls Minghella his closest friend. "But a few days later, you'd get a link, and he'd turn what seemed to be an arbitrary hangout with the usual suspects into something quite staggering."
It was something Minghella, now 33, acknowledges he did "pretty fanatically" in his 20s — making musically-driven home videos that he describes as both sentimental and voyeuristic. He was making his living as an actor, but creating his "weird little videos" somehow felt more natural to him. "With acting, it was like, 'I can't believe I'm getting away with doing this,' and with directing, I felt, 'Oh, I should be doing this. I'm in the right place.' Which doesn't mean I'm good at it."
Audiences can judge that for themselves with Minghella's directorial debut, "Teen Spirit," now playing in limited release and poised to expand throughout the month. The film, which Minghella also wrote, stars Elle Fanning as a withdrawn teenager who sees a path to escape her life on the remote Isle of Wight when she scores a coveted spot on a television singing competition. Fanning performs her own vocals in the movie, which was acquired at last year's Toronto International Film Festival upon its debut in September.
With the release of "Teen Spirit," Minghella will no doubt face the eye rolls of those who view him as just another actor who thinks he can cut it behind the camera. But he'll also face inevitable comparisons to his father, the late Oscar-winning director Anthony Minghella.
Max says he isn't "conscious" of feeling the weight of his dad's shadow, "Though that doesn't mean it's not there. I've never done therapy. I should do therapy. I think I need to.
"He's like genuinely one of my favorite filmmakers, and I don't know if there's a bias thing or not. I just really connect to a lot of his material. I also don't know how to replicate that. I think we inherently have very different voices and sensibilities. I don't think anybody is going to watch ['Teen Spirit'] and say 'this feels like this was made by the guy who made "The English Patient." ' "
Minghella is sitting in his office at Automatik, the production company co-run by Fred Berger, who produced "Teen Spirit." He lives in Silver Lake but was spending so much time at the company that Berger encouraged him to take his own private space, which is small, enclosed by glass and cement and still without any art on the walls. There's a Kosher bakery downstairs, and he apologizes for the scent of pastries wafting in through the vents.
He speaks with a British accent, having lived in London through his teenage years. As a boy, Minghella never dreamed of being an actor, exactly. His mother, Carolyn Choa, worked for the British Board of Film Classification, the organization responsible for assigning ratings to movies. Each night, after a day of watching films, she'd transform the plot of one of the titles into a bedtime story for her son.
"It built this big relationship to movies, because I was constructing them in my brain from like 3 years old," Minghella recalls. "My mother and I really bonded over movies. She's Chinese, so she introduced me to Wong Kar-wai, which was a huge thing for me — understanding what filmmaking was and how exciting it could be."
Then his father, who had primarily made his living as a playwright, began transitioning into the film industry. When Max was 10, his dad wrote and directed "The English Patient," for which he won the Oscar for best picture and director in 1997. The filmmaker would go on to become one of the most acclaimed talents in Hollywood, directing "The Talented Mr. Ripley" and "Cold Mountain" before his death from complications following cancer surgery in 2008.
(Those films were produced by Miramax and disgraced mogul Harvey Weinstein, who wrote an essay in The Times about his close friendship with the elder Minghella following the director's death. While he acknowledged he's known Weinstein his "whole life," the younger Minghella says it's been "two or three years" since he's seen the alleged criminal and his feelings watching the downfall were "complicated.")
Even though both his parents' careers were in the arts, Minghella says they were frustrated that he "didn't know or care about anything other than movies." So he decided to go to college, enrolling at Columbia University to try to prove to them that he could be academic. Two years in, he was doing so poorly in class — "truly, it was really bad" — that he felt the only way to "get out of that situation somewhat cleanly" was to book a job as an actor.
He'd landed an agent in high school solely based on the strength of an impression he did at a party. So when, in his 20s, he earnestly tried his hand at the profession, he was surprised that it worked out: His first big role was in David Fincher's "The Social Network," where he played Mark Zuckerberg's college nemesis Divya Narendra. Since, he's appeared in George Clooney's "The Ides of March," "The Mindy Project" and now Hulu's Emmy-winning sensation "The Handmaid's Tale," co-starring opposite Elisabeth Moss as her brooding love interest.
But even as an actor, Minghella says he's always been "very picky and pretentious" about the directors he's worked with. "I've never once been, like, 'I want to play this guy. I'm not sure about the script and the filmmaker, but I need to play X.' Whereas most actors I know — I think smartly — are much more interested in the character than the project. I don't care if I'm the waiter or the lead. I think it's a shallow thing — like a vanity thing."
His favorite experience was with Fincher, who Minghella says grants his actors lots of autonomy, urging the cast to "get out of their body" by rolling through dozens of takes. He tried to borrow some of that during "Teen Spirit," but says the thing he needs the most work on is actually working with actors. "I'm not trying to be facetious," he insists. "I think my producer would say the same thing."
In fact, at least one of his producers would not. Bell — who helped Minghella retool his script before production began — said the novice director was "alarmingly relaxed" on set. And Dylan O'Brien, another actor whom Minghella counts as one of his best friends, says he felt "giddy" watching his buddy "be so in his element and in control" when he dropped in on the London set.
"He was having so much fun — being decisive and leading the set," says O'Brien, who met Minghella on 2013's "The Internship" where they — no joke — bonded over their love of the band One Direction. "Everything you want from a director, I was watching my friend be. I want to direct too one day, so I look up to him in so many regards."
Like Bell, O'Brien had watched Minghella toy with his camera from afar at parties. But he only really came to appreciate his friend's vision in 2016, after he suffered a life-threatening injury during a stunt on the set of one of "The Maze Runner" films. O'Brien was flown to a hospital in L.A., and Minghella immediately came to visit.
"Max took a picture of me in the hospital bed from his corner that he was sitting in that still makes me sob," he said, his voice breaking. "My face is all messed up, and the photo is so grotesque. But it's a very special photo. I still have it saved on my phone. He has this ability to capture special moments, and it's a gift that he gives you that you can have forever."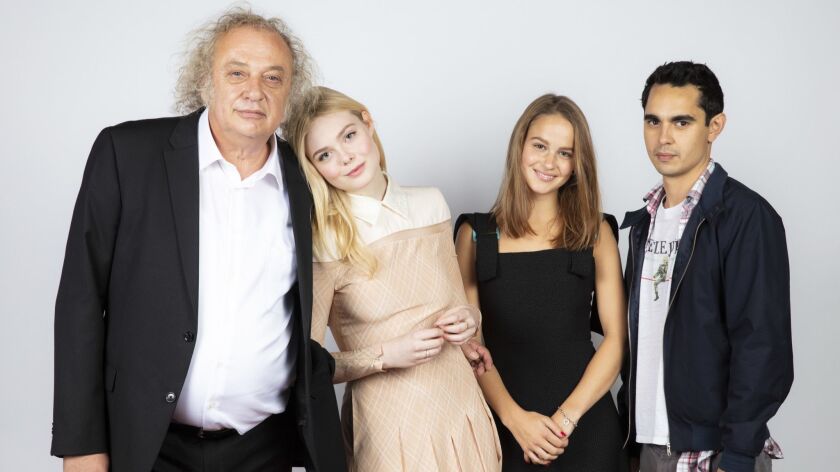 A publicist for Fanning, the star of Minghella's film, said she was unavailable to comment for this story. Since "Teen Spirit" wrapped, numerous gossip outlets have posted cozy photos of the actress, 21, and the director, insinuating they are a couple.
"People speculate about all sorts of things," Minghella says, trying to brush off the rumors. "I've been asked about crazy [stuff]. Apparently I was having an affair with Gwyneth Paltrow for two years. There's been all sorts of crazy things I've read in the press that has nothing to do with anything. So my general approach to things is just not to respond to any of it."
As "Teen Spirit" hits theaters, Minghella is bouncing between L.A. and Toronto, where he'll wrap the third season of "The Handmaid's Tale" in May. He says working on the series has been the happiest professional experience of his life — he likes the routine, and says there's no "bad egg" on set.
But he hopes he's able to keep making movies — films he'd like to see "bridge the gap" between commercial blockbusters and tiny indies.
"I get very excited to go and see big movies like 'Transformers,' and then I don't love them," he says. "I'm excited about the gloss and the popcorn and I just actually kind of like something different — like 'The Favourite' or 'Shoplifters.' I'm hoping to make movies that don't look like they're going to be total spinach or work to get through, but are made with some pathos."
Follow me on Twitter @AmyKinLA
---
Get the Indie Focus newsletter, Mark Olsen's weekly guide to the world of cinema.
You may occasionally receive promotional content from the Los Angeles Times.