Film editor Michael Kahn on his long, award-winning work with Steven Spielberg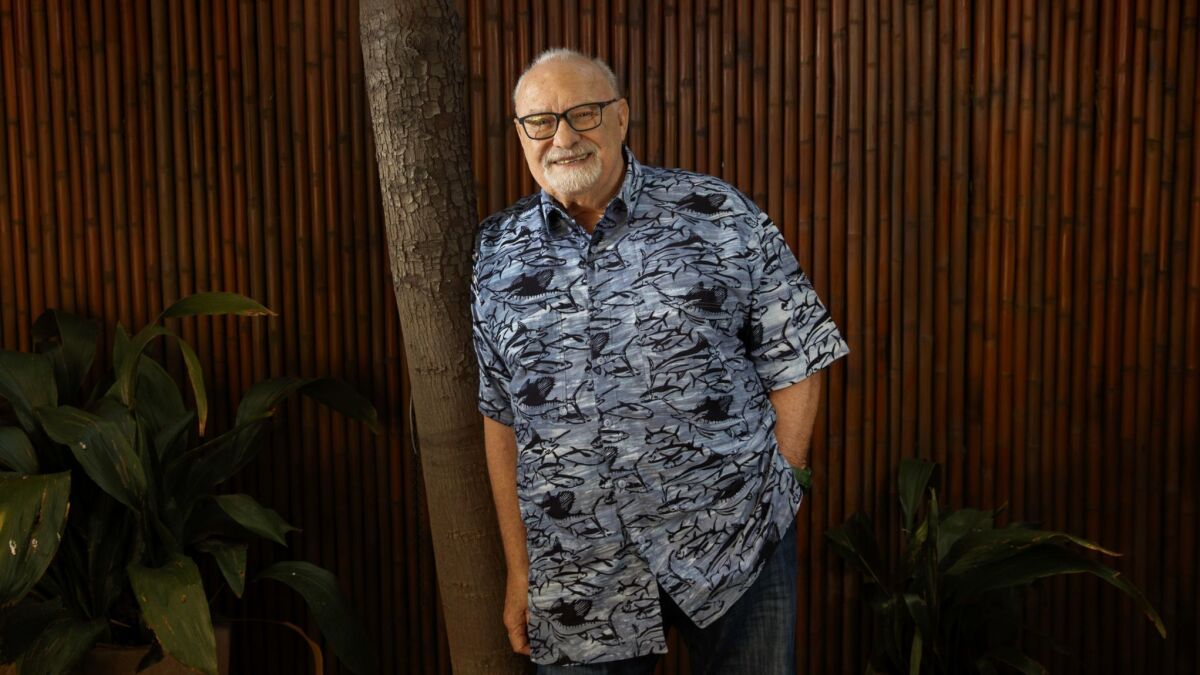 Steven Spielberg was the hottest young director in Hollywood thanks to the enormous critical and commercial success of his 1975 shark-on-feeding frenzy thriller "Jaws" and was looking for an editor for his next film, the sci-fi adventure "Close Encounters of the Third Kind."
Enter Michael Kahn, a seasoned editor with two decades of experience. Like Spielberg, Kahn began his career in TV, editing such sitcoms as "Hogan's Heroes" and "The Doris Day Show" and earning an Emmy for the 1976 miniseries "Eleanor and Franklin." He had also edited features including 1976's "The Return of a Man Called Horse."
It was "Horse" director Irvin Kershner and cinematographer Owen Roizman, who recommended Kahn to Spielberg.
"I had a meeting with Steven," recalled Kahn, 87, during a recent interview in Burbank. "I liked him right away. He seemed like a regular mensch, if you know what I mean by that — a regular guy. I was hoping he'd feel that way about me. I wasn't fancy."
In an email interview, Spielberg said that he "loved several of his previous films, but we had one significant thing in common. We discovered we were both Eagle Scouts. The die was cast."
Kahn got a phone call from the filmmaker a few days later telling him to meet him on location at Devil's Tower, Wyo. "I hired one assistant, who I knew over the years," Kahn said. "We went to Devil's Tower, and the two of us cut 'Close Encounters.'" The film was a blockbuster hit in 1977.
Though they didn't know each other well, Kahn felt comfortable with Spielberg. "I wasn't ashamed to say anything to him about anything," Kahn recalled. "I could do this or that, but he liked when you were straight and honest, and I was."
"Close Encounters" was the beginning of a fruitful partnership and friendship. Over the past four decades, Kahn has edited every Spielberg-directed film, save for 1982's "E.T"; won Oscars for 1981's "Raiders of the Lost Ark," 1993's "Schindler's List" and 1998's "Saving Private Ryan" and received five more Academy Award nominations including for Adrian Lyne's 1987 "Fatal Attraction."
Kahn's long-term association with Spielberg echoes that of other famed directors with their editors, most notably director Martin Scorsese with editor Thelma Schoonmaker.
Spielberg's 2017 best picture nominee "The Post" and the current action-adventure virtual reality blockbuster "Ready Player One" are Kahn's latest collaborations with the filmmaker. (For those films, Kahn shares editing credit with his former assistant Sarah Broshar.)
Kahn, an unassuming great-grandfather, tries never to visit the Spielberg set because [I want to be fresh [when the dailies] come to me."
"If he makes an appearance it's because he's nudging me into the editing room to sit with him to pick takes or see a scene he's just assembled," said Spielberg.
Kahn doesn't want to start cutting a scene until he runs the dailies with Spielberg "so I get to know what what he would like to do. Once we do that, then I can go to town. I can go in and do the scene."
"We work together on most every cut," added Spielberg. "I like to outline a cutting order with the takes or moments from takes I've marked and assigned a sequential number. Mike says I'll see you in two weeks, and we laugh because before the day is over, he's assembled the scene. His speed allows me to grab shots the next day I didn't know I needed until I've seen it laid out."
Then, Spielberg said, he goes away and "Mike does his own pass on that same scene, pacing it, creating moments I never thought of, even rearranging the order I'd given him, so I get to see it again with fresh eyes."
Kahn said he learned to edit quickly and efficiently in TV, which fits well with Spielberg's style. "Steven and I are always in a hurry."
Spielberg loves collaborating, but some directors Kahn has worked for over the years "are mechanical. They are button pushers. Some directors want you to do what they want, especially the younger ones. They don't have the benefit of a collaboration with you. You just do what they want and that's it. The directors that want your help, want an editor's help, they'll be better off because they'll get honest input."
The secret to being a good editor, said Kahn, is to listen to the director and the film. "You have to feel it. Steven is tremendously feeling. He's really good at that. I don't want to do what Steven says; I want to do what he feels. The whole picture is done through feeling."
Spielberg described Kahn's work on "Schindler's List" as "his greatest and most sensitive" accomplishment.
"We came back, like, a basket case" from location on Poland for the Holocaust drama, said Kahn. "You walk through Auschwitz-Birkenau, places where it happened, and I couldn't believe it. It's one thing to read it in the paper, but another thing to be there where people walked. I looked down at my feet and said, 'That's where the Jews walked.' It was terrible."
Spielberg was more or less dragged, kicking and screaming, into the digital age especially when it came to editing on an Avid machine versus cutting on film.
"It took the animated [2011] movie ['The Adventures of] Tintin' …to get me into the digital editing bay," said Spielberg.
"The last movie we cut on film was [2008's] 'Indiana Jones and the Kingdom of the Crystal Skull,"' he added. "I miss the smell of celluloid and the sound of reels rewinding and the ka-ching of the butt splicer. I'm still an analog guy at heart."
Though Kahn uses an Avid to cut movies, he doesn't operate the machine himself. "When we started the Avid, I wasn't fast enough mechanically because I am more of a thinker. I want to think about what I am doing. So I got someone to work on the Avid."
That someone has been Broshar, who first worked with Kahn when she was an editing intern on the small 2006 movie "10 Items or Less."
"But 'Tintin' was the film where I started working in the room with Michael and Steven," she said. "I feel so lucky because I don't feel like there are a lot of opportunities for mentorship. Primarily, my job was to sit and learn how to edit. He's brought up a lot of great editors who have come through his cutting room. He's a great teacher."
It was Kahn who promoted Broshar to co-editor for "Ready Player One." "He said, OK, you are ready for this. It was a huge honor to share the credit with him."
Spielberg, said Kahn, told everyone there is a possibility that he will have a film project this summer. "Then he put in the trades that he's going to do the next 'Raiders' spring of next year. I would love to do that 'Raiders.' How blessed I am as an editor — to work with somebody like him all of these years."
---
Get the Indie Focus newsletter, Mark Olsen's weekly guide to the world of cinema.
You may occasionally receive promotional content from the Los Angeles Times.