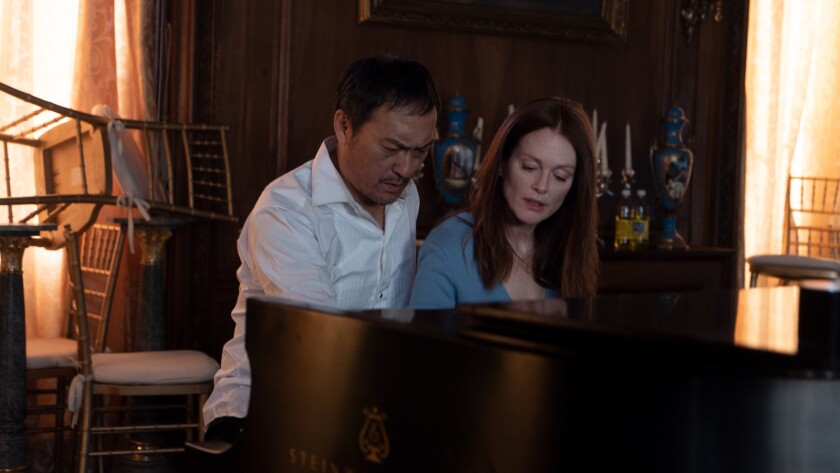 Swelling with humanity and romance like the crescendo of an aria, "Bel Canto" is a moving meditation on the power of love, music and proximity. Based on Ann Patchett's bestselling novel, the Paul Weitz-directed drama gives top billing to a stellar Julianne Moore as a superstar soprano, but this is no solo performance. The international cast also features Ken Watanabe, Sebastian Koch, Ryô Kase and Christopher Lambert.
In an unnamed South American country, American diva Roxanne Coss (Moore, with singing from Renee Fleming) is in the midst of entertaining a party for wealthy Japanese businessman Katsumi Hosokawa (Watanabe) when gun-toting rebels take everyone hostage. Led by Comandante Benjamin (Tenoch Huerta), the terrorists want their comrades released by the government, but negotiations with a representative for the Red Cross (Koch) go nowhere. The crisis stretches on, with the experience bonding both the prisoners and their captors.
"Bel Canto" is the rare film that could benefit from additional length. At 100 minutes, there's simply not enough time on screen to develop the characters and their relationships, making some of the plot points feel rushed. You want more moments with each person in this world, feeling for them whether victim or villain, thanks to the empathy imbued by Patchett, Weitz and his co-writer Anthony Weintraub as well as the impressive cast.
-------------
'Bel Canto'
In English, Spanish, French and Japanese with English subtitles
Rated: PG-13, for thematic elements, violence/disturbing images, sexuality and language
Running time: 1 hour, 40 minutes
Playing: Laemmle Monica Film Center, Santa Monica
---