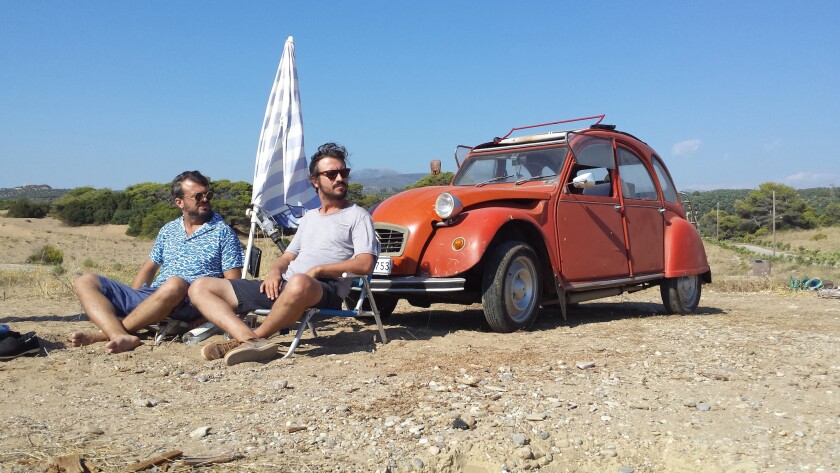 A sparsely populated, quaintly picturesque Greek island is the sun-kissed setting for Serbian writer-director Vladan Nikolic's undercooked, witless comedy "Bourek," named for the flaky, stuffed, phyllo-dough pastry of (probably) Turkish origin.
Cadging from countless sleeper indies built upon dreamers and lost souls in exotic lands, Nikolic brings a group of international eccentrics to a cozy beach tavern run by the beautiful Eleni (Katerina Misichroni). They include two broke Serbian bros, a paranoid American billionaire, his blond trophy girlfriend, a Japanese-German artist, a poetry-spouting Libyan refugee, a soft-spoken British DJ with memory loss and a wandering Turkish baker.
Thanks to a lot of terrible acting and plenty of charmless humor — primarily focused on the caricatured Yanks — there's little to enjoy about these drifters as they're forced to examine what they're escaping from, while coalescing around Eleni's delicious food and the predictable fate of her debt-ridden pocket of paradise.
Sure, the warming blue and gold that suffuses her open-air eatery is appealing, but Nikolic and cinematographer Vladimir Subotic never even give us one stunningly photographed dish (and that includes the titular delight). "Bourek" is well-meaning but woefully lacking in dimension or urgency, the movie equivalent of a scenic tourist trap.
-------------
'Bourek'
In English, Greek and Serbian with English subtitles
Running time: 1 hour, 28 minutes
Not rated
Playing: Laemmle Music Hall, Beverly Hills
---