Review: Nikolaj Coster-Waldau and Carice van Houten star in Brian De Palma's 'Domino'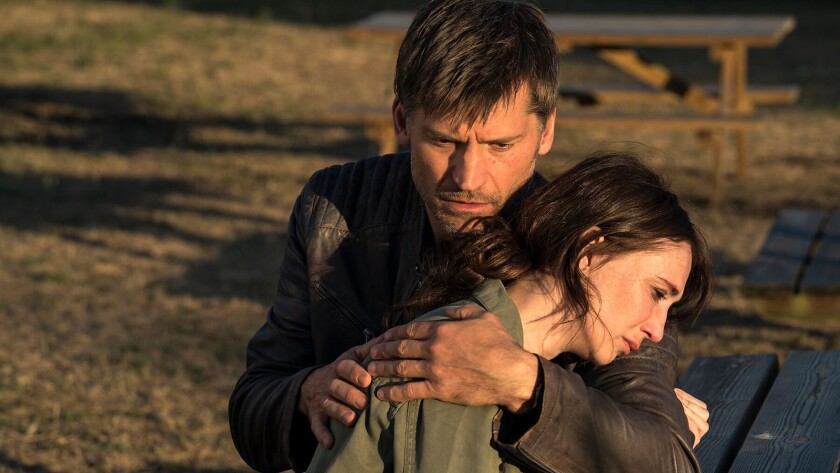 Brian De Palma has never made a completely impersonal movie — not even with work-for-hire Hollywood assignments such as "Mission to Mars." So while the maverick director's devotees may be worried about recent interviews where he's written off his new Euro-thriller "Domino" — complaining that his backers deprived him of money, then yanked the project away — those fans can take heart. There are a couple of set-pieces in "Domino" that do have the De Palma touch.
Granted, there should be more than a couple. But then "there should be more" pretty well sums up the experience of watching "Domino."
Nikolaj Coster-Waldau stars as Christian, a Copenhagen cop determined to track down the man who killed his partner Lars, even when that pits him against an IS boss (Mohammed Azaay) and a shady CIA agent (Guy Pearce). Christian is joined by a wily colleague, Alice (Carice van Houten), who has her own reasons for revenge.
Throughout, De Palma and screenwriter Petter Skavlan play with the idea of terrorists exploiting the internet and social media. In two particularly nail-biting action scenes involving drones and remote-control assassins, the movie comments on how modern technology distances killers — and the people who support them — from their crimes.
But there's just not enough of that good De Palma stuff here. The lush Pino Donaggio score and some well-choreographed chase sequences only hint at the movie "Domino" could've been, if a great artist had been granted access to his full palette.
-------------
'Domino'
Rated: R, for strong violence, some language and brief nudity
Running time: 1 hour, 28 minutes
Playing: Starts Friday, AMC Rolling Hills 20, Torrance; also available on VOD
------------
---
Get the Indie Focus newsletter, Mark Olsen's weekly guide to the world of cinema.
You may occasionally receive promotional content from the Los Angeles Times.