Carice van Houten of 'Game of Thrones': Melisandre is decidedly team Jon Snow
Carice van Houten knows that her "Game of Thrones" character Melisandre can be scary. She claims to serve a god known as the Lord of Light, but she's done an awful lot of dark things in his name. Among them: killing Renly Baratheon (Gethin Anthony) with "blood magic," abandoning Stannis Baratheon (Stephen Dillane) — the horse she backed in the race for the Iron Throne — mid-battle, and burning many people alive at the stake including Stannis' daughter, Shireen (Kerry Ingram).
It's complicated, Van Houten says with a laugh.
The woman named the best Dutch actress of all time by her countrymen in 2008, notes that when people approach her on the street, "they look fearful and ask 'you're not going to burn me, are you?'"
In the second episode of Season 7 Sunday night, the centuries-old Red Priestess popped up again at her old stamping grounds for a huddle with Daenerys Targaryen (Emilia Clarke), Tyrion Lannister (Peter Dinklage), Varys (Conleth Hill), Missandei (Nathalie Emmanuel) and Grey Worm (Jacob Anderson).
Melisandre instructed Daenerys to summon Jon Snow (Kit Harington) to Dragonstone — a place he now knows also contains precious reserves of dragon glass to aid in the fight against the army of undead White Walkers. But will Melisandre still be there to see the man who banished her from the north for killing Shireen?
We recently chatted with Van Houten to find out what she sees in the flames for the rest of this season. Reached by phone from Amsterdam, where she's at work on the upcoming Brian De Palma thriller "Domino," Van Houten was stoked to be co-starring with none other than Nikolaj Coster-Waldau, with whom she has yet to share a scene on "Game of Thrones."
"Even I am like, 'Look at me, I am here filming a scene with Jaime Lannister,' " she said. "It's so cool!"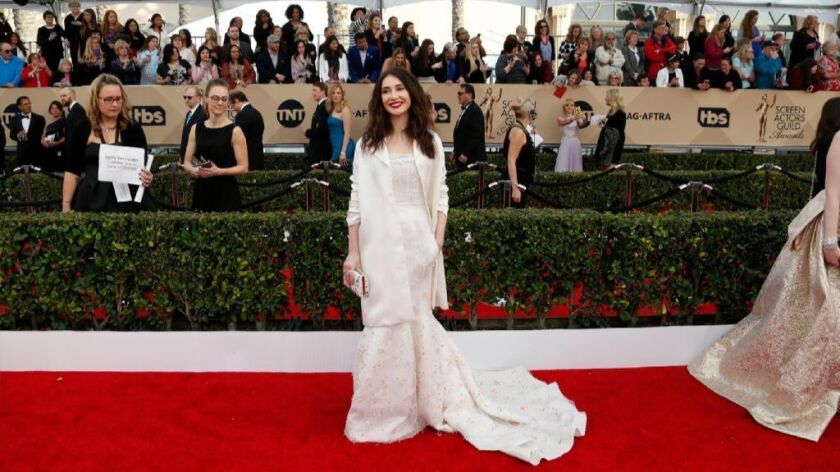 Paths are finally crossing this season, and you were able to interact with a number of actors for the first time in Sunday's episode. Was that exciting?
It's very exciting. Because I'm always on my own with Stannis and Davos [Liam Cunningham]. That was my little gang, and it was fun because it was like being around Laurel and Hardy a little bit sometimes — two funny, completely different, opposite actors, and I had such a great time with them. But this was like a completely different show! And I was starstruck myself. Again I felt like, "Look at me, and I am here with the dragon girl and Peter Dinklage and Missandei!" Wow! I was quite impressed with everyone, and I just had a baby six weeks before, so I was in a state.
When Melisandre told Daenerys of the prophesy of "the prince who was promised" and Missandei clarified that it was not a gendered pronoun so it could also be a princess, was the implication that Melisandre thinks Dany is "the princess who was promised"?
I think she's still on the path of Jon and just knows that they have to meet in order to ... God knows, but she's on Jon's track.
Do you ever wonder, "Hey, Lord of Light, make up your mind"? First, it was Stannis; now it's Jon.
Yes, of course. I think she's asked herself that many times. Last year was a disaster for her. The moment that she found out the burning of Shireen actually did not do anything, in fact, it completely [messed everything up], and that made her whole world fall apart really, and her whole character was hugely affected. So, yeah, she's gone through a lot of …
She's also caused some as well in service of her lord. Do you envision her ever losing her faith completely?
I totally feel like she's way more vulnerable and transparent than she ever was and way more about bringing the right people together, even if it means she has to go back to Dragonstone and might even be seen by Jon Snow. It's tricky, everything she does now. I feel like she's so much into doing the right thing at this point after making this huge mistake, even if it means it will hurt her.
Will she still be there when Jon and Davos arrive?
What am I going to say to that?
What was it like seeing yourself in the mirror made up to look ancient?
It was so scary. You sort of forget about it, because you get into the zone after five hours of sort of zen meditation because you have to sit still and have stuff glued on your face. And then I got up and went to my trailer and went to the bathroom and looked in the mirror, and I was just so shocked. It was so fun to walk around the [other actors'] trailers and to get people really frightened. I really enjoyed that day.
Do you ever watch the show and have to pause to figure out plot details and history about who is related to whom and what is going on?
Yeah, I basically have to watch the whole thing again. "Oh, no, it's been too long, I have to start all over again. It's so complicated." I even have to ask my friends sometimes, "What's happening?"
Do you think Melisandre will live to see the end, to see the Lord of Light's prophesy come true?
As you know, I don't know anything. I wish I did. But I, personally, think she is a little bit going towards the end of her journey.
You've gotten to do some fun TV appearances in recent years thanks to "Game of Thrones," including "The Simpsons," "Robot Chicken" and that great "Melisandre goes to a baby shower" sketch on "Late Night With Seth Meyers." Has it been fun riffing comedically on the character?
Oh, yes, I could do way more of that, I love it. That [baby shower sketch] was so much fun. I felt completely weird because I was like, "Same wig, same costume but on a comedy set with funny lines, this is so wrong." But I enjoyed it so much because, as you know, Melisandre's not really a stand-up comedian.
Final burning question: It was pouring rain at Dragonstone when Melisandre arrived. How was she dry?
Um, she has magical powers. (Laughs.) She has invisible umbrellas up her sleeves.
The Best Moments of Comic-Con 2017: 'Star Trek: Discovery,' 'Blade Runner' and more
On Now
Video: The Best Cosplay of Comic-Con 2017
2:04
On Now
"The Tick" Cast Says The Fan Pressure Is Real at Comic-Con 2017
9:45
On Now
Video: Inside the LA Times studio at Comic-Con
On Now
The stars of "Riverdale" talk season 2 at Comic Con
On Now
"Stranger Things" Cast At Comic-Con 2017
On Now
"Inhumans" Cast Was Blown Away By The Comic-Con Panel Turnout
4:44
On Now
Watch: The cast and writers of "Ready Player One" talk Easter eggs and Spielberg's nerd cred at Comic Con
On Now
"Twin Peaks" Cast Talks About Working With David Lynch
5:03
On Now
"Annabelle: Creation" Cast Says They Blessed The Set
6:40
On Now
"Supergirl" Cast Loves To Sing
4:13
ALSO
Find yourself in Games of Thrones' Westeros or Hogwarts with Hollywood's new projection technology
The best moments from Comic-Con 2017
'Captain Marvel' will receive a $20-million tax credit to shoot in California
---
The complete guide to home viewing
Get Screen Gab for weekly recommendations, analysis, interviews and irreverent discussion of the TV and streaming movies everyone's talking about.
You may occasionally receive promotional content from the Los Angeles Times.