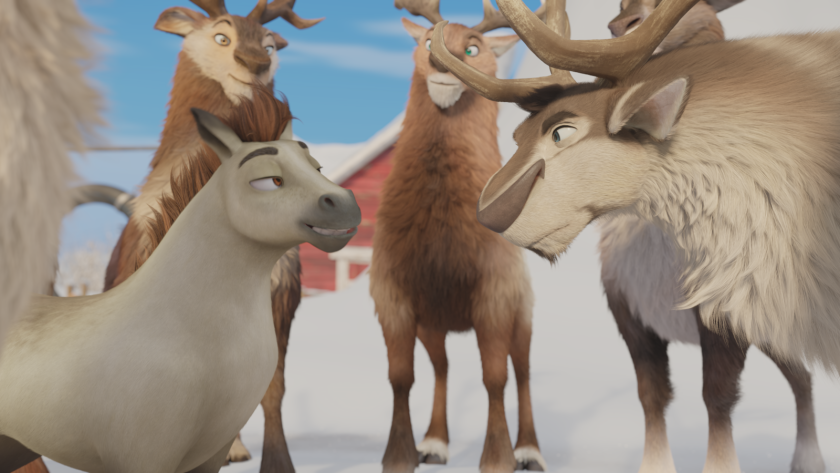 When it comes to animated films, not to mention family movies and holiday comedies, the bar has been raised well beyond what a low-budget effort like "Elliot: The Littlest Reindeer" seems able to achieve. This fantasy, about a miniature horse aching to join Santa's team of reindeer, works hard but underwhelms.
Writer-director Jennifer Westcott's anemic script tosses out a host of issues (climate change, sports doping), lessons (dream big, friends come first) and platitudes ("Success trains, failure complains") that get lost or conflated amid a story that tries to be too many things at once.
Can plucky equine Elliot (voiced by Josh Hutcherson), with the help of tin can-eating goat sidekick Hazel (Samantha Bee), best his caribou competitors to replace Blitzen (Martin Short), who's retiring to open — no joke — a juice bar? Can Elliot, donning fake antlers, really pass as a reindeer for the North Pole tryouts? Will mechanical sleighs replace Santa's need for reindeer altogether? Can Santa's top elf (also Short) really be trusted? Will the egregiously underused, Cruella de Vil-like Ludzinka (Short, for the triple) turn Elliot's farm/petting zoo home into a beef jerky factory? Will the film's intended kid audience connect with any of this?
Undistinguished CGI animation, wan humor and uninspired dialogue further undermine this middling, if nicely-voiced journey.
-------------
'Elliot: The Littlest Reindeer'
Rated: PG, for some suggestive and rude humor
Running time: 1 hour, 28 minutes
Playing: Starts Nov. 30, Laemmle Music Hall, Beverly Hills; Dec. 1 only, Cinépolis Pico Rivera
------------
See the most-read stories in Entertainment this hour »
---