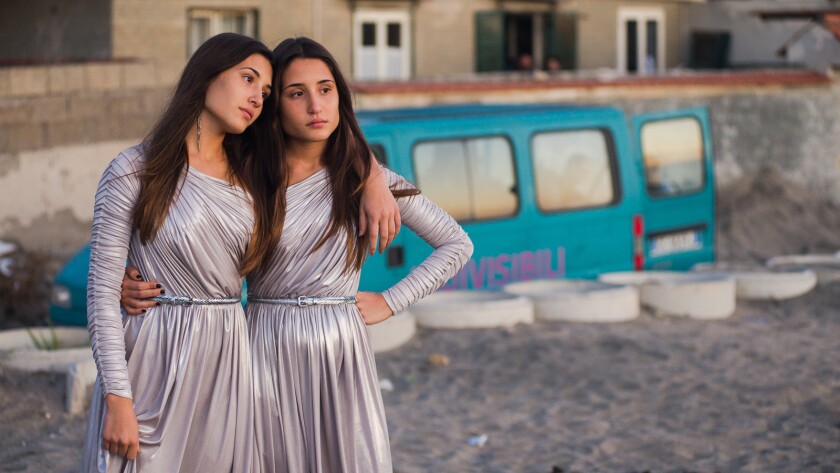 A network of capillaries, a piece of shared flesh at their hips, an indefinable psychic bond — those are the points of connection between Viola and Daisy, the conjoined twins in writer-director Edoardo De Angelis' dark and lovely parable.
Played with subtlety and oomph by first-time screen actors Angela and Marianna Fontana (twins who are identical but not conjoined), the sisters have turned 18 as "Indivisible" begins, and a random encounter with a doctor opens their eyes to the fact that they could, with relative medical ease, be separated. The possibility thrills Daisy (Marianna Fontana), the more open-minded and bolder of the two. But while she dreams of travel, romance and sex, Viola (Angela Fontana) shrinks from the prospect, wondering, "Why should we change?"
Named, presumably, for the early-20th-century sideshow attraction Daisy and Violet Hilton, the siblings are a singing act with supposed healing powers, and undeniable earning power for their self-styled impresario father and perpetually stoned mother (Massimiliano Rossi and Antonia Truppo, both superb). Carted out like a religio-kitschy curiosity for weddings and communions, the girls entwine their delicate voices while enduring the groping hands of those seeking the miraculous.
Neapolitan crime lurks at the story's edges, and the grotty coastal setting is captured to spellbinding effect in the limpid grays of dusk and dawn. There's plenty of tawdry glamour, exploitation and grime on offer in this tale of awakening, and through it all, the sisters' bond is its own abracadabra.
-------------
'Indivisible'
In Italian with English subtitles.
Not rated
Running time: 1 hour, 44 minutes
Playing: Laemmle Royal, West Los Angeles
See the most-read stories in Entertainment this hour »
---