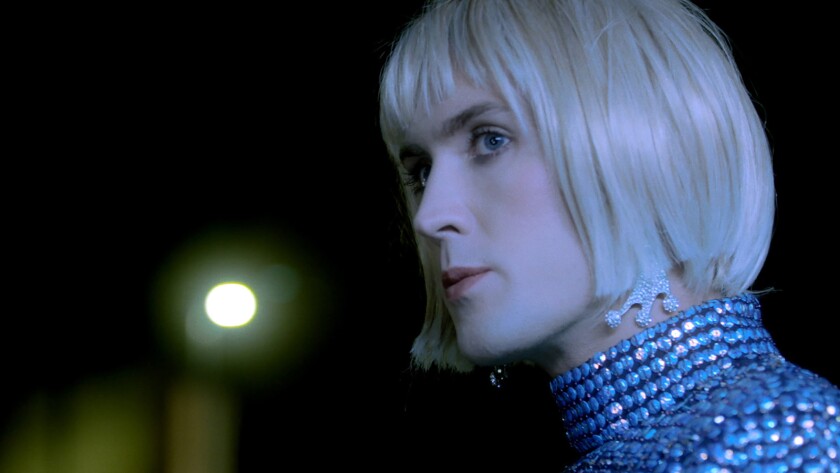 Dreamlike and glittering, "Into the Mirror" is drenched in saturated colors and driven by a pulsating score from "Drive" composer Johnny Jewel. But it isn't just the music that bears resemblance to a Nicholas Winding Refn movie; Lois Stevenson's directorial debut displays an impressive visual style that marks her as a talent to watch. Unfortunately, the script from its stars lets the look of this British drama do all the work.
After the death of his mother, Daniel (cowriter-producer Jamie Bacon) leaves his distant father behind for a new life in London. He feels unsure of who he is, until his kind coworker Blue (Beatrice May) invites him to a club. There, he meets drag queen Jennifer (cowriter-producer Charles Streeter) and feels a fast kinship with her bold beauty, while he has flashbacks to his childhood with his mother (Nicole Evans) and their close relationship.
"Into the Mirror" is deliberately opaque, for better or worse, more concerned with images and mood than concrete details. There's little dialogue, and Bacon's Daniel is all quiet brooding and longing looks. It's unclear whether the writers understand the difference between donning drag and being transgender, as well as where Daniel falls. The film's press notes say they consulted with those "in the community," but this seems more like a story that Bacon and Streeter want to perform than their lived experience.
-------------
'Into the Mirror'
Not rated
Running time: 1 hour, 5 minutes
Playing: Laemmle Music Hall, Beverly Hills
---