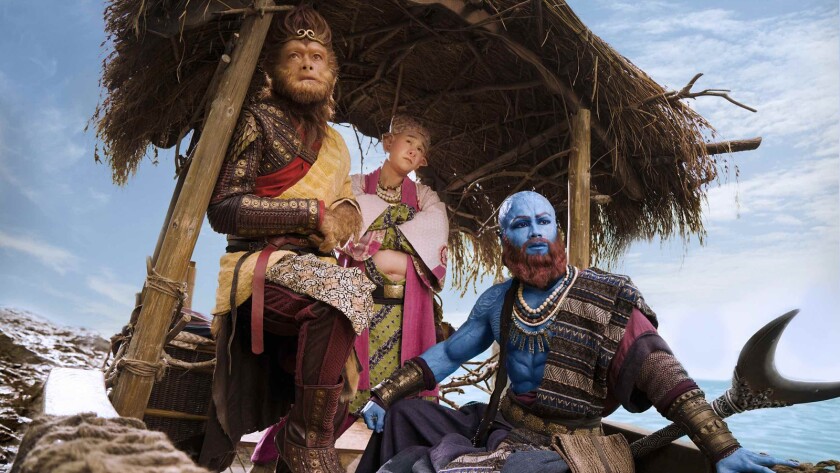 The 16th-century Chinese novel "Journey to the West" has been mined for countless movies and TV shows, including the international blockbuster hits "The Monkey King" and "The Monkey King 2." Like its predecessors, the third "Monkey King" adapts a small segment of the 100-chapter epic — and does so well enough to suggest that this series should keep on rolling.
Once again, talented director Soi Cheang applies his knack for purely visual storytelling to an effects-heavy production. "The Monkey King 3" brings back Aaron Kwok as the mischievous magical primate, who along with a motley crew of colorful creatures is still accompanying Buddhist monk Xuanzang (William Feng) on a mission to retrieve sacred scriptures.
This time, the team gets waylaid in a hidden matriarchal community where the Queen (Zanilia Zhao) holds them captive in hopes that Xuanzang will marry her and fulfill a prophecy.
As with the earlier "Monkey King" films, the third is exhausting whenever it leans on kid-friendly animal antics and earthy humor. A stretch of the story where the male heroes become pregnant from drinking enchanted water is interminable.
But Cheang keeps the pace brisk and the performances energetic, and makes sure there's plenty of pretty pictures to look at before the river god starts attacking the monk and the monkey with giant water-weapons. "The Monkey King 3" is more about eye-popping spectacle than narrative sweep, but it's generous with images that make audiences go, "Oooh!"
-------------
'The Monkey King 3'
In Mandarin with English subtitles
Not rated
Running time: 1 hour, 54 minutes
Playing: AMC Puente Hills 20, City of Industry; AMC Orange 30, Orange; AMC Atlantic Times Square, Monterey Park
See the most-read stories in Entertainment this hour »
---