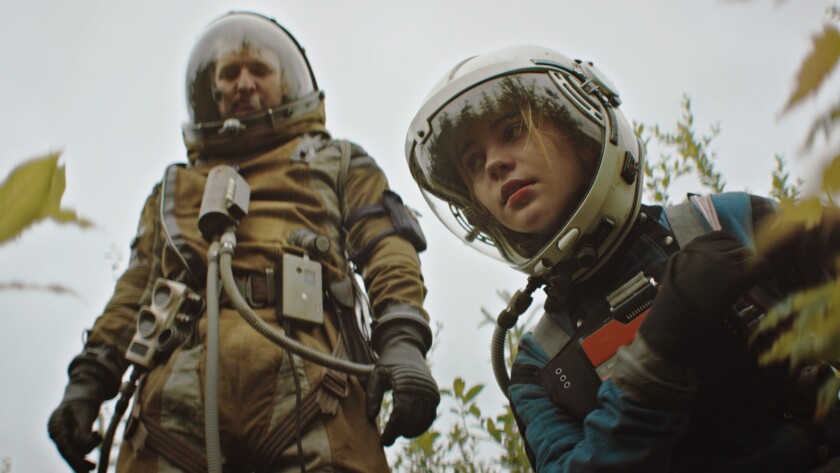 It's become a cliché to say that some urban action picture or fantasy adventure is "really a western." But the comparison is unavoidable with the thoughtful science-fiction drama "Prospect." Writer-directors Christopher Caldwell and Zeek Earl have made a movie about struggling pioneers, seeking opportunities on a hostile frontier — which just happens to be another planet.
Sophie Thatcher plays Cee, a young woman weary of traveling across the stars with her father, Damon (Jay Duplass), looking for resources to extract and sell. On one of their expeditions, she meets Ezra (Pedro Pascal), a grizzled rogue, who changes her perspective on survival in deep space.
"Prospect" features the usual gun-slinging outlaws and deadly standoffs. But Caldwell and Earl have also thought a lot about these characters' particular circumstances, as evidenced by the grubby lived-in look of their spacecrafts, and by the way Cee spends her downtime trying to remember the details of a favorite novel.
The film balances genre thrills with a detailed depiction of prospecting on an alien world, created via a mix of practical locations (shot in a damp Northwestern forest) and some psychedelic digital backdrops.
Perhaps the best use of Caldwell and Earl's limited budget is their cast, which also includes Andre Royo and Anwan Glover as dangerous men. They help keep "Prospect" from becoming a gimmicky mash-up and make it more a study of real people just trying to get by far from civilization.
-------------
'Prospect'
Rated: R, for some violence/bloody images
Running time: 1 hour, 39 minutes
Playing: Starts Nov. 2, Regal L.A. Live
See the most-read stories in Entertainment this hour »
---