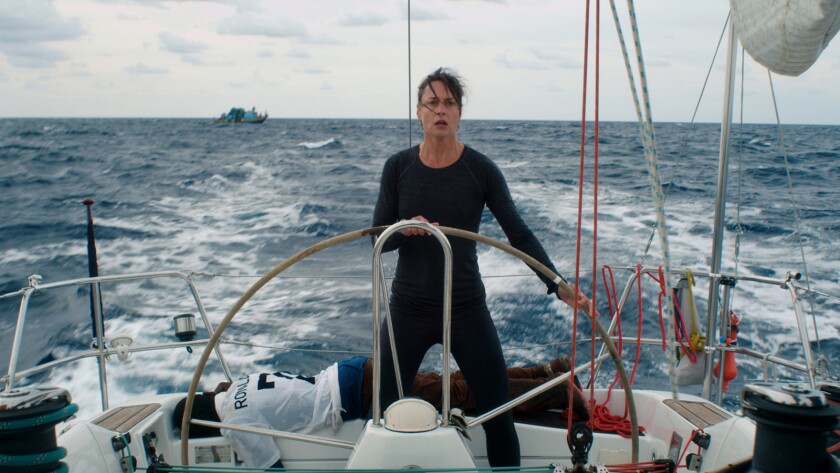 In Wolfgang Fischer's physically bracing, waterborne morality play "Styx," one person's lifesaving skill set collides with a system unwilling to deploy that aid. Not that skilled German ER doctor Rike (Susanne Wolff) can't tend to a car accident victim like the one benefiting from her expertise in the film's opening moments. But when this ultracapable, extra-prepared woman leaves for a solo sailing voyage toward Ascension Island, and then finds herself in the pathway of a crumbling fishing trawler crammed with dehydrated African refugees, her radio calls to the coast guard are met with indifference, inaction and orders to stay far away.
The situation intensifies when a boy named Kingsley (Gedion Oduor Wekesa) who jumped overboard makes his way to her boat. Rike's quandary then goes beyond the medical needs of a single needy stranger: She's now in the middle of a humanitarian crisis, trapped between her calling as a First World healer and the psychological, political realities of that wider, crueler other world. (Think "All Is Lost," but with politics added to the existentialism.)
But even with a heavy-handed, between-realms allegory of a title, "Styx" is, thanks to Fischer's focused direction, Benedict Neuenfels' clear-eyed cinematography, and Wolff's concentrated portrayal of conscience under pressure, more an immersive experience than a didactic one. Its dizzying strength is as a visceral journey, a detour from the privileged freedom represented by a horizon to the tragic limbo of displacement, an ocean that's both a confinement and an abyss.
------------
'Styx'
In English and German with English subtitles
Not rated
Running time: 1 hour, 34 minutes
Playing: Starts Friday, Laemmle Royal, West L.A.; Laemmle Playhouse 7, Pasadena; Laemmle Town Center, Encino
See the most-read stories in Entertainment this hour »
---