Review: 'That Pärt Feeling: The Universe of Arvo Pärt' celebrates Estonian composer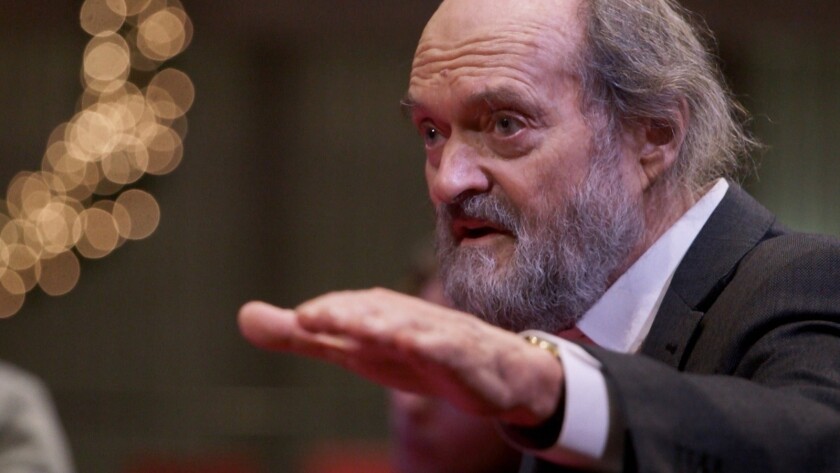 In the lovely, slender documentary "That Pärt Feeling: The Universe of Arvo Pärt," producer-director Paul Hegeman highlights the music of renowned Estonian composer Arvo Pärt while attempting to unveil the mystery around the purportedly reclusive writer of such famed works as "Tabula Rasa," "Fratres," "Trivium" and "Für Alina," all stirringly performed here.
But Hegeman, who also shot the film (with Auke Dijkstra), eschews a typical biographical recounting of the 83-year-old maestro's prolific life; we learn little of his past, his process or what makes him tick.
Perhaps then the "mystery" of the man billed here as "the most performed composer of our times" is just that he's a serene, low-profile guy who lives to create his uniquely spiritual and minimalist brand of classical music — and the world is better for it.
Although Pärt is seen genially working with the Cello Quartet Amsterdam and members of a student conservatory, he only briefly chats with Hegeman. Analysis of Pärt is left to an eclectic, talented swath of artists and collaborators who describe his venerable output as "confrontational yet comforting" and "beautiful yet dangerous." Listening to the film's gorgeous renderings will make you a believer.
-------------
'That Pärt Feeling: The Universe of Arvo Pärt'
In English, Dutch, German and French with English subtitles
Not rated
Running time: 1 hour, 15 minutes
Playing: Starts May 24, Laemmle Music Hall, Beverly Hills; also, May 27 only, Laemmle Royal, West L.A.; Laemmle Town Center 5, Encino; Laemmle Playhouse, Pasadena; Laemmle Claremont 5
------------
---
Get the Indie Focus newsletter, Mark Olsen's weekly guide to the world of cinema.
You may occasionally receive promotional content from the Los Angeles Times.