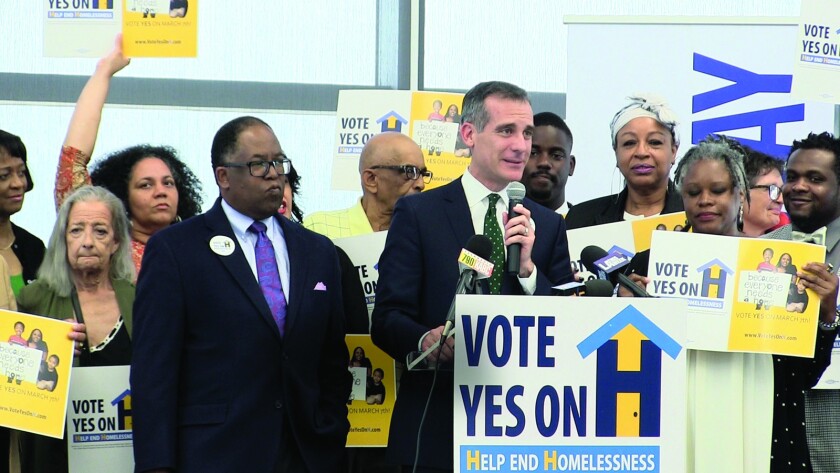 L.A.'s homelessness crisis is portrayed from the highly personal vantage points of a trio of tireless outreach workers in "The Advocates," a straight-ahead but affecting documentary that acknowledges the stubborn obstacles inherent in their efforts to make a difference.
With approximately 25% of the country's half-a-million homeless found on the streets of Los Angeles, Rudy Salinas, a program director at HousingWorks, Claudia Perez, founder of L.A. on Cloud 9, and Monday Night Mission creator Mel Tillekeratne certainly have their plates full.
While director Remi Kessler has a panel of experts at his disposal, including UCLA law professor emeritus Gary Blasi and veteran L.A. Times columnist Steve Lopez, to provide the simple math leading to where we are today, the situation proves more complex than the escalation of L.A. rents in proportion to the long languishing minimum wage.
Even with the passing of ballot Measures HHH and H, the cold, hard statistics — 64% of the city's homeless population suffers from either alcohol or drug addiction while an estimated 30% suffers from serious mental illness — mean that housing alone won't solve the mounting problem.
Until state and local government manage to properly address those root causes, despite their palpable compassion, the likes of Salinas and Perez are all too aware that, as Lopez puts it, "we are all in a sinking boat and we're baling it with a measuring spoon."
-------------
'The Advocates'
Not rated
Running time: 1 hour, 26 minutes
Playing: Laemmle Monica Film Center, Santa Monica
------------
See the most-read stories in Entertainment this hour »
---