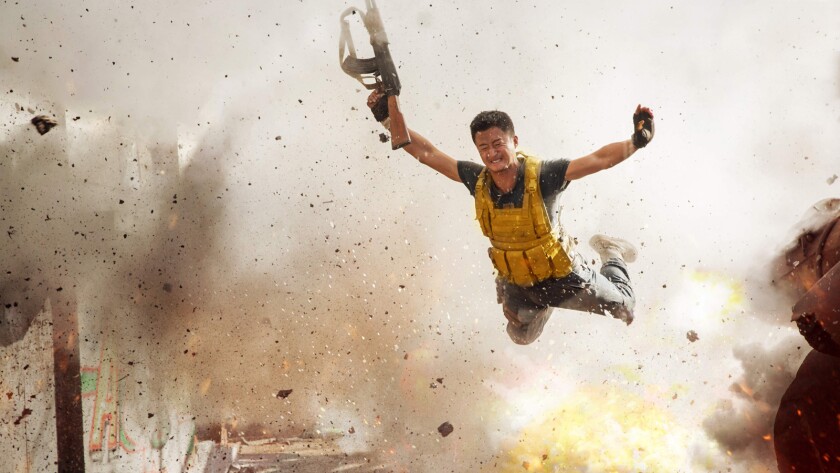 Despite some spectacular fight scenes, writer-director-star Wu Jing's explosive military adventure "Wolf Warrior 2" will likely interest American audiences more for cultural reasons than as entertainment. If nothing else, it's fascinating to see a film so closely mimic big-budget Hollywood war pictures, but from an opposing sociopolitical perspective.
Wu returns to the role he originated in 2015's "Wolf Warrior," playing Leng Feng, a loose cannon Chinese soldier who takes on special missions around the world. In the sequel he finds himself in an unnamed African country protecting medical aid workers from local rebels and vicious arms dealers.
The movie's rudimentary plot involves the hero taking a semi-romantic interest in a pretty young doctor (Celina Jade) while standing up against a ruthless American mercenary (Frank Grillo). Roughly every five minutes, the story is interrupted by an elaborate action sequence.
Though the digital effects look fake, the stuntwork is routinely eye-popping: underwater kung fu, a cat-and-mouse between Leng and an armed drone, and a climactic tank battle that sends rubble flying around leaping bodies.
But while "Wolf Warrior 2" is blandly generic more often than not, there's something bracing about its patriotic fervor, which asserts that the Chinese will act in the best interests of the world's downtrodden, while the rest of the world just exploits them. It's instructive to recognize the presumptions we're used to finding in American blockbusters, but with the heroes and villains reversed.
-------------
'Wolf Warrior 2'
In Mandarin and English with English subtitles
Not rated
Running time: 2 hours, 3 minutes
Playing: In select theaters
See the most-read stories in Entertainment this hour »
---