With a major push into this year's fall film festivals, Netflix flexes its awards season muscle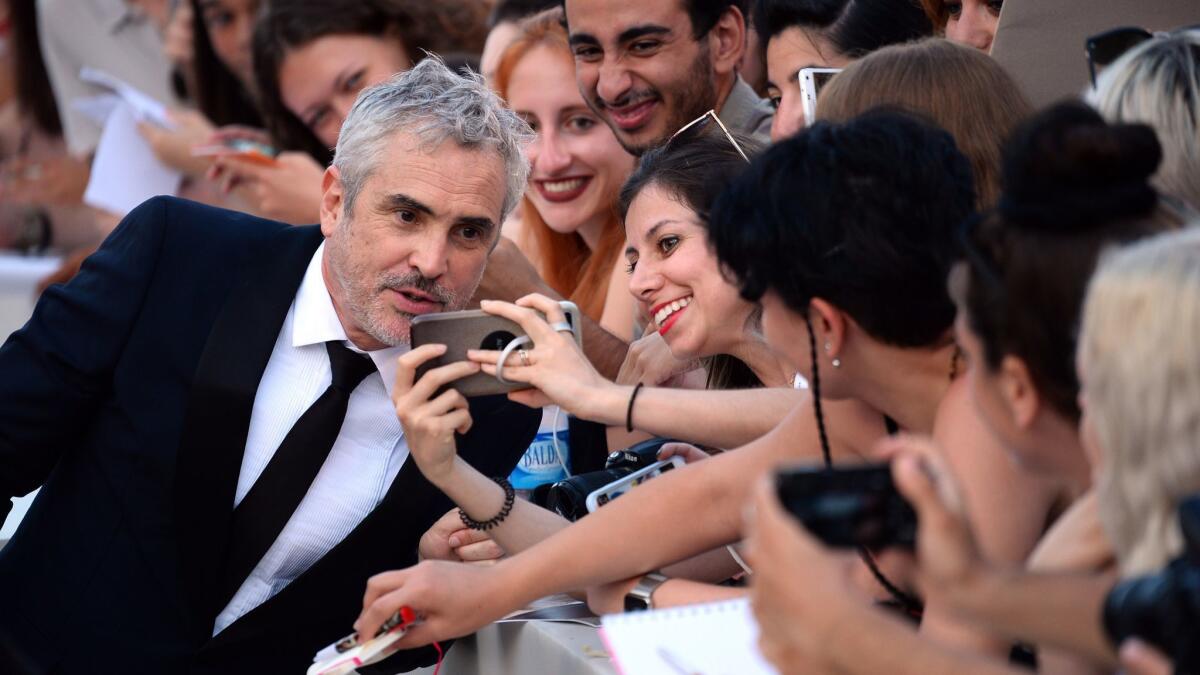 Having finally unseated HBO in this year's Emmys derby — with 112 nominations to HBO's 108 — Netflix is prepping for the next big awards race.
The streamer may have gotten the boot from this year's Cannes Film Festival, but Cannes rarely produces what Netflix wants: a best picture Oscar. That honor often goes to a film from the fall festival season, which began in earnest Wednesday with the opening of the Venice Film Festival. And having poured vast resources in recent years into building up its storehouse of original and acquired films, Netflix is planning a full-court press.
With such highly anticipated films as Alfonso Cuarón's black-and-white, Spanish-language family drama "Roma," the Coen brothers' western anthology film "The Ballad of Buster Scruggs" and Paul Greengrass' Norway-terrorist-attack thriller "22 July" — all of which are getting their festival premieres over the next few weeks — many believe the company could be on the verge of earning its first best picture Oscar nomination. ("Roma" has already drawn raves out of Venice.)
Whether or not that happens, Netflix's increased presence in festival programs — which includes six movies at Venice, followed by similarly strong showings at Telluride, Toronto, New York and Austin, Texas' Fantastic Fest — suggests that the company is already winning something it may covet even more than a statuette: acceptance from Hollywood's tastemaking community.
As home theaters and personal devices began to threaten the health of the multiplex, streaming services were initially met with uncertainty, if not outright hostility, by some of the industry's gatekeepers. And Netflix's film awards track record has been bumpy at best — its first major contender, 2015's "Beasts of No Nation" landed zero Oscar nominations. Last year's period drama "Mudbound" scored four nominations, the streamer's first recognition outside of documentary categories.
In interviews with The Times, the programmers of several key fall festivals expressed little but admiration for Netflix and its ambitious slate of films — a slate which insiders call the first true indication of what former Universal executive Scott Stuber plans to do in his position as the head of Netflix's film division.
"Netflix is giving money to real filmmakers to make good movies, and that's how good movies get made," said Kent Jones, director of October's New York Film Festival, which will also screen four Netflix films: "Roma," "The Ballad of Buster Scruggs" Tamara Jenkins' "Private Life" and the Italian drama "Happy as Lazzaro" (which Netflix, ironically, acquired out of Cannes).
"It's not so much that they're Netflix movies — it's that they're movies made by filmmakers that are made possible by Netflix," Jones added. " 'Roma' is a great movie. How it's going to be seen is a question that is more film-business historical and is immaterial to its greatness as a movie."
Netflix's major push into this year's fall film festivals marks a dramatic turnaround from just months ago when the company found itself in a bitter public conflict with the Cannes Film Festival, which barred its films from its prestigious competition.
Though the ban was due in large part to the specifics of French regulations over film exhibition, it highlighted a deeper existential crisis that Netflix's day-and-date, streaming-centric model poses for some old-guard cinematic institutions that are determined to hold the line on traditional film distribution.
"I think anytime there's something new and somewhat misunderstood, a lot of inaccurate information gets out there, and the information is often spun to a particular person's point of view or agenda," said Julie Huntsinger, executive director of the Telluride Film Festival, which over Labor Day weekend will screen "Roma" along with three other Netflix titles: the abortion documentary "Reversing Roe," Orson Welles' never-released final film "The Other Side of the Wind" and a companion Welles documentary, "They'll Love Me When I'm Dead."
"Despite some people trying to portray this otherwise, Netflix believes in giving a filmmaker all the tools they need to make a movie and leaving them alone," Huntsinger continued. "That unto itself is the most important thing. They're aware of their behemoth position in this world, but I think they really love cinema."
As the creative director of next month's Fantastic Fest, which focuses on genre films, Evrim Ersoy echoed that sentiment.
"There are many channels and ways to watch movies, and I try not to express preference over one of them," said Ersoy, who will screen the world premiere of the Netflix gothic horror film "Apostle" along with Netflix's "Hold the Dark" and "The Night Comes For Us." "What I like to see is the best movies out there and filmmakers getting the chance to make the films they want to make. And if this is an avenue that's allowing them that, we're happy to be able to work with Netflix to support those films."
Cameron Bailey, artistic director and co-head of the Toronto International Film Festival, said his decision to give Netflix's period action drama "Outlaw King" the opening-night slot at this year's festival, which begins on Sept. 6, had more to do with the film itself than the company releasing it.
"We're chasing great movies and great filmmakers, and this just fit the bill for us," said Bailey, whose festival is set to screen at least six other Netflix films, including "22 July." "Where the movie comes from is not as important as how well it works and who's making it for us."
Still, even as Netflix has brought more leading filmmakers into its fold (a big-budget Martin Scorsese gangster drama, "The Irishman," is set for release next year), questions remain over its adherence to a release model in which films are offered on its streaming service at the same time as they are released theatrically, if they are released theatrically at all.
It's safe to say that all filmmakers, particularly those in the rarefied ranks of Cuarón, Scorsese and the Coen brothers, want their films to be seen to the greatest extent possible on the big screen. While all the Netflix films screening in this year's upcoming festivals will receive theatrical releases of some kind, it remains to be seen how strong a push they will receive and how robust the ultimate viewership, both in theaters and via streaming (figures Netflix historically does not report), might be.
According to a report in the Hollywood Reporter, Netflix is mulling a possible exclusive theatrical run for "Roma," which would mark a significant break in precedent for the company. A Netflix representative declined to comment, and the company did not make any executives available to speak for this story.
Writer-director Nicole Holofcener is among the many filmmakers who will head into this year's fall festival season under the Netflix banner, with her latest film, "The Land of Steady Habits," making its world premiere at Toronto.
As someone whose movies have at times struggled to find large audiences in the dwindling art house circuit, Holofcener has no complaints about seeing her film made simultaneously available for streaming to anyone with a Netflix account.
"I feel relieved I don't have to worry about how long it's going to stay in the theater," she told The Times recently. "That's always scary — 'Is it gone?' I know it's only going to be in the theater briefly, and then it can live forever as a postage stamp on everyone's televisions. And more people will see it."
Documentary filmmaker Morgan Neville — who directed summer's breakout hit "Won't You Be My Neighbor?" and whose "They'll Love Me When I'm Dead" was taken up by Netflix after the company decided to provide completion funds for Welles' "The Other Side of the Wind" — says the streaming giant has already been a major boon to the documentary world.
"I think one of the reasons that documentaries are so popular now is that Netflix put them on an even playing field with every other type of movie and audiences were able to discover them," Neville said. "Sure, people can nitpick about this or that with Netflix or anybody, but I think, by and large, the net positive is huge for documentary filmmakers."
Still, even as they open their arms to Netflix, fall festival programmers say they continue to cherish the theatrical experience above all else.
"People are watching movies in all different kinds of ways now, and I think that's fine," said Bailey. "But we will always really privilege the theatrical experience, the communal experience of movies, people laughing and crying and being shocked and scared and on the edge of their seats together. I think that's unique, and at a film festival where people are seeing movies often for the very first time it's especially exciting."
Huntsinger says she hopes for a growing mutual understanding between Netflix and those forces in the film business that may still resist it.
"I think Netflix has to really accept that filmmakers also want to see their films on a big screen and that people who want to see them that way should be able to go to a cinema and see them," she says. "There's room for both, and I think with some really smart additional theatrical play [for Netflix films], people will get it. And Netflix is not going anywhere."
Times staff writer Mark Olsen contributed to this report.
Twitter: @joshrottenberg
Get our L.A. Goes Out newsletter, with the week's best events, to help you explore and experience our city.
You may occasionally receive promotional content from the Los Angeles Times.