Classic Hollywood: Oscar-winning director Norman Jewison talks working with Steve McQueen and Jonathan Winters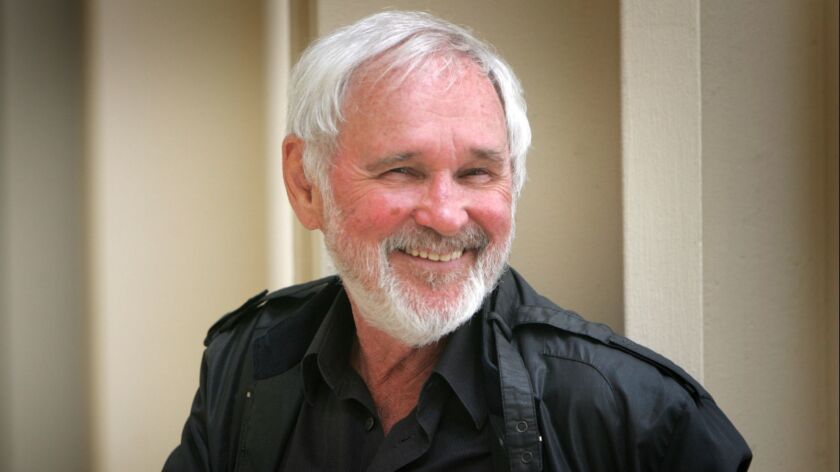 It's hard to think of a movie career more far-flung than that of Norman Jewison.
Jewison directed the Civil Rights-era mystery "In the Heat of the Night," which won Oscars for best picture and lead actor, for Rod Steiger. He got Steve McQueen to wear a suit in "The Thomas Crown Affair." He cast Alan Arkin in his first film. He directed Cher and Olympia Dukakis to Academy Awards for "Moonstruck" and brought "Fiddler on the Roof" to life on screen.
The Canadian-born filmmaker earned Oscar nominations for best director for 1967's "In the Heat of the Night," 1971's "Fiddler on the Roof" and 1987's "Moonstruck" and for producing best picture nominees "The Russians Are Coming! The Russians Are Coming!" (1966), "Fiddler," "A Soldier's Story" (1984) and "Moonstruck." And 20 years ago, he received the prestigious Irving Thalberg Award.
This weekend, the American Cinematheque's Aero Theatre is celebrating the legacy of the acclaimed filmmaker. Jewison, 92, will be appearing at the Aero Friday for the double bill of "Moonstruck" and 1979's "…And Justice for All," which earned Al Pacino an Oscar nomination. On Saturday afternoon, he and Carl Reiner and Eva Marie Saint, who starred in "Russians," will participate in a Q&A with Leonard Maltin, and that evening he'll be on hand for a screening of "Fiddler on the Roof."
The tribute ends Sunday with the two films he made with Steve McQueen: 1966's "The Cincinnati Kid" and 1968's uber-romantic "The Thomas Crown Affair," which features the Oscar-winning tune by composer Michel Legrand and lyricists Marilyn and Alan Bergman, "The Windmills of Your Mind."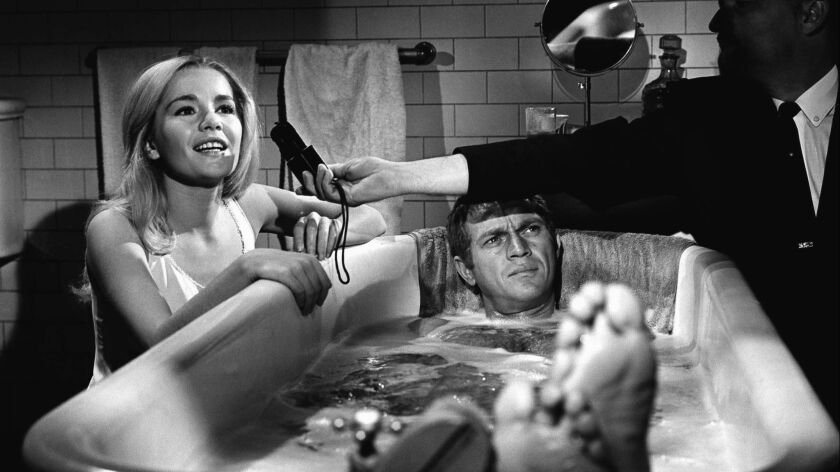 Jewison, who began his career directing musical TV specials in the 1950s including the highly praised "Tonight With Belafonte" before making his feature debut with the fluffy 1962 comedy "40 Pounds of Trouble," recently chatted on the phone about his remarkable life in Hollywood
How did you make the move from comedy to drama?
I think it was sheer luck. I was under contract at Universal and doing Doris Day comedies. But it wasn't really what I wanted to do. I wanted to make dramatic films. I was getting a little frustrated.
Sam Peckinpah was doing "Cincinnati Kid" at MGM and he got fired by [producer] Marty Ransohoff. I think he got fired because he was going away from the script. The agent who represented Steve McQueen represented me — Stan Kamen at William Morris. He called me and said, "Before they go with someone else, I would like you to read the script. You told me you wanted to work in a dramatic film."
Did you like the original script?
It was kind of, I thought, turgid and melodramatic. It wasn't very good. I said to my agents I would like to do the film, but I would have to do a whole new screenplay ... [I] remembered looking for a writer that I felt would bring something fresh to it.
So, you hired Terry Southern.
He was so out there. I never understood what he was saying half of the time, but he was brilliant. He literally sat down and rewrote the whole film.
What about working with McQueen, who was famously difficult?
Steve grew up without a father and was looking for a father. He worked best with older directors, I noticed. So, at the beginning, I said, "Steve. I can't be your father, but I can be your older brother who went to college. I can't do what you do. I mean you can take apart at Volkswagen and put it together again and build a dune buggy. I can't do that, but I'll always look out for you."
Eventually, he trusted me. I told him that making a film was a bond of trust between the director and actor. So, I got along pretty good with him.
And then three years later, you did "The Thomas Crown Affair" with him and even got him to wear a suit and tie.
I was looking for someone very sophisticated to play Thomas Crown.
Like Paul Newman?
No. It wasn't Paul. I was talking to Sean Connery because I felt Thomas Crown was a graduate of Phi Beta Kappa, really wore three-button suits and was a Boston Brahmin in way. Then I got a call from Stan Kamen, who said Steve McQueen just read 'Thomas Crown Affair' and wants to play it.
You must have been surprised!
I said he's never worn a necktie. I've never seen him in a suit. Stan said maybe that's why he's excited about it. He wants to do something different.
It worked. I put him in a $2,000 suit. I talked him into going with Faye Dunaway. The two of them were really kind of magical. It was very, very romantic. There was a lot of sexual tension in the movie.
You and your stars Carl Reiner and Eva Marie Saint from 1966's "The Russians Are Coming! The Russians Are Coming!" are reuniting for the screening Saturday afternoon. How did that film come about?
William Rose was one of the great comedy writers in Europe. He was an American who wrote English comedies. I went over to the Isle of Jersey and spent a week with him. We worked out the storyline, and it was right at the time when Khrushchev was banging his shoe at the United Nations. I was a great believer in détente between America and Russia at that time. It was a very political film and one of my favorite films of all time.
It was Alan Arkin's first film, for which he received a lead actor Oscar nomination. How did you cast him?
I'd seen him in "Luv" [on Broadway] and knew he had a great gift for accents. So, I met with him and explained to him since nobody knows who you are would you do a screen test for me? He said, "I don't want to do a screen test." I said it's not how you look or anything. I just want to do a little improvisation with you. I talked him into playing a Russian KGB who came to New York because of the Russian ballet. I said just wear a leather coat and give me your impression of a Russian accent.
That's the way I sold him to United Artists because they couldn't get a handle on this casting.
So was it hard to get a handle on the wild and crazy Jonathan Winters, who also costarred in "Russians Are Coming"?
There were times he would improvise. He was pretty good on script. I enjoyed working with him so much. He could be anybody. He'd be a forest ranger for three days. He was always whittling. It was hysterical.
"A Tribute to Norman Jewison"
Where: American Cinematheque's Aero Theatre, 1328 Montana Ave., Santa Monica
Feb. 8 at 7:30 p.m.: "Moonstruck," "…And Justice for All"
Feb. 9 at 4 p.m.: "The Russians Are Coming! The Russians Are Coming!"
Feb. 9 at 7: 20 p.m.: "Fiddler on the Roof"
Feb. 10 at 7:30 p.m.: "The Thomas Crown Affair," "The Cincinnati Kid"
Admission: $8-$12
Information: AmericanCinematheque.com
---
Get the Indie Focus newsletter, Mark Olsen's weekly guide to the world of cinema.
You may occasionally receive promotional content from the Los Angeles Times.