From spa trips to crayons: What's inside the Oscar gift bag?
During an Oscar season in which marching on Washington has been as fashionable as walking the red carpet, one might assume swag bags have become a thing of the past.
That assumption would be incorrect.
It is likely that many of the celebs heading to the Dolby Theatre Sunday will accessorize with pins supporting Planned Parenthood and the ACLU and others will likely get political on stage mid-speech. But behind closed doors the top Oscar nominees are still being lavished with extravagant freebies.
This weekend, marketing company Distinctive Assets sent 25 gift bags, one each to nominees in the actor, actress, supporting actor and actress and director categories, plus one to host Jimmy Kimmel.
Assembled by gifting guru Lash Fary, the bags — in actuality two jam-packed pieces of luggage — are filled with thousands of dollars worth of goodies. The most expensive retail item in the bags is worth $599: An Oomi Intelligent Smart Home, which lets users control their lights and security systems via an app. But arguably the most enviable giveaways are the trips. They include getaways to Hawaii, another to a mansion in Northern California, two stays at Italian hotels and a week at the Golden Door spa.
Fary says hotels and resorts are willing to gift the trips because only about 10% of nominees are ever able to redeem them. Viola Davis, for instance, received a free African safari when she was up for supporting actress is 2009. She still hasn't been able to take the tour, though, and Fary says she calls every year to see if she can get an extension.
"The conversation with a lot of the resorts is just about getting them over that fear of 'What if 26 people redeem this trip?'" says Fary, who lives in a mid-city duplex that includes a shrine to Barbara Streisand, a lock of her hair included. "After you explain that less than 10% redeem in a given year, they feel more comfortable."
After all, most of Fary's clients view the gift bags as a marketing expense.
"We're not doing this as philanthropy," he explains. "One of the questions I often get is, why are we gifting people who are rich and famous? Well, a gift doesn't have anything to do with a person's means or their bank account. And it's not exactly free, because the brands get to leverage the celebrities' names."
Not surprisingly, this can be murky territory — and the Academy of Motion Picture Arts and Sciences wants to stay as far away from Fary as it can. Last year, it filed a lawsuit against him alleging trademark infringement, among other complaints, and was concerned about possible confusion that the bags were affiliated with the academy. While Fary puts together official gifting options for other award shows, such as the Grammys, the academy has not given anything away in over a decade. As a result of the legal threat, every news release Fary issues clearly states at the top that he has no affiliation with the academy.
"They're in the business of promoting film, not promoting product," he says. "All the attention on the gift bag superseded all the attention on some of the more fringe categories."
While the academy has pulled back on gifting, Fary has not. He believes, emphatically, that "more is more" and fills his bags accordingly. There are things for kids: Customizable Crayola crayons, a children's book, an electric scooter. There are less expensive items: A $2.99 protein bar, ChapStick, a CPR kit. And there are a lot of things for supposed body improvement: weight loss formulas, a plate that helps with portion control, seat mats designed to eliminate cellulite.
"We're not saying you have to be thin or look a certain way," insists Fary. "But I don't know any woman — whether she's an Oscar nominee or not — who if she has cellulite wouldn't want to have a solution for it."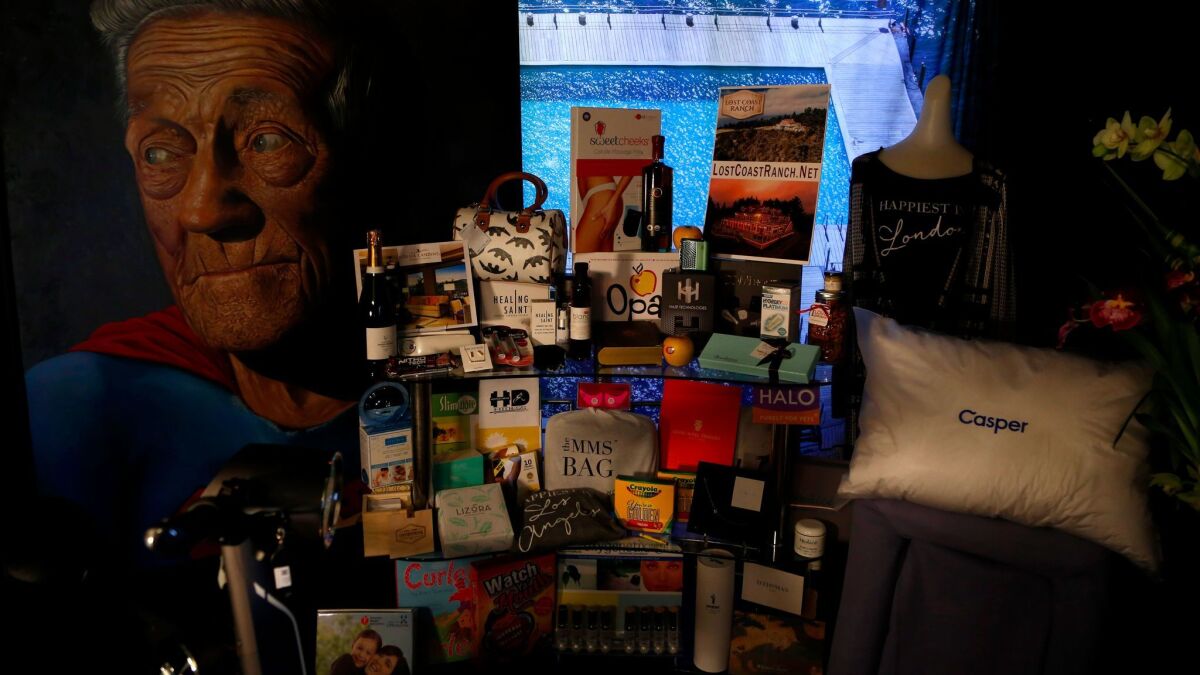 Follow me on Twitter @AmyKinLA
---
Get our L.A. Goes Out newsletter, with the week's best events, to help you explore and experience our city.
You may occasionally receive promotional content from the Los Angeles Times.