Andy King went viral thanks to Netflix's Fyre Festival doc. Now he's getting back to his day job
Back in November, when Andy King was hired to produce Global Green's annual Oscars gala, he was best known as one of the premier Hollywood event planners. For 25 years, he's helped to put on lavish industry affairs: A gala for Leonardo DiCaprio's environmental foundation, a launch party for the Ferris wheel on the Las Vegas Strip, bashes to celebrate America's Cup Superyacht Regatta in Bermuda.
But in January, his reputation shifted. That's when a Netflix documentary about the disastrous Fyre music festival debuted to significant social-media fanfare. Not only was King in the film — talking about how he tried to serve as a mentor to the festival's millennial creator, Billy McFarland — but within days of the doc's premiere, he had become a viral meme because of it.
In "Fyre," the 57-year-old candidly revealed the lengths he was prepared to go to in an effort to save the doomed festival. When four 18-wheeler trucks of Evian water got stuck in Bahamian customs, rather than pay $175,000 to free up the cargo, McFarland apparently asked King — "our wonderful gay leader" — to "take one for the team" and offer the customs official oral sex.
Instead of storming away in outrage, King swished some mouthwash and turned up to customs ready to go through with McFarland's request. In the end, he said, no sexual favors had to be exchanged because customs agreed to a payment extension.
And this is the information he had to relay just a few weeks ago to Diane Meyer Simon, the co-founder of Global Green. King had flown to Montecito, Calif., to meet with the 72-year-old philanthropist and discuss plans for the nonprofit's gala, which will be held at the Four Seasons in Beverly Hills on Wednesday evening. As some younger members of her staff came out to greet him, they expressed surprise at who was in their boss' living room: "Oh my gosh, Andy King is here!"
Perplexed, Simon asked how her employees knew the event planner. The staffers looked to King with grins on their faces.
"Well, Diane," King jumped in, "Let me tell you a story."
"I had to be completely frank," he recalled. "And thankfully, she said: 'Oh my gosh, I love you, Andy King!'"
King was sitting in a conference room at the Four Seasons on Monday as his team — he has three full-time employees — leaned into their laptops, trying to confirm the final guest list for the party. He was wearing a baby blue sweater which he said epitomized "the Andy King look" and a pair of vintage Prada loafers. Throughout the interview, his phone kept buzzing, and he paused a few times to respond, dictating text messages to his phone.
"My 15 minutes of fame has gone to be about 25 minutes of fame," he said, gesturing toward his phone. "I'm kind of excited about that. I think that it's pushing me into a fun direction."
When he realized he was becoming Mr. "Take One for the Team," King was initially worried that his company, Inward Point, might take a hit. But on the contrary, he said he's never received more business inquiries.
Last week, he got three different offers to produce music festivals; he's still mulling those over, since he's still "just a little bit scarred" by the whole Fyre fiasco. During his trip to L.A., he said he was meeting with two production companies in the hopes of signing a deal to star in a reality show that would trail him as he produced major events.
Next week, he'll be a guest on Andy Cohen's talk show "Watch What Happens Live" alongside Isaac Mizrahi. A prominent actor has asked him to collaborate on a short film next month. And he's lined up a handful of speaking engagements at conferences for event coordinators.
In the event-planning world, he said, he's become a "complete inspiration" because of how he dispelled the notion of how glamorous the business can be. "At the end of the day, it is one hell of a business, and it is really stressful," he said.
But he's recognized outside of his community too. While going through security at the airport on Sunday, King said two TSA agents expressed their sympathy for what he'd gone through and asked if he was OK. "I said, 'Don't worry, I'm fine, but thank you so much for your consideration, I really appreciate it.'" After he landed, he went to dinner, where eight college girls asked for a photo with him and told him he was their hero.
"At the end of the day, I demonstrated something which was: You know what? Sometimes you've gotta do whatever you've gotta do to get the job done," he said. "Did I actually end up doing it? No. Would I have done it? Maybe. And in today's culture, it's hard to find people that are gonna go that extra mile to get something done properly. I think that really resonated with so many people. Like, 'Oh my gosh, you need someone like Andy King on your team, because he's gonna do whatever it takes to make your event successful.'"
"At the end of the day, I demonstrated something which was: You know what? Sometimes you've gotta do whatever you've gotta do to get the job done."
— Andy King on his breakout 'Fyre' moment
There are some, however, who find this logic problematic. Refinery29 called King's story an example of "sexual harassment at its most insidious," and he said he's received backlash from the LGBTQ community for not pressing charges against McFarland.
"I do strongly feel that if this happens to you in your workplace, it's not OK, and don't tolerate it. I'm not condoning it," he explained. "In that situation, I was demonstrating something a little bit different. Every day at our workplace, we get hit with things that feel insurmountable.
"I'm not saying you need to perform something like that to make everything happen, but people are set in their ways. You have to be flexible to make things work today."
RELATED: In the Fyre Fest documentary battle, will Hulu or Netflix come out on top? »
King was putting his words into action on Monday, as he tried to manage an overflowing guest list for the Global Green gala by ordering extra monitors to make sure all guests would be able to see Robin Thicke's performance.
In recent years, King has begun to partner with brands who are interested in putting on eco-friendly zero-waste events. In teaming up with Global Green — whose mission is to create an environmentally sustainable future — King said he'd brought in a slew of local farmers to engage with guests at food stations and created a "sensory garden" where partygoers can smell the herbs and produce that help create their wine.
King became interested in helping to reduce the carbon footprint of big events six years ago, when he hosted a party for 1,400 people in Central Park. Due to outdoor restrictions, he wasn't allowed to use glassware, and subsequently went through 10,000 Solo cups, 14,000 plastic plates and 16,000 pieces of plastic cutlery.
He was so horrified that he began changing his business, working with companies that use electric trucks and instituting a no-idling policy for nonelectric vehicles. He tries to cut down on food waste by immediately placing leftovers into stand-by refrigerators and dispersing it to underfunded schools, nursing homes and homeless shelters.
That marks a huge change from the 1990s, King said, when he mostly produced events for Wall Street corporations. For one particularly outlandish party, he said a client chartered a 747 to send him to Holland and retrieve 250,000 orange tulips so he could recreate the Kitchen Garden.
"Can you imagine the carbon footprint? And they were all dead in three days," he said, shaking his head.
King spends most of his time on his own farm in upstate New York, where he grows hay and is in the process of converting some fields to hemp. While he keeps a place in Brooklyn, he acknowledged he's mostly remained alone on the farm since the Netflix documentary was released.
"It's ironic, because in the gay world, everyone says, 'Oh my gosh, Andy, the dates must be pouring in! But I've been somewhat reclusive at my farm when I'm not working," he said. "I'm still trying to get my hands around all this. My friends all worry and they're like, 'Are you OK? How are you handling this media storm?'
"As the weeks are going by, it's a teeny bit nerve-racking because people will say, 'Your 15 minutes of fame are going to be over soon, you need to figure out a way to monetize this and grow your business.' Whatever I do, I want to do the right thing and I want to enjoy it."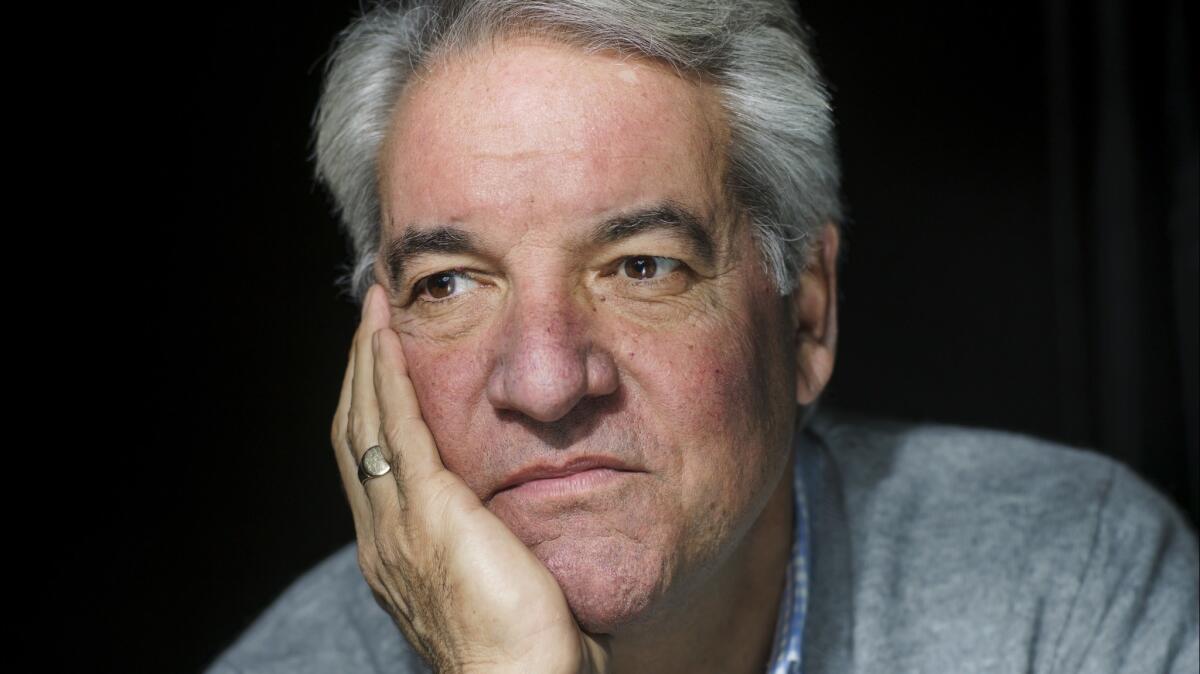 Follow me on Twitter @AmyKinLA
Get our L.A. Goes Out newsletter, with the week's best events, to help you explore and experience our city.
You may occasionally receive promotional content from the Los Angeles Times.