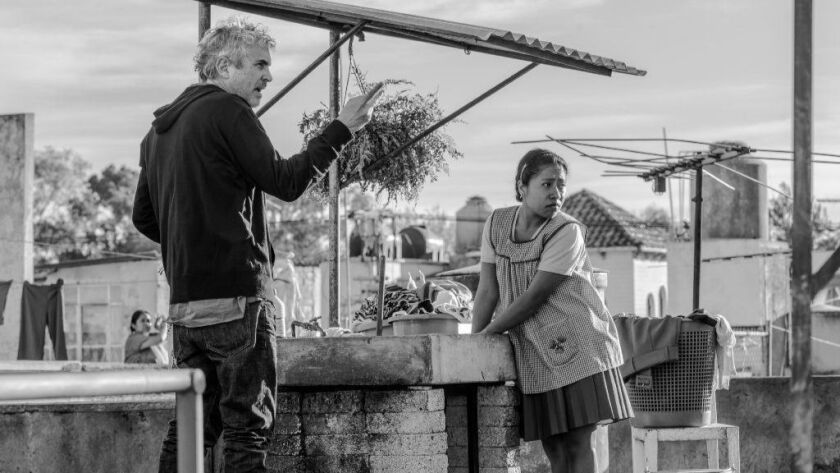 Among Alfonso Cuarón's four nominations at the 91st Academy Awards were two that designated him the first person ever contending for both directing and serving as cinematographer for the same film. He made history when he collected the prize for his keenly observational and richly textured photography in "Roma." Then he did it again when he won for director.
"If this film was created by my own memories, the film was crafted through the memories of what the great masters of cinematography have given to us," Cuarón said from the stage in accepting the cinematography Oscar, his first of several awards in the ceremony. "It's well known that in Billy Wilder's office, there was a sign that said, 'What would [Ernst] Lubitsch have done?' For me, it was, 'What would [Emmanuel] Chivo Lubezki have done?' " — referring to Cuarón's frequent collaborator — "So this is for you too, Chivo."
Then he returned to the stage two more times, for foreign language film and for best director.
It was Cuarón's second directing Oscar, after winning for "Gravity" in 2014. In such a collaborative medium, to call "Roma" his film is a rare case of understatement: The filmmaker wrote, produced, directed, shot and edited the multiple-Oscar winner. His direction was sometimes unconventional, as when he would give actors only pieces of the script, often on the day of shooting. The film's sound mix is so intricately detailed, the director has said the size of its data files are among the largest ever crafted in Dolby Atmos. The result is a vivid, sensual visit inside the filmmaker's childhood world.
While it's not unheard of for directors to serve as their own cinematographers — Steven Soderbergh and Paul Thomas Anderson are notable examples — Cuarón was the first to be nominated in both categories in the same year, much less win the photography prize.
He wasn't his own first choice for the project. He had originally intended to continue his collaboration with Lubezki, who earned Oscar nominations for shooting Cuarón's "A Little Princess" and "Children of Men" before winning his first of three consecutive Oscars for the director's "Gravity" in 2014.
A scheduling conflict knocked Lubezki out of "Roma," and Cuarón found himself without a key creative partner. As he settled in as his own director of photography, he found an unexpected virtue:
"When I usually work with Chivo, we are on set talking about the shots, blocking the scenes; we do it in a very detailed way. But then I leave him alone, and I go off and focus on other parts," he told IndieWire, referring to Lubezki by his nickname. With "Roma," "I was forced to be on the set. By me being there, different transformations would happen and subtle changes to each scene. I was surrounded by my past the whole time, and it was part of that essential process that I wanted. The fact Chivo couldn't do it was in many ways a benefit for the creative process."
In an interview conducted by Lubezki for IndieWire, Cuarón credited Lubezki with influencing the visual approach of "Roma" through their early discussions, including using the very wide 65 mm format and making the director think carefully through his decision to present the film in black and white.
Lubezki pointed out that the director's camera sometimes didn't follow actors at the same pace of their movement, "almost like a complex jazz number … the camera becomes almost like a consciousness revisiting the story."
"It's like a ghost from the present visiting the past, which is the way I described it to the crew," Cuarón told British Cinematographer.
2019 Oscars: See the full list of winners and nominees »
The historic win wouldn't have been broadcast live if the academy had stuck to its announced plan to hand out four Oscars, including cinematography, during commercial breaks. The resulting outcry included a statement from the American Society of Cinematographers' president, Kees van Oostrum: "This decision could be perceived as a separation and division of this creative process, thus minimizing our fundamental creative contributions. ... We cannot quietly condone this decision without protest."
The academy backed down, enabling Cuarón to take the Oscars stage in triumph.
"This is an amazing honor," he said in his acceptance speech. "Thank you, academy. To create a single frame of film, as you know, requires the work of a lot of people — very hard work — so I want to thank Yalitza Aparicio and Marina de Tavira before anyone else. … Thank you very much, Mexico; thank you, my family."
---