The curious case of Frances McDormand's lost and found Oscar and more post-show party scenes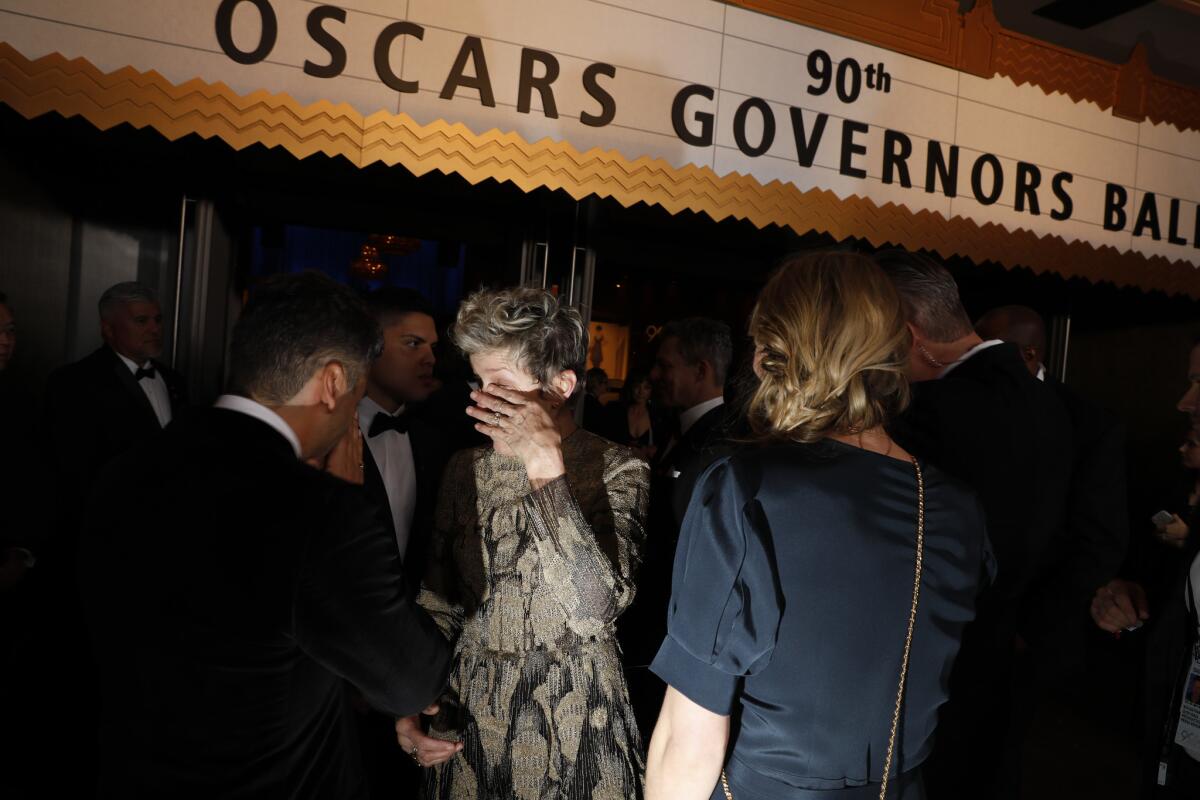 "That's my baby boy!" Frances McDormand gushed while clutching her Oscar inside the Governors Ball after her win at the 90th Academy Awards on Sunday.
The actress was talking about her son, Pedro, but McDormand would soon be searching for her newest baby boy — her lead actress Oscar for her performance in "Three Billboards Outside Ebbing, Missouri."
Amid the flowing champagne, towers of seafood and passed plates of Wolfgang Puck cuisine, one of the most bizarre moments following Sunday's telecast happened at the Governors Ball when a partygoer swiped McDormand's freshly engraved statue.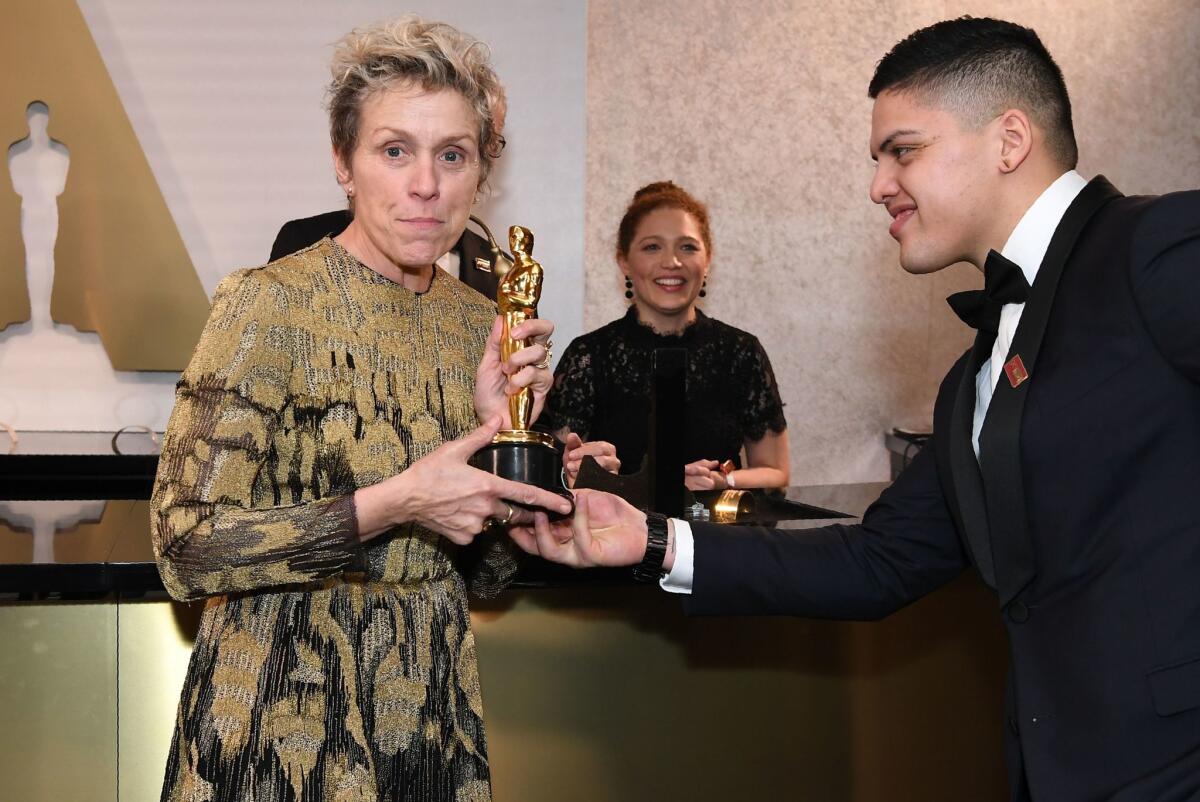 Late in the evening, McDormand was spotted red-faced from laughing and crying after a man lifted the trophy while she was chatting and tried to dart out of the Ray Dolby Ballroom where the party was being held.
At one point, she turned to L.A. Times photographer Jay Clendenin and said, "I lost my Oscar." Her handlers quickly rushed over to figure out where the sticky-finger bandit had gone off to.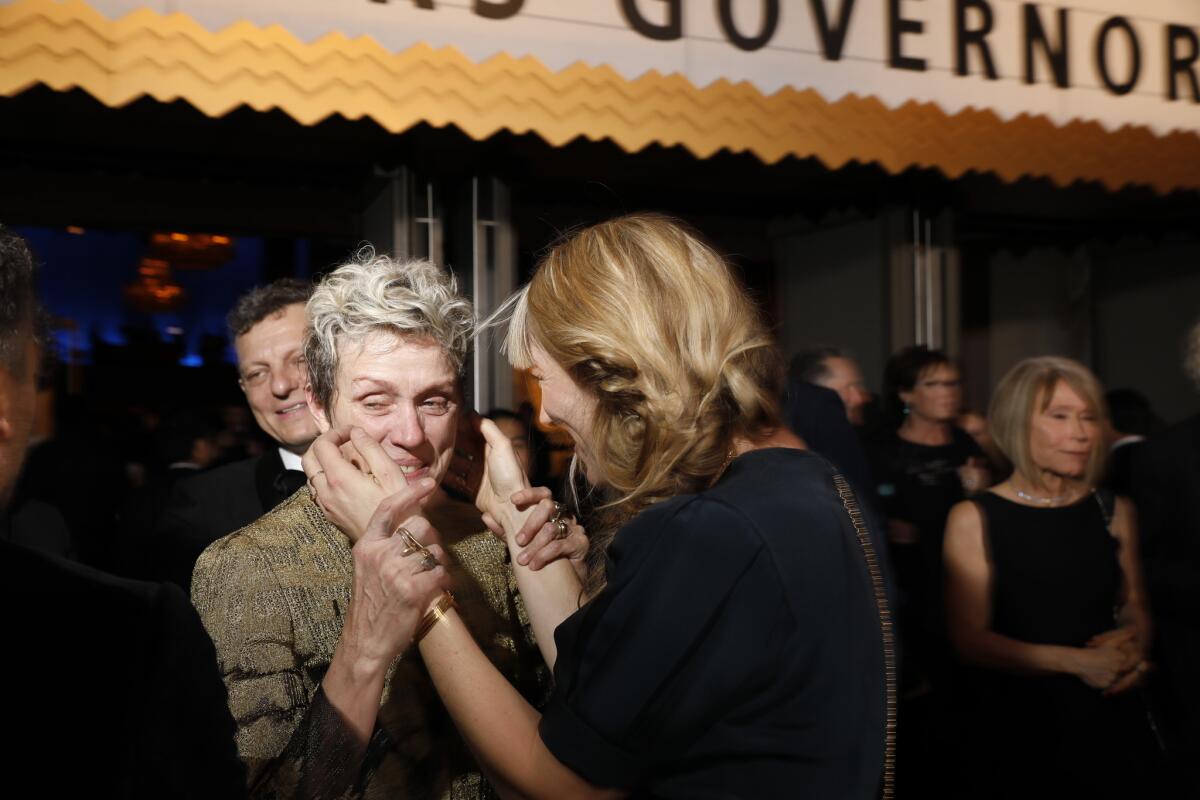 Given the tight security around the Dolby, the alleged thief didn't make it far. Another photographer intervened and stopped the man holding the Oscar.
According to whispers around the party, McDormand was initially reluctant to press charges. But not long afterward, a man named Terry Bryant was arrested at the Governors Ball, accused of stealing McDormand's statue — after he took time to post a Facebook video of himself bragging and gloating to others at the party about the prize his "team" was taking home.
"Lookit baby, my team got this tonight. This is mine. We got it tonight, baby," said the man in the video before kissing the statue. "Governors Ball, baby. Who wants to wish me congratulations?" Hoots and air kisses from partygoers attracted to the celebration followed as Bryant tried to find out the location of Jimmy Kimmel's afterparty. He said at one point he had won it for "music" and later that he'd won for "best producer."
The 47-year-old, who appears to also go by the name DJ Matari, was arrested at 11:50 p.m. inside the Hollywood and Highland complex where the Governors Ball was winding down.
McDormand's representative Simon Halls told USA Today in an email, "Fran and Oscar are happily reunited and are enjoying an In-N-Out burger together."
UPDATE: Man accused of stealing Frances McDormand's Oscar arrested, identified »
But later at the Vanity Fair Oscar party, McDormand was Oscar-less as she approached the hulking security men guarding the entrance to the Beverly Hills bash and said, "This is my posse."
As the guards waved McDormand's crew into the Wallis Annenberg Center for the Performing Arts, she let everyone know there was a reason she didn't have her golden statue: "Somebody tried to steal my Oscar at the Governors Ball," she told producer Jason Blum as she made her way inside, passing an a capella group. "Let me see someone try to pawn that!"
"A lunatic stole it and we had to arrest them," a member of McDormand's crew added.
The 60-year-old actress quickly bypassed the red carpet, rushing by photographers. But when she saw Tiffany Haddish posing for the shutterbugs, she stopped to tell the comedian about her stolen hardware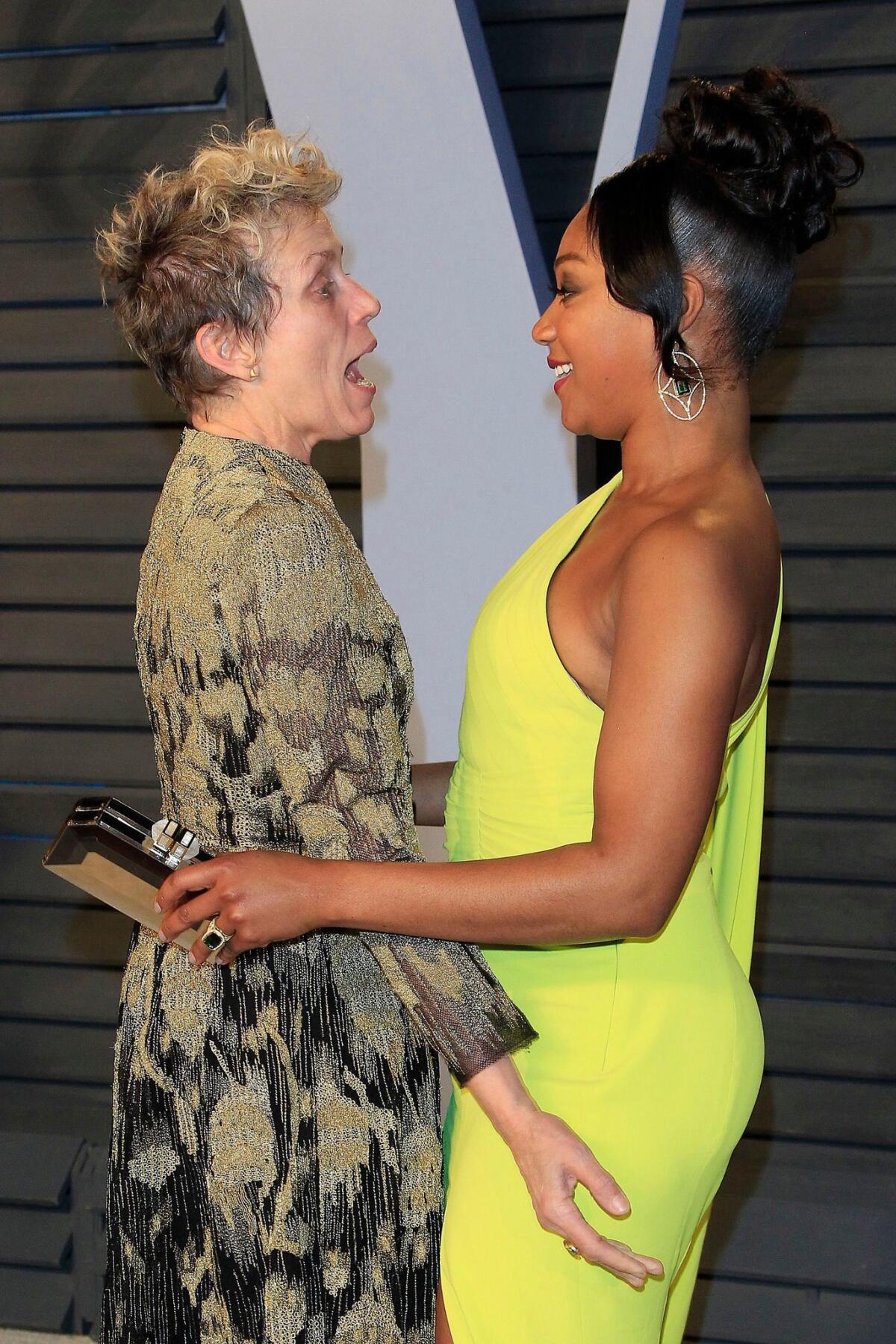 "She said somebody stole her Oscar," Haddish told another party guest, launching a full-blown game of telephone.
McDormand's statue may have been out of sight for safekeeping, but there were plenty of other Oscars on hand: Gary Oldman, documentary director Bryan Fogel and Allison Janney all carried their trophies into the exclusive event.
Monday morning, Bryant remained in custody on a grand theft charge on $20,000 bail.
LAPD Sgt. Meghan Aguilar said that the department has seen the video of Bryant mugging on Facebook with the stolen Oscar. The department credits the photographer's quick action for preventing the thief from hightailing it with the stolen Oscar.
Moral of the story: Keep your Oscar close, even in rarefied air. And if you find yourself with an Oscar that isn't yours, stay off Facebook.
Miniature Oscars and tuna cones
Foiled theft aside, the Governors Ball was an early highlight of post-show festivities (though we're sure that uber-exclusive Jay-Z party we weren't invited too was probably the place to be). Decorated with an opulent, classic Hollywood theme, the ballroom was adorned with vintage cameras, metal movie reels referencing best picture nominees and winners throughout Oscar history, sparkling crystal chandeliers and lush floral arrangements.
The food, like the liquor, was seemingly endless: Miniature Oscars made out of salmon, asparagus soup, baked mac and cheese, chicken pot pie, spicy tuna cones, beef tartar, salmon pizza, baked potatoes topped with caviar, vegan pasta, sushi, a stocked seafood station and enough desserts to make even the sweetest tooth ache (not that that stopped anyone, judging from the long line for the crepe station).
FULL OSCARS COVERAGE: The winners, the moments and more
Two-time nominee Mary J. Blige arrived to cheers early in the night, the R&B star taking a lap and receiving a parade of well wishes before making a quick exit.
In one corner of the ballroom, "Get Out" breakout Lil Rel Howery was tucked away sharing laughs with "La La Land" producer Jordan Horowitz.
Supporting actor nominee Woody Harrelson kept a low profile as he noshed on dinner and Jordan Peele made a beeline to get his Oscar for original screenplay engraved, immediately showing off the trophy to his mom who waited nearby with Peele's wife and "Brooklyn Nine-Nine" star Chelsea Peretti.
When we asked "Icarus" director Bryan Fogel how it felt to be an Oscar winner, his reaction almost took a back seat to his ravenous appetite.
"Gahhhh I don't know, it's so surreal," he beamed while clutching his trophy. "Now where can I find some of that delicious seafood I keep hearing about?"
Christie D'Zurilla and Richard Winton contributed to this report.
On Twitter @AmyKinLA
On Twitter:@GerrickKennedy
---
UPDATES:
2:20 p.m.: This story was updated with information about the arrest of the person who allegedly stole Frances McDormand's Oscar.
Get our L.A. Goes Out newsletter, with the week's best events, to help you explore and experience our city.
You may occasionally receive promotional content from the Los Angeles Times.