With her best director nomination for 'Lady Bird,' Greta Gerwig continues to look ahead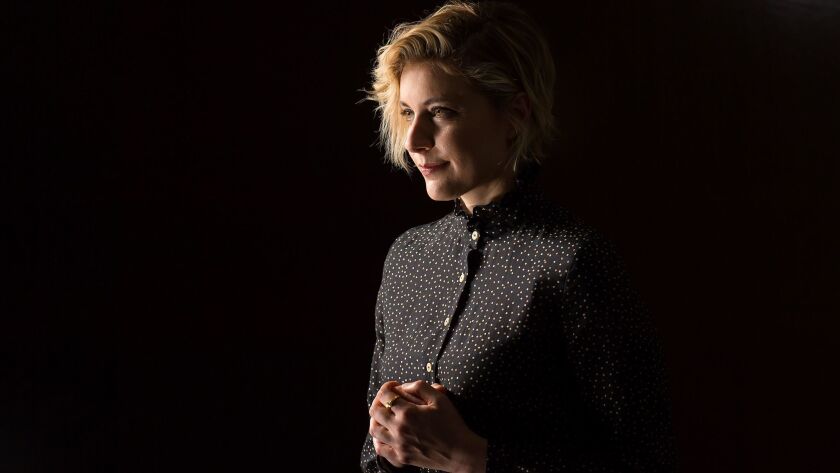 The five Oscar nominations for "Lady Bird" — including best picture — were the latest affirmations for Greta Gerwig's breakout film.Gerwig became only the fifth woman in Oscars history to be nominated for best director and she also picked up a nomination for best original screenplay.
The meaning of that best director nomination is not lost on Gerwig.
"It means the world to me," she said in a phone call from Los Angeles on Tuesday morning, recalling her feelings when Kathryn Bigelow became the first woman to win an Oscar for best director for "Hurt Locker" in 2010. "I remember crying and feeling so excited and feeling like she did it and there she is and so much more feels possible. And I hope that, honestly, I hope that girls or women who want to be filmmakers – sorry I'm going to start crying again – look at this and they feel like, 'Yeah, I'm going to go make my movie.'"
LIVE UPDATES: Oscars nominations 2018 »
"And I hope that it does that. Because I selfishly want to see those movies," Gerwig added. "
The film's success is all the more remarkable because it's Gerwig's solo directing debut. Set in Sacramento, where Gerwig grew up, the film follows a high school senior who prefers to be called Lady Bird (best actress nominee Saoirse Ronan) as she navigates the complex relationship with her mother (best supporting actress nominee Laurie Metcalf), capturing the difficulties of growing up and of letting go.
Gerwig first emerged from the underground of micro-budget filmmaking with performances in movies such as "Hannah Takes the Stairs" and "Baghead." She co-directed the 2008 feature "Nights & Weekends" in which she also appeared as an actress.
Conventional Hollywood has never quite known what to do with her, stuffing the sparkling smarts of her screen presence into roles in films such as "Arthur" and "No Strings Attached." She also appeared in "Greenberg," and would go on to co-write and star in two more projects with filmmaker Noah Baumbach, "Francis Ha" and "Mistress America." Last year she also earned praise for her feisty performance in "20th Century Women."
On Tuesday morning, Metcalf spoke about Gerwig's demeanor on-set while making "Lady Bird."
"She was a natural," Metcalf said. "I have an image of Greta standing at the monitor with the headphones on next to her d.p. [director of photography] Sam Levy, with a giant grin on her face, just filled with joy." I know she felt so comfortable in that position."
Gerwig saw the nominations for herself, her performers and the film as recognition of a group effort.
"I just keep going back to my cast and the crew, movies are not a solo endeavor, they are the most collaborative art form," she said. "Everybody not only brought their heart and soul to it, they brought the most detailed level of craft and art and that in itself is an act of love."
SIGN UP for the free Indie Focus movies newsletter »
Follow on Twitter: @IndieFocus
---
Get the Indie Focus newsletter, Mark Olsen's weekly guide to the world of cinema.
You may occasionally receive promotional content from the Los Angeles Times.