The 'Theeb' director describes the film's arduous journey to a foreign-language film Oscar nomination
Reporting from AMMAN, Jordan —
In the Oscar-nominated Jordanian film "Theeb," the eponymous character, a young boy still untutored in the ways of the desert, is stranded in a particularly hostile corner of the Ottoman Empire circa 1916.
The region around Theeb is in the throes of what was known as the Arab Revolt, a period of existential upheaval with echoes of the maelstrom it faces now.
But Theeb (whose name means "wolf," though you wouldn't guess it from his gentle behavior) has more immediate problems: He needs to survive in Wadi Rum, the picturesque but unforgiving landscape first made famous in David Lean's "Lawrence of Arabia."
See more of Entertainment's top stories on Facebook >>
Because he is surrounded by marauders who have already dispatched his brother, any mistake could well be Theeb's last.
That's a good approximation of the film's arduous journey from script to Jordan's first foreign-language film nomination, according to British-born director Naji Abu Nowar. Last weekend the film picked up a BAFTA award for outstanding debut by a British writer, director or producer for Abu Nowar and producer Rupert Lloyd.
"Literally, the film could have ended every day, from the first day to the last day of the shoot," says Abu Nowar, his words eliciting knowing smiles from his colleagues, co-writer Bassel Ghandour and producer Nasser Kalaji, seated across the table in a secluded corner of a Amman café.
"If I hadn't got what we needed in one location, the film was over… We were going to break up and go home. We would be done."
And although the film has already won awards and acclaim — it opened in the U.S. in November to rave reviews — it's the Oscar nomination for foreign-language film that has electrified the country.
"It's history. Now Jordan has that stamp, we have that stamp, it's really important for all of our futures and for the future of production in the country, so you feel you've done something good," says Abu Nowar.
There was a scene with Theeb and his brother... I just wasn't calling cut because I was enjoying it so much.
— Director Naji Abu Nowar
The real challenge in making the film arose even before the script was finished, when Abu Nowar and Ghandour realized that, for their "character drama" wrapped in "a Bedouin spaghetti western" to work, they couldn't do it from the comfort of the Jordanian capital.
"So much was unknown that we had to know," explains Abu Nowar.
"How do you walk into a tent — what do you do? All the cultural etiquette, we knew nothing about it."
To fully immerse himself in Bedouin culture, Abu Nowar moved deep inside Wadi Rum. He lived for a year with a tribe in the village of Shakriyeh, whose inhabitants had been resettled in the '90s as part of a drive by the Jordanian government to give nomads a permanent home.
But the move highlighted another issue: They wouldn't be able to call upon actors from outside the community.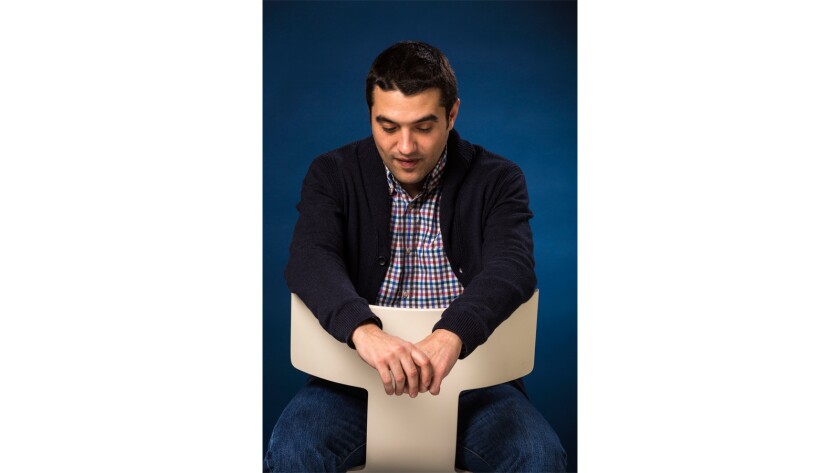 For an actor to convincingly portray a Bedouin, Abu Nowar says, they "would have to come and live there, someone like Daniel Day-Lewis," referring to the method actor.
"Their faces, the way they moved… It would take too long to get it, and I doubt they would do that, because we were nobodies," adds Ghandour.
It forced Abu Nowar to invent an audition process for people who had never acted before, in a society where the standard method of casting a movie would bring offense.
"We didn't really audition people, because it would be rude to reject them," he explains.
"We would bring them for a conversation and then film them with specific questions… see if they're willing to share emotion, have imagination."
Ironically, the easiest casting choice was for the lead role of Theeb, played with self-assured charm by Jacer Eid Al-Hweitat.
The first time 'Theeb' was screened at the Venice Film Festival, it was the first time [the actors] had ever walked into a cinema.
— Producer Nasser Kalaji
Abu Nowar had rented a house in Shakriyeh from Jacer's father while employing him as an executive producer during his stay with the Bedouins. That's how the team first met Jacer.
"We knew Jacer, but we ignored him. He was a very shy kid, and we never really paid any attention to him," says Abu Nowar.
But when the director wanted to shoot a mood board (a mini-trailer of the film that could be used to attract investors), Jacer's father just brought his son.
"I was angry about it. I was sure Jacer would ruin it and that we wouldn't be able to do anything with him," continues Abu Nowar.
"And then we put him on camera, and he just came alive, and he just had this magic that some people have. We were shocked."
Abu Nowar eventually whittled down the field to the 11 actors he needed for the film and spent the next eight months "workshopping" — playing acting games and getting the cast accustomed to the filming process.
For some, like Jacer, the workshops were more about getting beyond social taboos than developing their skills as actors.
"A young boy in Bedouin culture is to be seen and not heard, and certainly not kick his elder or try to shoot his elder," explains Abu Nowar.
"So this was very uncomfortable for him. It was a scary process."
When the cameras were rolling, that was when Abu Nowar realized he might have a hit on his hands.
"There was a scene with Theeb and his brother… I just wasn't calling cut because I was enjoying it so much," says Abu Nowar, shaking his head as he recalls the moment.
"That's when I thought that these guys are just as good as top-notch Hollywood actors you see in the world. And then I knew if they keep like this, then we've got it. And they just got better."
Still, the filmmakers had to deal with some of the more prosaic issues related to Bedouin life.
"First shot of the day, we turn up on set and there is no donkey," recalls Abu Nowar, surmising that the donkey was trying to mate with a female in heat somewhere in the desert.
The problem, Ghandour adds, was that the location was close to the Jordan-Israeli border.
"We thought if the donkey had crossed to the other side we couldn't get it back."
The donkey deigned to appear on set only after a suitable paramour — a female donkey — was placed behind the camera.
"Then we got what we wanted," jokes Ghandour.
Kalaji, the producer, also had to spend hours in a military school where Jacer was enrolled to get permission for the boy to grow out his hair (he sports a mass of wild curls in the movie).
Since the film's release, it has been gobbling up awards all over the festival circuit, including an Orizzonti award for best director at the Venice Film Festival.
It has also brought accolades for its unlikely stars when they have joined the team on promotional trips abroad.
"The first time 'Theeb' was screened at the Venice Film Festival, it was the first time [the actors] had ever walked into a cinema," says Kalaji.
"Imagine: The oldest film festival in the world. You attend. And you get a 12-minute standing ovation... everybody was crying after that."
The Bedouins, meanwhile, celebrated the nomination in their own distinct way.
"Just think of this as an image: You're in the desert in Wadi Rum, there are Bedouins, and they're firing in the air… because they were nominated for an Oscar," says Abu Nowar, pausing for a moment for effect.
"How surreal is that?"
---
Get the Indie Focus newsletter, Mark Olsen's weekly guide to the world of cinema.
You may occasionally receive promotional content from the Los Angeles Times.