Oscars press room: 'Green Book' team addresses naysayers after best picture win
At the Academy Awards, the acceptance speeches are just the beginning. The Times has reporters backstage covering what the winners have to say in the press room. Keep this page open throughout Oscar night as our Times team gets the latest reactions and quips from those taking Oscar home.
'Green Book,' best picture
The makers of "Green Book," the controversial best picture winner at the Oscars this year, have a message for haters:
They stand firmly behind the film they made.
"It was discouraging," producer Jim Burke said of the fierce criticism the film faced for perpetuating a white-savior-type story line about the relationship between a black man and his white driver in the deep south. "But we always went back to the film, and when we had a bad day, we popped in the movie and we were reminded that we were all really proud of this film."
They didn't necessarily expect to win, but they didn't put the possibility completely out of their heads.
"If I watch a football game and I need my team to win, I walk out of the room," said director Peter Farrelly of his approach to Oscar Sunday. "I thought about everything but winning this thing, and it worked."
Writer Nick Vallelonga called the movie an "Odd Couple" story.
"All of us, from writing to production, to cast and crew, everybody knew we were telling an important story," he said. "There are a lot of ways to tell this story… this is our little story and it's as valuable as any story."
The story was not supposed to be a big story, agreed Farrelly. It was a story about two people who thought they had nothing in common but discovered they were more alike than they thought.
"The message is talk to each other," he said. "I know that sounds corny and Pollyannaish, but the only way to solve problems is to talk."
— Jessica Gelt
Rami Malek, lead actor
Before Rami Malek spoke to reporters backstage at the Oscars, he wanted to share a bit of gratitude for the press.
"I just wanted to say thank you guys for being here," said the "Bohemian Rhapsody" star who won the award for lead actor. "I will say this: I don't think critically the decision on this film was unanimous but I do appreciate everything you guys had to write. As a kid, I read criticism of film and learned so much from it. So no matter what, I still do very much appreciate you."
Malek, who is of Egyptian descent, expanded on the topic of immigration that he mentioned in his acceptance speech. Growing up, "I didn't feel like I fit in, I definitely felt like an outsider," he said. "As I got older, I realized just how beautiful my heritage and my tradition is, and the wealth of culture and magic and music and film and just pure art that comes out of the Middle East. And now I'm so privileged to represent it."
— Ashley Lee
Oscars 2019: Olivia Colman on her big night: 'It's a very weird situation' »
Kevin Willmott, adapted screenplay
Kevin Willmott came to the press room with fellow "BlacKkKlansman" writers Charlie Watchel and David Rabinowitz in time to meet a torrent of questions about Spike Lee's reaction to "Green Book" winning best picture.
"I don't think any of us have had a chance to talk to Spike and I can't speak for Spike, but I don't think his reaction is about 'Green Book,' so much as …," he trailed off, not wanting to go any further.
"We're just glad to be here, we're glad we won, and it's a real breakthrough that any film about race gets to win anything," he continued. "When I first started in the industry, it was really bad, and we've come a long way since then. And tonight is a huge step forward in many ways. It's still frustrating at times, but it's great to see progress being made."
— Jessica Gelt
Oscars 2019: Spike Lee vents over 'Green Book' best picture win »
Mahershala Ali, supporting actor
Mahershala Ali, now a two-time Oscar winner after winning the supporting actor category for his performance in "Green Book," spoke to the press backstage of feeling fortunate — to have landed this role and to have won the award.
"It was constantly sort of negotiating and finding my way to locking in to a truth and finding his essence," Ali said of playing jazz musician Don Shirley. "It was difficult and beautiful and I'm very grateful to have gone on the journey."
Ali added that any of this year's nominees could have won the category, "so to be the one that was chosen to get to hold this trophy again is not something that I take lightly, it's not something that I take for granted."
A lot has changed for the actor since his "Moonlight" win in 2017.
"My life has changed tremendously in two years," he said. "My daughter just had her second birthday two days ago. And I was busy in that time working but ... as long as you walk away having been improved, then it's all an education. I will continue to make my best efforts and do the best work that I can possibly do and be the best person I can be."
— Sonaiya Kelley
'Spider-Man: Into the Spider-Verse,' animated feature
"Spider-Man: Into the Spider-Verse" producers Bob Persichetti, Peter Ramsey, Rodney Rothman, Phil Lord and Christopher Miller clarified who were trying to thank onstage before they were cut short.
"We were just going to thank Stan Lee and Steve Ditko for literally inspiring this whole thing," Persichetti said. "And for believing that all of us human beings have the potential and capacity to be heroes."
The filmmakers also gave a shout out to Mahershala Ali, who plays the Prowler in the film and who took home his second supporting actor Oscar for "Green Book" earlier in the night.
"If we had any advice for filmmakers out there, put Mahershala Ali in your movie," said Rothman. "It seems to work out OK."
He recalled a moment during filming when Ali, after being asked to perform a second take of his character's death scene, politely declined.
"He basically in a very calm, well-articulated way said that for him to do that kind of scene takes a lot of effort and takes a lot out of him," Rothman said. "He essentially said to us, 'Next time, if you still need me to do it again, I'll do it.' So we went and we looked at the scene and we did not ask him to do it again. He's very committed. He's a method actor, and he did a beautiful, beautiful performance as did the rest of our cast and they're a big part of why we're standing onstage right now."
— Sonaiya Kelley
John Ottman, editing
He called it the "Death Star Sequence."
After John Ottman won the Oscar for film editing for "Bohemian Rhapsody," he talked about the epic Wembley Stadium performance in the film.
"If it didn't work, the whole movie would collapse," Ottman said, describing the stress he felt for more than a year and a half while working on the biopic about Queen and its charismatic, troubled frontman, Freddie Mercury.
The scene, which conjures the feeling a band might experience while in front of a crowd of mind-boggling proportions, was largely CGI, Ottman said. Only about 1,000 extras were filmed and then scanned and duplicated in new clothes to create the sea of humanity onscreen.
"Love permeated the whole production," Ottman said of the grueling undertaking. "We all believed in the film and in each other."
— Jessica Gelt
Regina King, best supporting actress
Regina King was all about love backstage after winning for Barry Jenkins' "If Beale Street Could Talk," based on the book by the same name by James Baldwin.
"Love is the thing that pushes us through trauma," King said, beaming.
Having portrayed a fierce mother intent on protecting her child, King was speaking to the love she depicted onscreen but also to the love she received from her own mother, whom she thanked so passionately onstage at the Dolby Theatre.
"It's kind of one of those full-circle moments," King said of having her mother beside her at the Oscars. "My mom was the lighthouse."
King called "If Beale Street Could Talk" an urban tragedy and paid homage to the #MeToo movement for allowing women to speak freely about their experiences of sexual assault and harassment.
"We held each other up through a secret that shouldn't be a secret," King said of the stories that once remained untold among women. "Even if we have not experienced a violation on that level firsthand, we have lifted a sister up through that."
What would James Baldwin say if he were around to see the movie, and King's win?
A word he would say so often, King answered.
"Amen."
— Jessica Gelt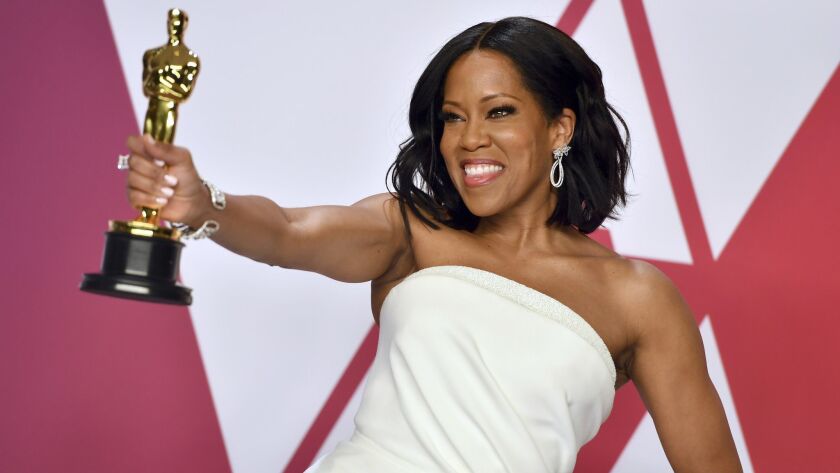 Domee Shi, animated short
After winning, "Bao" director Domee Shi had an emotional phone call with her mother, who inspired the Pixar short.
"I just FaceTimed her, and she said, 'Oh my God, I'm so happy, I'm crying,' but I couldn't see because of classic parent technology thing happening where I couldn't see her camera," she told reporters backstage. "I have to take her word on it for crying. I've never seen her cry before, so it's a big deal."
"Bao" tells the story of an aging Chinese mother who, while suffering from empty nest syndrome, draws on her maternal instinct when one of her dumplings comes to life.
Shi said the short has given her a newfound appreciation for her mother.
"I took my mom making dumplings for granted when I was growing up; she would just pop them out so quickly," she said. "But after having to film her and study her technique, it's like, so much effort and love, sweat and tears go into making them."
She also got a glimpse of her childhood from her mother's point of view. "I was always that super overprotected little dumpling, and I was so frustrated and wondering, 'Why is she smothering me? Stop it!' " she said. "Through making this short, I understand her a little bit better."
Shi is thankful for this newfound understanding, as her mother is still quite protective of her: "Even now, she says, 'I wish I could put you back in my stomach so I could keep you forever.' "
Shi is the first woman to direct a Pixar short film. As for other women in the field of animation, producer Becky Neiman-Cobb told reporters, "The future is bright."
— Ashley Lee
'Period. End of Sentence,' documentary short
Women and women's issues have been big at the Oscars this year, and few moments illustrated the urgency of empowering women better than director Rayka Zehtabchi's comments in the press room after winning for documentary short subject alongside producer Melissa Berton.
Their film "Period. End of Sentence" takes viewers to a small village in India where women are working to destigmatize menstruation.
Zehtabchi said the responses they would hear about menstruation while making the film took them aback. Women in that area had no understanding of what a period was. They thought it was an illness.
"If you went your whole life fearing this thing that happens to your body, I can't imagine what else you'd be afraid to do," Zehtabchi said.Domee
— Jessica Gelt
---
From the Emmys to the Oscars.
Get our revamped Envelope newsletter, sent twice a week, for exclusive awards season coverage, behind-the-scenes insights and columnist Glenn Whipp's commentary.
You may occasionally receive promotional content from the Los Angeles Times.