Celebrating 25 years, the Pan African Film Festival honors Alfre Woodard for telling and carrying 'our stories, our spirit'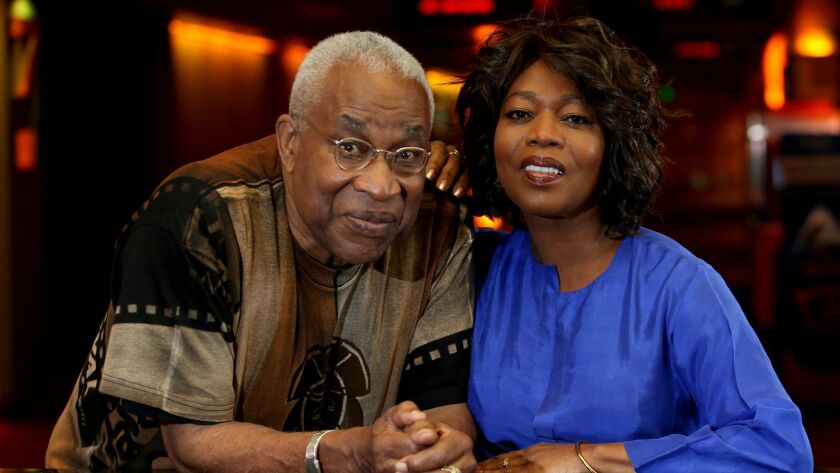 From the late 1980s to the early '90s, when people thought of blackness in Los Angeles, most thought of either the rise of N.W.A's West Coast style of rap or the fallout from the LAPD's beating of Rodney King. As actress Alfre Woodard put it, "people didn't think there was a mindset here of an African artistic consciousness, or a black or African American artistic consciousness." Los Angeles was no Brooklyn or Harlem.
Then came Ayuko Babu and the Pan African Film Festival in 1992. Descending on West Hollywood's Sunset 5 theater, everyone was in full bloom African regalia, Woodard recalled — geles or head ties; dashikis; kaftans. It was Leimert Park but on the corner of Crescent Heights and Sunset boulevards. As a Times article written at the time said, "for most Americans, the face of Africa belongs to a starving Somali child or a stoical Nelson Mandela. The Pan African Film Festival [offered] diversity and universality — with complexity."
Years later, such an offering persists in the hundreds of films on display Feb. 9, through Feb. 20 at Baldwin Hills Crenshaw Plaza's Rave Cinemas. And on the festival's 25th anniversary, Woodard, who will be receiving the group's Lifetime Achievement award, still relishes the festival's existence.
"To have a festival, and I've been to them all, where the majority of the images on screen are familiar to my eyes — the palette, the skin tone, the way of speaking, of moving — is remarkable," she said. "It's an affirmation. You feel like you just slid down into your family [when you come]."
When Babu conceived of the festival, he drew on principles learned during the '60s around community building and collective consciousness among people of African descent. He wanted a space where the full diversity of blackness, of pan-African-ness, could exist unapologetically.
"We got to a point where we understood that, as a result of the slave trade and colonization, African people are spread all over the planet and everybody has a bit of the story," he said. "What happens though is because we're spread [out], we start thinking that one story is the supreme story. But each part of the black world has a bit of it and it's important that we hear the entire story. Only in places like this do you get to do that."
Woodard interjected, recalling an early conversation she had with Babu that led to the first convening.
"This brother said, 'All you fabulous Africans, you are gleaming stones in this mosaic that is the diaspora. Let's get together and celebrate that very distinct thing we bring. We are this harmonious collision of all the parts that go into telling our story.'"
The result is a place where films from Nigeria, Papua New Guinea and the Caribbean — no, there aren't subtitles — are programmed alongside tales of black folks in Louisiana, Mississippi and Texas. And these are shown in a theater that still plays the normal blockbuster fare while the festival is happening, allowing everyday moviegoers to stumble into the programming.
"It is a big deal for millennials, Gen X-ers, for seniors to hear a story from Senegal and Alabama and see 'Moonlight' [in the same place]," Woodard said. The fact that the festival is going on 25 years, she said, is proof that there is "a hunger and appreciation for it all."
Among the festival's films — there's also an art show and fashion show — the featured screenings include the Los Angeles premiere of Nick Cannon's "King of the Dancehall." The picture, which debuted in Toronto last year, also stars Whoopi Goldberg, Busta Rhymes, Lou Gossett Jr. and Kimberly Patterson.
On the documentary front, the festival will premiere "Chasing Trane: The John Coltrane Documentary," by director John Scheinfeld and narrated by Denzel Washington, at its Sankofa gala Feb. 20.
Other highlights include the closing night film, Trey Haley's "The Preacher's Son," starring Clifton Powell as a bishop whose kids are fighting temptation; Mika Kaurasmäki's "Mama Africa," about singer Miriam Makeba (Feb. 19 at 3:10 p.m.); and C. Fitz's "Jewel's Catch One," about the woman behind Los Angeles' last black-owned gay club (Saturday at 8:25 p.m. and Feb. 20 at 12:15 p.m.).
The festival is also honoring Woodard for her continued support of the event since its inception.
"She represents consciousness, high artistic African study and has always tried to tell our story," Babu said. "Wherever you go, black folk come and stop and listen to her."
Woodard has been a beacon of authenticity in everything from indies to blockbusters for almost half a century. Her impact is long and winding: She was nominated for an Oscar for her role in 1983's "Cross Creek" and won a Golden Globe for 1997's "Miss Evers' Boys." She's been nominated for an Emmy 16 times, nabbing four, and has stolen scenes in "Captain America: Civil War," "The Practice," "12 Years a Slave," "Beauty Shop" and "Holiday Heart." Most recently, she held her own on Netflix's "Luke Cage."
Off screen, Woodard is a Black Hollywood power player, hosting, since 2009, her Oscar's Sistahs Soiree to honor Academy Award-nominated actresses of color and others who perhaps should've gotten a nomination. The purpose of the event is to build community among the elite group of women. It's one of the reasons Babu called her "more than an actress."
"It's the same with Denzel [Washington]," he said. "They've transcended. If you were in ancient Egypt or ancient Mali, we'd call them jelis and griots. They carry our stories, our spirit and show us insight into ourselves to be able to go further."
Of the honor, Woodard admitted that she hasn't quite processed it yet. Part of that is because she still sees herself as in the middle of her career. She just got back from Sundance promoting "Burning Sands," a Netflix original.
"I haven't yet accomplished what I came to town to do 42 years ago," she said. "I feel, as an actor, we bop till we drop. We don't have expiration dates."
In the meantime, she encourages everyone — not just black people — to head to South L.A. for the festival. She guarantees audiences will leave the theater different that when they came.
"Everybody just has a little more strength and flexibility in their spine when they leave," she said. "There's a little more swag in their steps, a little more joy and openness."
An added benefit, she said, is that if folks keep their festival programs, they're able to discover and follow the careers of the filmmakers they enjoyed. And one day, they'll be able to say they saw the early films of now Oscar nominated and winning filmmakers Barry Jenkins, Ava DuVernay and Gavin Hood.
And for those in Hollywood who keep saying they can't find black films or directors, Babu added: "Here are 200 of them."
"Pan African Film Festival"
Where: Baldwin Hills Crenshaw Plaza's Rave Cinemas, 4020 Marlton Ave., Los Angeles
When: Thursday through Feb. 20
Cost: $13.75 general admission
More info: paff.org, 310-337-4737
Get your life! Follow me on Twitter (@TrevellAnderson) or email me: trevell.anderson@latimes.com.
---
Inside the business of entertainment
The Wide Shot brings you news, analysis and insights on everything from streaming wars to production — and what it all means for the future.
You may occasionally receive promotional content from the Los Angeles Times.