Panamanian filmmakers try to get a foothold in Hollywood while building a film industry at home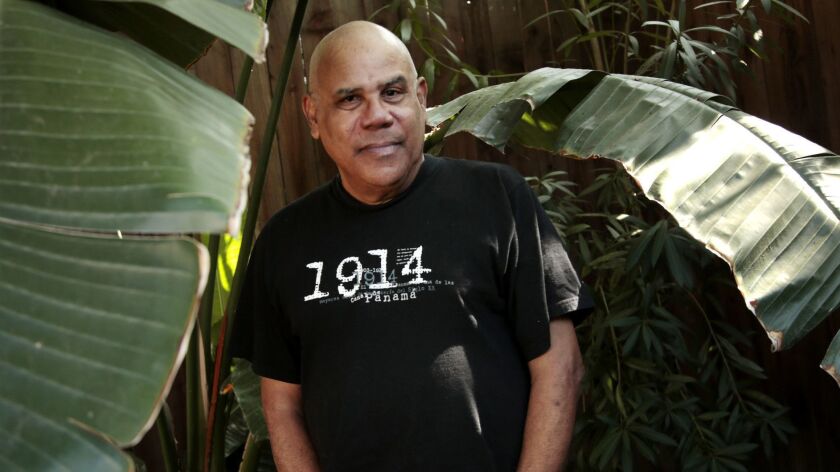 Carlos Carrasco grew up in Panama City, but for more than 30 years he's made a living in Hollywood, mainly as an actor but also as a producer, writer and director.
The burly 70-year-old has appeared in dozens of movies and TV series, notably the role of Ortiz in the action blockbuster "Speed," as well as parts on TV series including "ER," "Star Trek" and "Insecure."
Carrasco still feels strong ties though to his native country. That's why he organized the annual Panamanian International Film Festival, which just celebrated its fourth edition recently in Los Angeles. The two-day festival, held at the downtown Los Angeles Theatre Center, featured 40 films, many of them from Panama but also from Mexico, Argentina, Chile, Colombia, Venezuela and Peru.
It's a chance for Panamanians in the film industry here to network in hopes of finding more work in Hollywood as well as developing projects in their homeland. At the film festival, Carrasco spoke about Panamanian music being a selling point for Hollywood.
A case in point is the musical documentary "Ruben Blades Is Not My Name." Directed by Abner Benaim, it's Panama's official entry for the Oscars foreign language film category and has also been submitted for best documentary feature.
Blades is known internationally for his acting in such films as "Predator 2," "The Counselor," "Hands of Stone," "The Josephine Baker Story" and most recently "Fear the Walking Dead." But in Panama, Blades is revered for his salsa music, which Carrasco calls "inspiring."
Inspiration is what Panamanian filmmakers, actors and craftsmen hoped to get to fuel their fledgling film industry. Panama, a country of about 4 million people, produces an average of half a dozen films a year, according to Essie Mastellari, the country's film commissioner.
Mastellari estimates there are about 650 people working on film and TV in the country. Hollywood films, mostly of the action/superhero variety, dominate the box office there, but the film commission is hoping to promote more local output.
The most popular homegrown film this year is "Frozen in Russia," a feature from director Arturo Montenegro of Panama-based Q Films that portrays the dream of Panama to qualify for the first time for the soccer World Cup. It turned out to be a case of fiction mirroring reality. The comedy-drama premiered a month before the country's first appearance in the FIFA World Cup 2018.
Jorge Ameer, 46, is another Panamanian filmmaker who made his mark in Hollywood and now is working to help young people in his native country get into the business. He's written and directed more than 20 films, including the English-language thriller "Oasis," released last year.
Ameer helped fund a cinematography program at the Pan American Institute, a private high school in Panama City.
"Professional education is one of the handicaps that Panamanians face when they try to get into the film industry," noted Ameer. "I gave the idea to a director" — of the high school — "and we did it." The program began in 2015 and graduated its first class in 2017.
Panama has its own film festival in Panama City. The seventh edition of the International Film Festival of Panama was held in April with screenings of films from Panama, Central America and the Caribbean. It closed with the world premiere of "Ruben Blades Is Not My Name."
Maia De Zan Hatch, a young filmmaker from Panama based in L.A. for the past three years, works for both the IFF as video production coordinator and for the Panamanian International Film Festival in L.A. as associate director.
"I've seen everything about Panamanian films — from horror movies based in our literature, to dramas, history-based and comedies — and there is a common topic: Panamanians are telling stories about different faces of our culture," said De Zan Hatch.
There are other film festivals in Panama besides the IFF, including ones for animation, documentaries, short films and even one that celebrates low-budget productions.
"The Panamanian cinema is discovering itself," said a proud Carrasco, who hopes that others take the same journey from Panama to Hollywood — and back again — as he did.
---
The complete guide to home viewing
Get Screen Gab for weekly recommendations, analysis, interviews and irreverent discussion of the TV and streaming movies everyone's talking about.
You may occasionally receive promotional content from the Los Angeles Times.