Paul Reubens' return as Pee-wee Herman? He meant to do that. Judd Apatow helped
Paul Reubens still isn't sure why it took so long.
For years, the actor had hoped to bring his much-loved creation — the giggly, bow tie-wearing human cartoon known as Pee-wee Herman — back to the screen. With Hollywood dipping into the well of '80s nostalgia to bring back such properties as "The Muppets," "The Smurfs" and "21 Jump Street," resurrecting Pee-wee seemed like a no-brainer. For Reubens, whose initial run as the character had ended in a public scandal, it also represented something more personal: a chance to write a new ending to Pee-wee's story.
Yet for a frustratingly long time, Reubens found it hard to get traction with the idea. "There really was minimal interest in it," the actor, now 63, said recently by phone, speaking in a slow, thoughtful cadence that couldn't be further removed from Pee-wee's helium-voiced mania. "It was — what's the word they use in Hollywood? — languishing. I didn't understand it. I tried not to take it personally."
See more of Entertainment's top stories on Facebook >>
The last time Pee-wee was in a movie, 1988's "Big-Top Pee-wee," Ronald Reagan was in the White House and O.J. Simpson was making Hertz commercials. Now, like a pop culture Rip Van Winkle, the character — a little older, perhaps, but still with the giddy enthusiasms and anarchic sense of humor of a 6-year-old — is being revived into a world that has changed beyond recognition. With an assist from comedy power player and longtime Pee-wee fan Judd Apatow — not to mention technology that didn't even exist when he was in his heyday — Pee-wee returns to center stage Friday with the Netflix original movie "Pee-wee's Big Holiday."
Modeled somewhat after the 1985 Tim Burton-directed classic "Pee-wee's Big Adventure" — the story of Pee-wee's crosscountry quest to find his stolen bike — "Big Holiday" is a road movie set in a surreal alternate reality. The story is so simple a child could grasp it: Pee-wee, who has been living in a small town and feeling stuck, meets a roguish Hollywood star (Joe Manganiello, playing himself) and — for reasons we won't spoil here — is inspired to set out on a road trip to New York.
"There's almost no plot," Reubens said. "I love that moment of discovery where you're going, 'Wait a minute, that's the plot?'"
For Apatow, who produced "Big Holiday," seeing a character he has loved since he was in high school in the early 1980s be brought back to life represents the fulfillment of a personal mission.
"I always thought, 'I know people want this movie,'" Apatow said. "I just think there are very few characters in comedy history as strong and hilarious as Pee-wee Herman. The first moment you're sitting in a room with Paul Reubens and he starts pitching you things Pee-wee might say or do, you think to yourself, 'This can't be happening.' The first time he put on the suit, I thought I was going to pass out."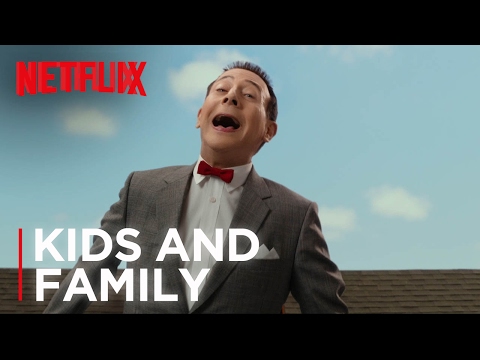 Pee-wee is mounting his comeback 25 years after his improbable reign as a pop culture icon came to a crashing halt in 1991, when Reubens was arrested on suspicion of indecent exposure at a Florida adult movie theater, to which he pleaded no contest. Deeply hurt by the ensuing scandal, which he doesn't like to discuss, Reubens retreated from the limelight, shifting into a quieter but steady career as a respected character actor. For years, if anyone asked him to appear as Pee-wee or deliver the catchphrase "I know you are but what am I?" in that familiar voice, he would politely demur. "I just said, 'I'm not doing Pee-wee Herman,'" Reubens said quietly.
But over time, Reubens gradually warmed to the idea of reprising the character. In 1999, in an appearance on "The Tonight Show," the actor announced he was writing a new Pee-wee movie. In 2010, Reubens brought the character back in a live stage show, "The Pee-wee Herman Show," which debuted in Los Angeles before moving to Broadway. With two Pee-wee scripts written — one adult-oriented and darkly satirical in the vein of Pee-wee's earliest days, the other more childlike and fantastical in the mode of his '80s Saturday morning TV series, "Pee-wee's Playhouse" — Reubens hoped the show would help drum up interest in a Pee-wee film.
As it happened, Apatow was in the audience one night in L.A. and set up a meeting with Reubens. "Judd said, 'First of all, I want to prove to you that I'm a serious, longtime Pee-wee fan,'" Reubens recalled. "He pulled out some Polaroid pictures he had taken of me at Caroline's Comedy Club in New York, right before I made 'Big Adventure.'" He paused. "It was staggering. I'm still floored by it."
Apatow encouraged Reubens to temporarily set aside the existing Pee-wee scripts and embark on a new idea, bringing in writer-actor Paul Rust to co-write the script. For the 34-year-old Rust, who had been deeply influenced by Pee-wee from a young age, bouncing around ideas for a Pee-wee movie with Reubens himself was a dream come true.
"Paul's instincts for this character and the universe he created are so correct, you just sort of follow his lead," said Rust, who is currently starring in the Apatow-produced Netflix series "Love." "It's like, if you were working with Charlie Chaplin, you wouldn't go, 'You know, Charlie, I don't think the Little Tramp would do that.'"
John Lee, best known for his work on the bizarro MTV2 comedy series "Wonder Showzen," came on board to direct "Big Holiday," inspired by a similar early love of Pee-wee. "There are these moments in your life when you see something and a little door opens up to the future — and Pee-wee was one of them for me," said Lee, 44. "I think so many people admire him because they secretly want to live like him and raise their freak flags higher. Why wouldn't I want a giant toothbrush to brush my teeth? That seems great!"
After multiple studios passed, Apatow and Reubens eventually found a home for the project at Netflix, which ponied up the kind of budget, at nearly $30 million, that the film needed. "It's an imaginative world, so you can't really do it as a little, independent movie," Apatow said. "I mean, there's a flying car."
While Pee-wee may exist in his own fantastical bubble, there is no getting around the fact that Reubens is nearly 30 years older than the last time he played the character in a movie. For a long time, Reubens himself tried to convince people that the character should be handed off to a younger actor (think: Michael Cera). In the end, a combination of makeup and digital retouching was employed in "Big Holiday" to create the illusion that, in Pee-wee's world, not much time has passed.
"I really don't think it works to see much age on Pee-wee," said Reubens. "I think it was always confusing to people that I was a grown man trying to be this man-child or boy or whatever — and I think it's super-compounded by 30 years going by."
I think it was always confusing to people that I was a grown man trying to be this man-child or boy or whatever -- and I think it's super-compounded by 30 years going by.
— Paul Reubens
Even as he continues to find regular character work in films and on TV series like "Gotham" and "The Blacklist," Reubens is keen to keep the momentum around Pee-wee Herman going and would like to bring one or both of the other Pee-wee scripts to fruition.
"I'm hoping my phone rings at any moment and Netflix wants to make another movie," he said. "And I have a great idea for a TV series."
As a die-hard fan, nothing would make Apatow happier. "We always need more Pee-wee Herman," he said.
Twitter: @joshrottenberg

MORE
Review: 'Pee-wee's Big Holiday' takes some wrong turns
A fresh visit to 'Pee-wee's Playhouse'
Get the Indie Focus newsletter, Mark Olsen's weekly guide to the world of cinema.
You may occasionally receive promotional content from the Los Angeles Times.