Maya Forbes recalls her loving, troubled father in 'Infinitely Polar Bear'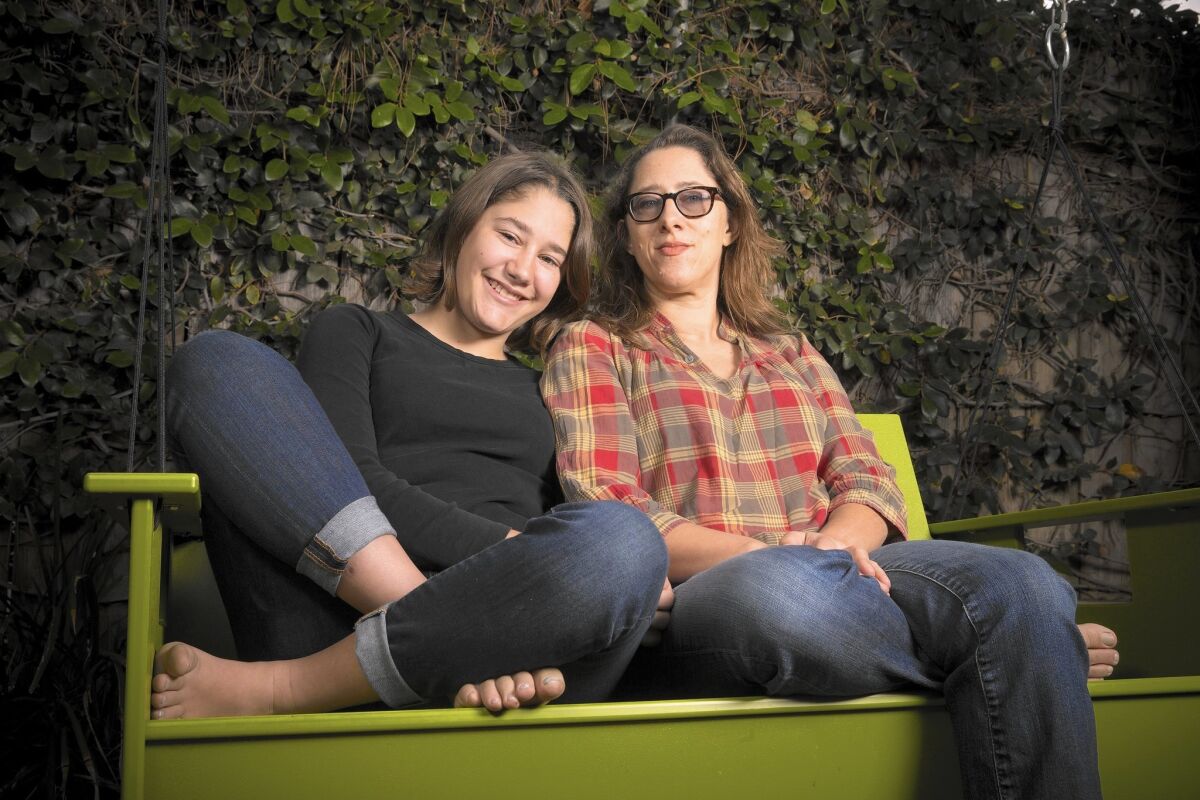 Maya Forbes recalled her father as a great storyteller, "a very compassionate person."
Cameron Forbes also was bipolar.
When Maya was 6, her parents separated after her father had a series of manic breakdowns. With her younger sister, Pink Martini lead singer China Forbes, and her mother, Peggy, Maya moved from their home in the Massachusetts countryside to a small apartment in Cambridge.
Unable to earn a decent wage, Maya's mother enrolled in Columbia Business School in New York to get an MBA. A doctor said Cameron needed routine in his life, so Peggy had him become the primary caregiver while she attended school during the week.
"Infinitely Polar Bear," which marks Maya Forbes' feature directorial debut, chronicles the 18 months when Forbes' mother (played by Zoe Saldana) was away trying to finish her degree. Mark Ruffalo stars as Cameron, who was warm and loving but would disappear during the night to go bar-hopping, would leave unfinished projects strewn around the apartment and would make outrageous purchases, including a car that lacked part of its floor.
The film, which opens Friday, is also a family affair. Forbes' husband of 17 years, Wally Wolodarsky, produced it. Their daughter, Imogene Wolodarsky, now 13, plays Forbes' alter ego. The couple's daughter Clementine, 16, has a brief scene as a lacrosse player. And China Forbes performs her original song "The Northern Line" for the closing credits.
Maya Forbes felt eight years ago that the time was right to revisit her childhood. She was missing her father, who had died in 1998 at age 59 of pancreatic cancer.
"I knew that I had gotten a lot from him — a certain humorous way of looking at the world," said Forbes, who was a writer and co-executive producer on "The Larry Sanders Show" and wrote the 2009 animated hit "Monsters vs. Aliens" with her husband.
Forbes' parents encouraged her and her sister to be strong and tough. "They were both feminists," said Forbes, 46, during an interview in Los Angeles this week. "He wanted us to go off in the world and be successful and be strong. I was eager to revisit that."
Forbes finished the script for "Infinitely Polar Bear" when she was about to turn 40. She and Wolodarsky had another baby, but as soon as son Hackley turned 1, she said, "I thought, 'I can get back in there now.' "
It took years to obtain financing for the movie, which was shot two years ago in just 28 days in Providence, R.I.
"This is our third independent film," Wolodarsky said. "We know the ups and downs. I just kept telling Maya we are going to lose financing at some point, and sure enough we did. That happened a couple of times."
She knew producer-writer-director J.J. Abrams ("Star Wars: Episode VII — The Force Awakens"), told him about the film and gave him the script. Abrams came on board as an executive producer.
Ruffalo immediately responded to the script when he received it back in 2010.
"We were creatively and personally really in sync, and the same happened with Zoe, whose strength and vitality I really responded to," Forbes said. "She had a really optimistic quality about her. I didn't want the movie to be heavy. I want it to be alive."
Director Wes Anderson ("The Grand Budapest Hotel"), a good friend, recommended that Forbes cast her daughters as the sisters. By the time Forbes was ready to begin production, though, Clementine was too old to play the young film version of Maya. But Imogene was the right age. (Ashley Aufderheide plays the younger sister.)
"I haven't acted before," Imogene said in a joint interview with her mother. "I love performing, singing, piano and dancing. So I was excited to do it."
And she was familiar with her mother's childhood.
"She used to tell my sister and I bedtime stories about growing up," Imogene said. "I learned a lot about what it was like to live the childhood she did."
Imogene noted that she and her mother got down to business on the set.
"We weren't quite as warm and affectionate with each other," she said. "But we had a connection on set. We were collaborators."
She loved her on-screen parents. Ruffalo and Saldana are warm people, said Imogene, who is entering the eighth grade this fall.
"Mark is just an incredible person to worth with," she said. "I never would have been able to do it without him."
Making the film was cathartic for Forbes, who said she was often in tears during the shoot.
Forbes' parents divorced when she was 17. Her mother eventually began her own money management company. Her father was in and out of hospitals but "got good at knowing that he needed to go to the hospital," she said.
"They were a good pair," Wolodarsky said. "They were not a couple anymore, but they were still very close and very warm. It was an inspiration to see these people who could, in a very mature way, understand that they couldn't be together as a couple but still be a family."
Get our L.A. Goes Out newsletter, with the week's best events, to help you explore and experience our city.
You may occasionally receive promotional content from the Los Angeles Times.