Rachel McAdams does fame her way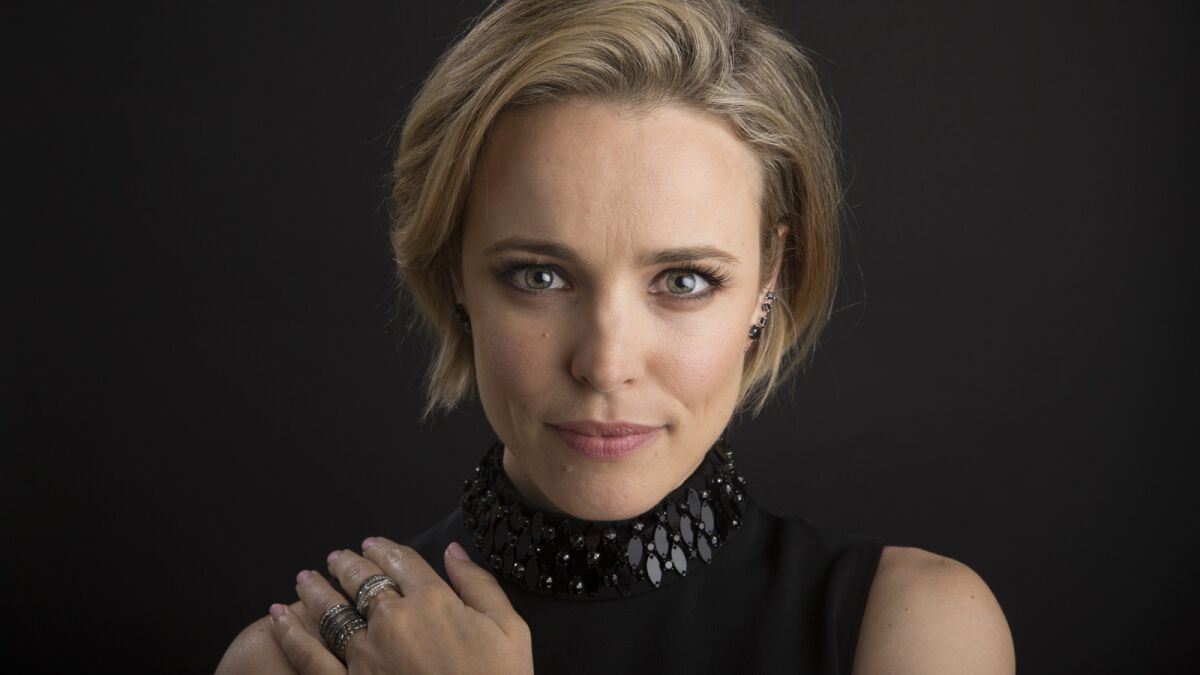 There's a story that always comes up when people talk about Rachel McAdams, one that reveals her ambivalence about the machinery of Hollywood.
A decade ago, after she'd just starred in three huge hits in a row, "The Notebook," "Mean Girls" and "Wedding Crashers," she was asked to pose on the cover of Vanity Fair. She was supposed to be photographed by Annie Leibovitz alongside two other beautiful and popular young actresses, Scarlett Johansson and Keira Knightley.
INDIE FOCUS: Sign up for our weekly movies newsletter>>
But when she arrived at the photo shoot, she learned that the other women had agreed to pose nude. She did not want to take off her clothes, so she passed up the opportunity.
"I didn't see any other way," McAdams says now, reflecting on the decision. "It wasn't something I could ever possibly see myself doing. I have no issues doing it for a part if it makes sense, if it's not gratuitous and I think it's adding to the story. But not as myself on the cover of a magazine about Hollywood's most powerful young women."
After her turn as a beguiling ingenue in "The Notebook," studio executives branded her as the next Julia Roberts. She had that same huge smile and no-nonsense attitude; she was believable in commercial fare and indie dramas. And though she was private, she knew how to give fans just enough to maintain intrigue — famously running into then-boyfriend Ryan Gosling's arms for a dramatic lip lock while accepting Best Kiss prize at the MTV Movie Awards.
But 10 years later, at 36, McAdams isn't Roberts. She's a busy working actress — often popping up on red carpets and non-Vanity Fair magazine covers — but not quite a movie star. In the past five years, she's worked with high-end directors like Woody Allen, Terrence Malick and Brian De Palma. This weekend, she has a brief but pivotal role in Antoine Fuqua's boxing drama "Southpaw," playing opposite Jake Gyllenhaal as a devoted wife who meets with a tragic fate that throws the athlete's life into chaos.
She's also on the new season of HBO's "True Detective," starring as Ani Bezzerides, a hard-edged, tenacious investigator trying to crack a complicated murder case. All of her costars on the program, Colin Farrell, Taylor Kitsch and Vince Vaughn, have had trouble opening movies at the box office but are still respected actors. As a result, the series has been viewed as a sort of career rehab — a place to regain industry credibility playing very serious characters.
But should McAdams be a part of that group? Sure, she once passed on being a Bond girl as well as Anne Hathaway's role in "The Devil Wears Prada." But it's not as if she's only made quirky indies. She's starred in accessible love stories like "The Vow" and big-budget action flicks like "Sherlock Holmes" and has certainly made more conventional choices than Gosling, whose career was also launched by "The Notebook." But nobody's writing essays about why he isn't a movie star; they're likely too busy making "Hey Girl" memes to post on Tumblr.
"What is this movie star thing? I say that without bitterness, even though people will probably say I'm projecting," says her "True Detective" costar Farrell, who is one part heartthrob, one part character actor himself. "It's just kind of ridiculous and pointless. Rachel is navigating her career in a really interesting way. It feels like she's seeking out the potential of what we do for a living."
And by the way, does McAdams herself even want to be a movie star?
"I think it was sort of a vague idea in my mind when I was a kid, when you think, 'What would that be like?' " she says. "But it wasn't something I really meditated on or planned for in any way. I really thought I'd be doing theater in Canada. I'd grown up doing children's theater there, and I always imagined myself being artistic director of a children's theater company."
That may sound like one of those actor-y things actors say, but Gyllenhaal thinks that there's a big part of McAdams that doesn't want to be acting at all.
"Deep down inside, I know she wants to be home and go to her local co-op," says the "Southpaw" star. "I think if you told her she would live a life where she wasn't an actress, exactly half of her would be genuinely fine with that. Actors say that but deep down want to be the star of the show. But she's a really private person.
"Even when you're working with her, it's like, 'We're all going out to dinner. Do you want to come?' And she's like, 'I'm OK. I have my friends.' It's like, 'Oh, OK, I'll see you on set tomorrow.' She very clearly has her life and her work life."
McAdams does seem to revel in being kind of unknowable. She still lives in Toronto, about two hours from the town she grew up in, and does most of her Hollywood meetings over Skype. And she has a reputation for being a hard interview — polite but serious and withholding. She can be difficult to draw out, sometimes pausing for 30 seconds before answering a question. It's hard to imagine gossiping at the nail salon with her but somehow easy to envision spending hours talking about good movies and books and music. She's thoughtful — that's something you hear people say a lot about her.
"She's a very thoughtful actress, and I guess that can be seen as super picky, but someone like she has a lot of opportunity," says Tom McCarthy, who directed the actress in his upcoming film "Spotlight," in which she plays a Boston Globe journalist investigating the Catholic Church sex abuse scandal. "Her time is valuable, and I think you get to a point where you can afford to be a little picky."
"It's often out of my own insecurity," McAdams admits. "If I'm picky, it's for that reason. I want to be able to bring my best to the table. So if I'm not connecting to something, then I'm not gonna hold up my end of the bargain, and that's really embarrassing."
She's not, however, embarrassed by "Aloha," the Cameron Crowe drama she costarred in with Bradley Cooper and Emma Stone earlier this year that was a critical and financial bomb. The Hawaii-set drama, which has grossed just $20.9 million since May, was up against difficult odds at the multiplex: In emails leaked during the Sony Pictures hack, former studio co-chairman Amy Pascal wrote, "It never Not even once ever works."
"I think it was judged unfairly. There was a lot of weird stuff around it that I think had nothing to do with the film itself that clouded things," says McAdams. "I thought there was some tough criticism on Cameron that I don't think he deserved. He really puts his heart and his soul into everything, and I know that was a real passion project for him. ... I thought it was a beautiful script, and I loved playing that character and shooting in Hawaii. It was really quite magical. It was one of the top movie-making experiences I've had."
Despite that misfire, McAdams is still up for the biggest Hollywood roles — it just seems to be a matter of whether she wants to take them. She is considering playing the female lead in Marvel's "Doctor Strange," which is set to star Benedict Cumberbatch, though she is careful to note, "it's still super-early days, and I don't know where that's gonna go, if it's gonna go anywhere at all." But she's not a "comic book snob." (Or a reality TV snob, for that matter: She says she's been watching this season of "The Bachelorette.")
Big-name actresses have been taking roles in comic book franchises for years now — Johansson, Natalie Portman. But McAdams is repelled by the idea that she should follow any prescribed path.
"I try to shut out ideas about why you should do things," McAdams says. "Trying to do good architecture and really designing a career? There's some attention to be paid to that, but I don't think it's everything."
Twitter: @AmyKinLA
SIGN UP FOR OUR ENTERTAINMENT NEWSLETTERS:
Indie Focus: Your field guide to only good movies
Classic Hollywood: A weekly email celebrating the Golden Age of Hollywood
Essential Arts & Culture: A curated look at SoCal's wonderfully vast and complex arts world
Get our L.A. Goes Out newsletter, with the week's best events, to help you explore and experience our city.
You may occasionally receive promotional content from the Los Angeles Times.