Regina King pours her heart, soul and a career's worth of black women's experiences into 'If Beale Street Could Talk'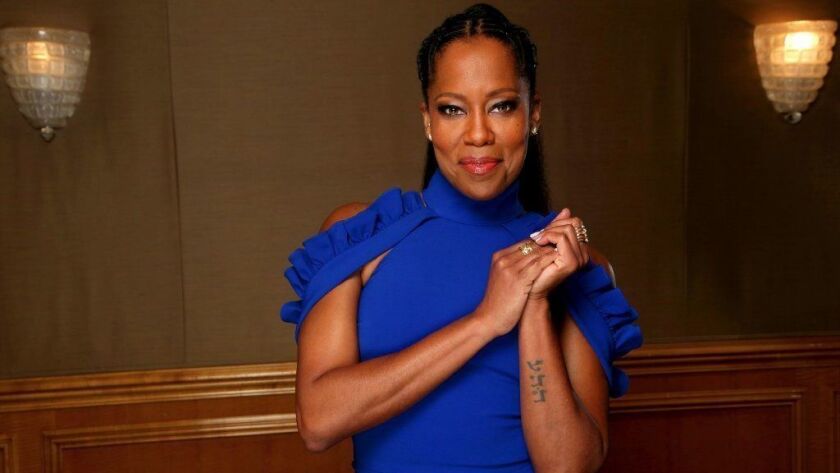 After over 30 years in the business, Hollywood is finally giving Regina King her flowers.
The actress' work over the last half decade has garnered perhaps the most mainstream attention she's had in a career that stretches back to the '80s sitcom "227." Three Emmy wins in the last four years — for the limited series "American Crime" and "Seven Seconds" — made her an unexpected awards powerhouse. Now she's upped the kudos possibilities even more with an extraordinary supporting turn in Barry Jenkins' "If Beale Street Could Talk."
The film premiered to rapturous reviews at the Toronto International Film Festival back in September and opens in limited release beginning Friday. King has already been named the year's best supporting actress for her work in "Beale Street" by three key critics groups — the New York Film Critics Circle, Los Angeles Film Critics Assn. and National Board of Review — and claimed dual Golden Globe nominations for the film and "Seven Seconds."
"It feels good," said King about the recognition she's gained in recent years. She's sitting in the restaurant of the Beverly Wilshire hotel — resplendent in a royal blue dress, hair tautly pulled into a ponytail — mere moments after leaving Variety's Power of Women event where she was honored alongside writer-producer Lena Waithe, actress and comedian Tiffany Haddish, activist Emma González and actress Natalie Portman. "In a lot of ways, I feel like I'm just beginning."
It's an admirable and inspiring thought: that a black woman in Hollywood feels like she's experiencing a professional birth, or rebirth as it were, at almost 48 years old. But it's also revealing.
"For an actress of Regina's skill and caliber, typically this moment she's having now happens when she's — if it's one of those girls — in her early 20s, at worse her mid-20s. Or at worst, early 30s," said Jenkins, who is following his Oscar-winning work on "Moonlight" with "Beale Street."
"But that didn't happen for Regina. And clearly, based on what she's capable of, not through any fault of her own."
::
"If Beale Street Could Talk" is a love story between a woman named Tish (newcomer Kiki Layne), a man named Fonny (Stephan James, "Homecoming") and a family willing to move mountains to protect their own. The drama unfolds following the family's struggle to prove Fonny's innocence after he's accused of a crime, all while Tish is carrying the couple's first child.
The picture is the first English adaptation, and only the second ever, of the work of noted writer-activist James Baldwin.
In seeking his cast, much of Jenkins' focus was on who would play the leading couple, but it was also crucial to find the right people to play Tish's parents. And because the story depicts a quintessential black household, the mother, Sharon, was the foundation.
"I wanted the parents to almost be a reflection of the children, where they could literally see 'This was us,' " he said. "And I wanted somebody who was a mom but almost like a sister at the same time — a younger mother who was still mature enough to clearly read as mom. The idea of Regina King as a grandmother is really provocative to me in a way, but I think it was a nice function of the character."
He also needed a woman who could pull off a character that "is not superwoman — but when she has to be, she is."
Jenkins and King first met about the project via Skype while they were both on vacation, he in Montreal, she in Mexico. Though they would have preferred an in-person session, when her agent said Jenkins was interested in meeting about "Beale Street," King realized she had never read the book.
"My agents were like, 'They understand that you haven't read it. He knows that you haven't read it,' " she said. "I said, 'It's Barry Jenkins. I need to have read the book.' "
What was supposed to be a 30-minute talk went much longer as the two connected. King left him with a message: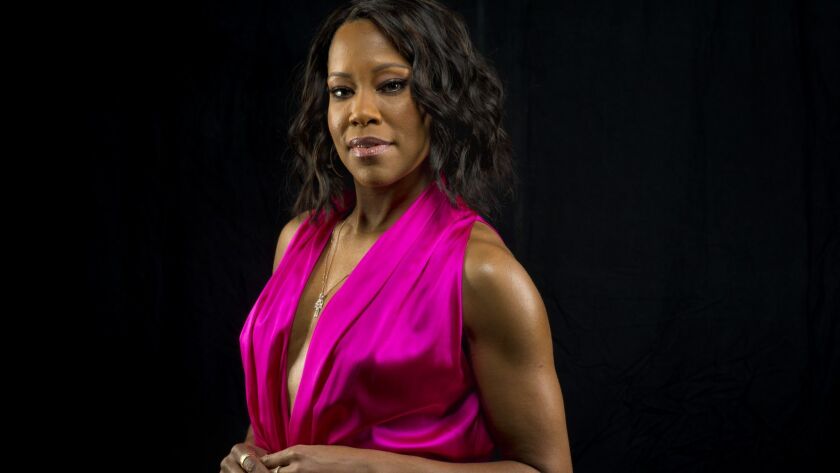 She is the truth and I've watched her for so many years. Since '227,' I've been a fan and have seen how she's grown in Hollywood and become this leading lady.
— Colman Domingo
"Look, we may walk away from this and this may not be the thing, but I guarantee you Barry, I am going to work with you. You are a true auteur. You are brilliant. … We gonna work together. If not this, something else, so don't feel any certain way if you decide to go [with someone else]. My feelings won't be hurt, 'cause you are the ... "
But that call had already solidified it. She had the role.
"It's one thing to see an actor as a character on screen, but to see her sitting in her little timeshare in Mexico on that little screen doing that Regina King sway, I saw all of the things I was looking for," Jenkins said. "This woman who had this youthfulness and vitality where she could still relate to her kids peer to peer and at the same time, she could flip that switch and be mama."
From what he had witnessed sitting in the writer's room for King's first season of HBO's "The Leftovers" — "talk about an outward strength that belies, for the sake of the family, this inner turmoil and vulnerability," he said of her work on the series — Jenkins knew King was his Sharon.
"Then it was about finding a man who could exist in this household with these two very strong women bringing up this third going-to-be-strong woman and he doesn't feel emasculated by it or wasn't going to go into a shell of himself," he said.
He chose Colman Domingo, the Tony-nominated actor also known for his series regular role on "Fear the Walking Dead," who himself thought he had "hit the jackpot" when he found out King would be his movie wife.
"She is the truth and I've watched her for so many years," he said. "Since '227,' I've been a fan and have seen how she's grown in Hollywood and become this leading lady. But then, of course, you're nervous and hope and wish this would be the most incredible experience.
"And when I walk in and meet her, she says, 'Hey husband.' And she gives me this look, that look that a woman gives her man and I gave her the look a husband gives his wife and we just went in open."
King added: "From the moment we met, we stepped right into it."
For Jenkins, it was at the very first table read, which included King and Domingo along with Layne and Teyonah Parris who plays the older sister, that he knew he "got that ... right."
::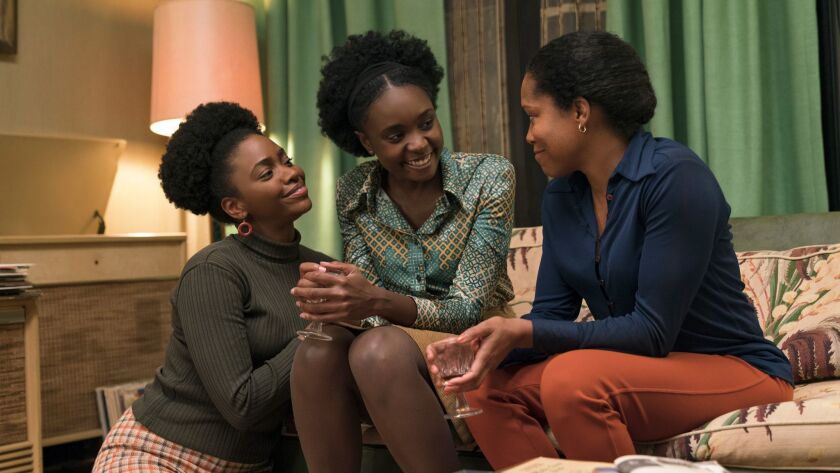 In religious communities, black and otherwise, there's a saying: "God works in mysterious ways." Throughout the production of "If Beale Street Could Talk," it appears some seraphic energy was present.
Like when Parris found out that King would play her mother. Not even a year prior, the two had met in Atlanta while King was directing a project and Parris was filming Starz's basketball family comedy, "Survivor's Remorse."
"We saw each other after hours at a thing and just embraced one another," Parris said. "She put into the universe: 'We're going to work together. I don't know in what capacity but we're going to work together and it's going to be amazing.' "
Fast-forward some months, knowing she'd get the chance to "act opposite her and play with her," Parris "just knew it was divine."
Or the cast's ability to master the period-specific language of the film, as Jenkins' adaptation hews closely to Baldwin's novel, published in 1974.
"I wasn't interested in trying to translate the script from the '70s to present day," he said. "I also wasn't interested in curbing Baldwin's words, the language. I felt like the things he was speaking to were authentic to the time, and authentic to today … I felt like it was a great challenge for both myself and the actors to take the language, make it feel real and lived in…"
King admitted that she was "anticipating it being difficult." So much so that once she was committed to the film, she spoke to Jenkins about making some adjustments with the dialogue.
"And he was like, 'I'm open to it, but I want you to at least try it because this is Baldwin and this is an era,' " she said. "I said 'OK' and I've just got to tell you — when we got together, met for the table read and we got in our brownstone the first time, all of those words just felt good. We got the wardrobe on and it felt like that's how we were supposed to be speaking.
"So, while I was probably slightly intimidated, anticipating [the dialect] not flowing out of my mouth naturally and having to work beyond just memorizing the dialogue and embodying the spirit of Sharon Rivers … there's a rhythm to how Baldwin writes, and I guess because Barry honored the book so beautifully we were able to understand that rhythm.
"I feel like I kept, and keep, hearing Baldwin say 'Amen,' feeling his spirit."
To Jenkins, King is "an interesting case study." She was memorable to him — "her eyes," he said — from her early work in "227," "Jerry Maguire" and "Enemy of the State." She earned a Screen Actors Guild nomination as part of the ensemble of 2005's "Ray," and won an NAACP Image Award for her supporting performance. It was the kind of role that should've launched her to true movie stardom.
"And then I remember this period where, as far as cinema, I stopped seeing her face," Jenkins said. He realized she was "doing all of this 'character work' on television."
After building up a steady drumbeat of critical acclaim for the cult favorite police drama "Southland" — leading to those heralded turns on "American Crime," "The Leftovers" and "Seven Seconds," which she has balanced with an increasingly prolific television directing career — the role of Sharon Rivers in "Beale Street" is King's first live-action feature gig in close to 10 years.
"It's just that it's fallen that way," she said, commenting on her recent roles, which have been more "serious" in nature and on the small screen, including her next big project: HBO's highly anticipated comic book adaptation "Watchmen." "I am interested in telling stories that are interesting to me and it just so happens that this is what came up at the time that they came up."
It's no secret that roles for women of color in the entertainment industry, especially ones that are weighty and complex, are hard to come by. Still, King's made a way out of no way.
"Because of all the work she had done, basically collecting all these experiences of these different black women over the course of her television 'character work,' I felt like she would do a great job bringing the nuance to Sharon," Jenkins said.
And though he doesn't "know why this role and why now" King made the choice to return to film — "We didn't go out to her for 'Moonlight' so maybe I'm part of the situation," he said — "I'm just so grateful she said 'yes.' "
ALSO:
'If Beale Street Could Talk': Barry Jenkins on staying faithful to James Baldwin and #MeToo
'If Beale Street Could Talk' director Barry Jenkins on the Golden Globe nominations, adapting James Baldwin and the empathic power of Regina King
Get your life! Follow me on Twitter (@TrevellAnderson)
---
The complete guide to home viewing
Get Screen Gab for weekly recommendations, analysis, interviews and irreverent discussion of the TV and streaming movies everyone's talking about.
You may occasionally receive promotional content from the Los Angeles Times.