'If Beale Street Could Talk' director Barry Jenkins on the Golden Globe nominations, adapting James Baldwin and the empathic power of Regina King
Writer-director Barry Jenkins' adaptation of James Baldwin's novel "If Beale Street Could Talk" earned three Golden Globe nominations on Thursday. The movie was nominated for best motion picture, drama, Jenkins wasrecognized for best screenplay and Regina King was nominated for best supporting actress.
Where are you?
In my living room, in L.A.
Were you up early this morning?
No, no. I've been a little bit under the weather, so I just could not get up at 5 a.m. I just got up a little bit ago and checked everything.
This must be really exciting.
It is exciting. It's always nice to have the work recognized, especially in the categories that we were recognized.
And Regina was double nominated, not only for "Beale Street" but also for "Seven Seconds" on the TV side.
And Stephan [James] was nominated for "Homecoming." It was quite a bit of love for the "Beale Street" family today, which is great. All these actors put so much of their hearts into this film, it's a tough story to tell and they went to the ends of the Earth to do justice to these characters.
FULL COVERAGE: 2019 Golden Globe nominations »
You capture the language and feeling of Baldwin so well. Was that in some ways your main goal in the adaptation?
It was my main goal, the feeling of reading Baldwin was something I wanted to preserve in the experience of the film. And what was really cool about this process, as opposed to "Moonlight," was it had time to reveal itself. After writing the first draft it would be another four-and-a-half, five years before actually making the film, so it was nice to take the story from a literary form into screenplay form and then over time allow the screenplay itself to evolve further and further away from the source material. And where we ended up, I think, was with something that was distinct and whole unto itself. I think, had we had to make the film faster, maybe that time, that space to evolve, to allow the script to grow, wouldn't have been as present.
The story of the movie, even the ad campaign, is focused on the love story. Is that what it is to you? In part I'm asking because the times are so difficult right now and there is something very hopeful about the movie and I don't know if you were making it with the moment in mind. It's a feeling people need, a love story for troubled times.
I think that for me the love story was incredibly crucial to the book and the film, but I think also the more serious, the social issues toward which Mr. Baldwin was speaking were just as important. I think what it required was an approach that's almost more like chemistry and less like literature or art. More science than art. Some elements have a greater density and so you need less of them to arrive at parity. To me, it felt like the love story could rule the day. That's the primary skeleton, the primary prism through which we're experiencing the film. But the elements of systemic injustice, mass incarceration, those are just as important. I think finding parity wasn't about 50-50 screen time, and that the love story would be the best way to tell the story.
Were you thinking about our times as you were making the movie? What does this story have to say to right now?
I was thinking about it, and I felt like allowing the book and the film to remain set in the period that it was written was a much more constructive way to shine a light on how little has changed from then to now. The book poses so many of these issues that are still relevant right now. Policing, sentencing, so many things about the judicial process, these bedrocks of American society have been disproportionately antagonistic to certain people and I think that you don't have to look very hard in the headlines to see. Just in the last three or four months, the 2nd Amendment has been something that we've all been talking about and yet there have been so many times where a black man either in a law enforcement position or a security position or in an open-carry state has been gunned down for merely holding a firearm. The 2nd Amendment is an inalienable right for some people, but not for all. So I think Mr. Baldwin was speaking about, again, density, chemistry, you don't have to have a story that's overwrought with these issues for these issues to be a part of the narrative. And I think that the place that we arrived at in telling this story, it's a manifestation of life, of love and hope and family, but it doesn't shy away from the very real obstacles that certain people face in this country. And continue to face since 45 years ago when this book was published.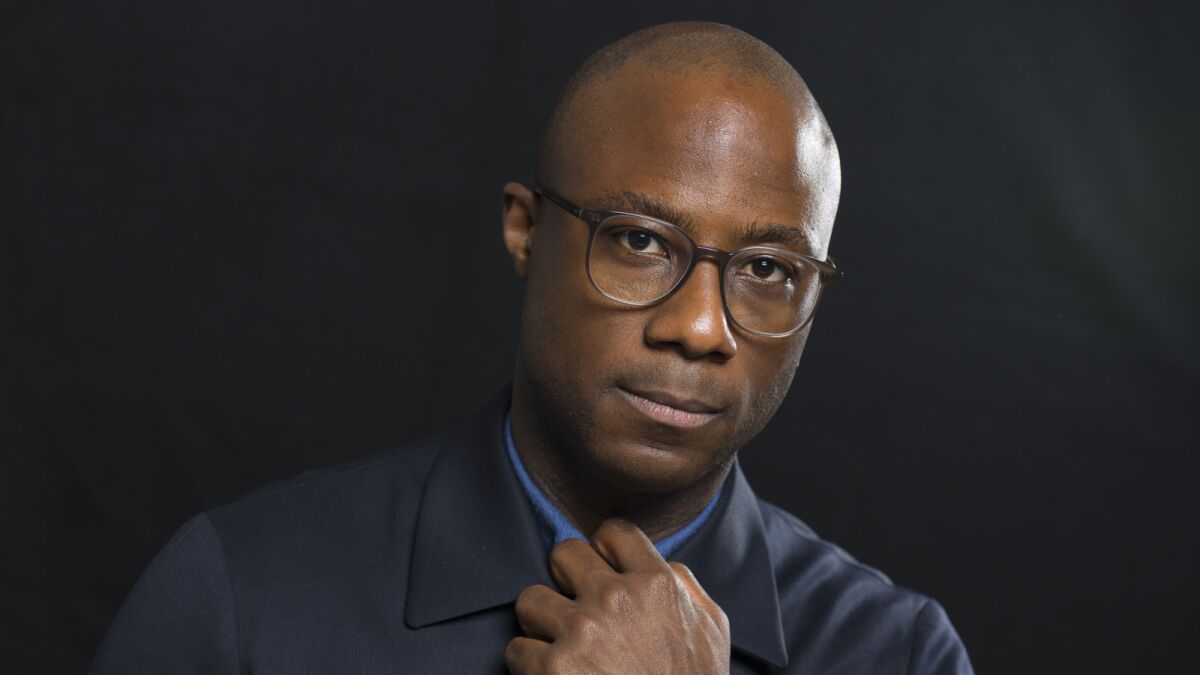 Just in the drama category today, your film is nominated alongside Ryan Coogler's "Black Panther" and Spike Lee's "BlacKkKlansman." Does it feel exciting to you that there is so much black representation not only with the Golden Globe nominations today, but on screens right now?
I saw it and I was curious, have three black directors ever been nominated for picture at the Golden Globes? I don't know. But it felt great, especially generationally. I don't want to speak for Ryan, but I would assume that both myself and Ryan see Spike as a trailblazer, someone who laid the path for us to walk. For us to have films in the same category as him, it's amazing. And I think it bears the fruit of a certain kind of progress, that was initiated by Spike many decades ago and picked up by people like Ava [DuVernay] and Ryan and Dee [Rees]. The only thing I hope is that next year we get back to the Globes and the year after and the year after. And we don't see a Golden Globes where no women are nominated for director and no women have films nominated for picture and no people of color are nominated for picture. Because we've had these moments before, but they've been moments. They've been destinations and not directions, and I think we need progress to be a direction, a journey that we're all collectively on. Then it will be something to feel amazing about.
I just want to be sure to ask you about Regina's performance. She's been getting so much attention for it. Did you see it as something special when you were making the movie?
Regina has played so many different women over the course of her career, so many different black women, and Regina is a person who really gets into her characters, she takes of them with her. This is what I felt, as you're watching her, you sit in an auditorium and you're watching a character and often, that character is actively separated from your own personal life. I think when people see Regina in this film, they see their mother, they see their grandmother. And I think that's because Regina is bringing so many of these other experiences to this role. Ultimately, despite the fact she is this person who shows so much strength throughout much of the film, when she turns to show her burden, to reveal her vulnerability, you feel that. It's what Regina does so well, she's an empath.
"If Beale Street Could Talk" director Barry Jenkins and stars Stephan James and Kiki Layne stopped by the Los Angeles Times' Toronto International Film Festival studio to discuss their adaptation of James Baldwin's novel.
Get our L.A. Goes Out newsletter, with the week's best events, to help you explore and experience our city.
You may occasionally receive promotional content from the Los Angeles Times.