Felicity Jones, the heroine of 'Rogue One: A Star Wars Story,' projects calm despite a galaxy of chaos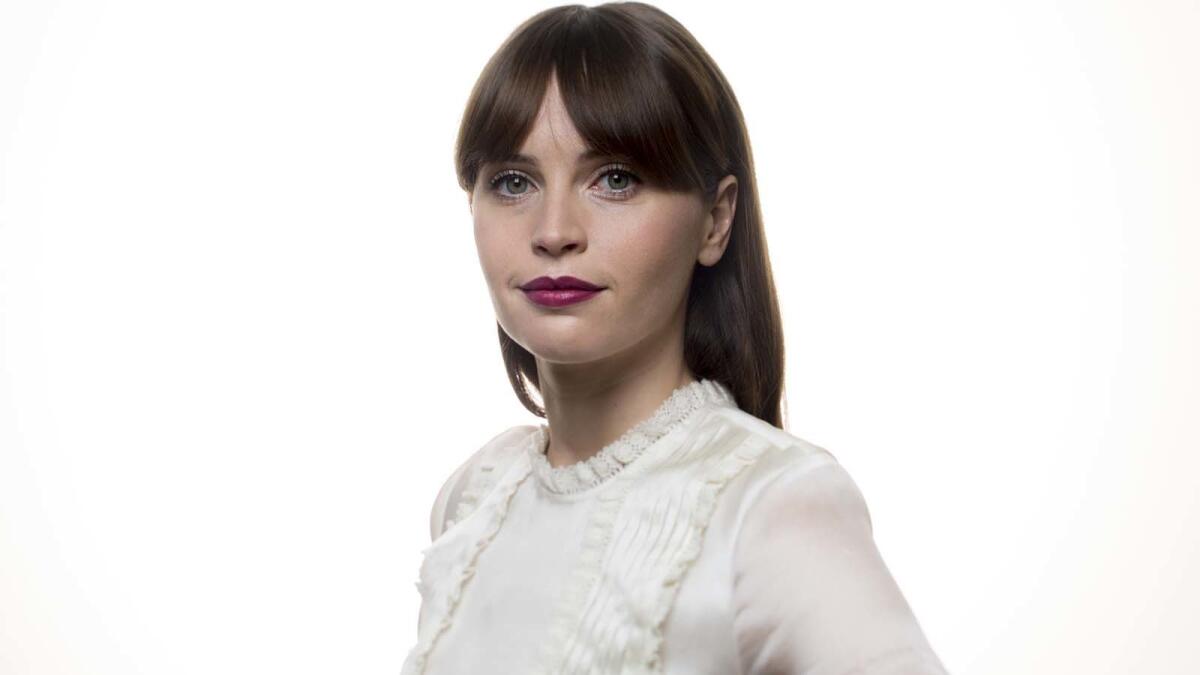 Despite the media and fan excitement generated by the consecutive casting of a female lead in the two most recent "Star Wars" movies, "Rogue One: A Star Wars Story" star Felicity Jones seems politely unsurprised.
"I'm asked a lot, 'Oh, my God. It's a female lead.' I sort of feel like, if it was a giraffe leading it, then that would be a weird point of conversation," Jones says. While the rest of Hollywood is still struggling to diversify their call sheets, Jones has already moved on to the next phase, where casting a woman in an action movie is old news.
"It would be very unusual to have a giraffe as the lead," Jones repeats with such calm sincerity that it makes the listener unsure if it's OK to make jokes about how a giraffe would fit into the Millennium Falcon.
In the midst of a whirlwind "Star Wars" press tour, Jones has stopped for a brisk tea at the Hotel Bel-Air, just a few hours before she, and the rest of the "Rogue One" cast, will climb out of a life-size X-Wing spacecraft on "Jimmy Kimmel Live." For someone who is mere moments from climbing out of a giant spaceship in heels on television, she's collected, focused and unafraid to challenge the very premise of my questions.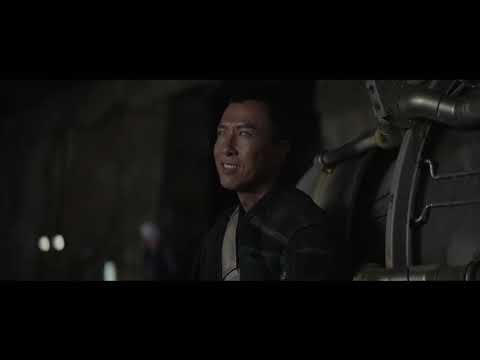 Watch the trailer for "Rogue One: A Star Wars Story."
Will the world ever stop being amazed when Hollywood builds a blockbuster action film around a female character? Jones leans forward, gently insisting, "We're there now. We're there now."
The English actress' warm earnestness is a refreshing turn from the canned answers that often tumble out from actors on the promotion trail. She's cheery but real. Kind but candid. When asked what she took with her from the "Rogue One" shoot she offers, precisely, "my character's [Jyn Erso's] boots. I wore those boots even before shooting. I would wear them for weeks before to kind of get the feel of them. I felt very close to those boots."
But when pressed if there was anything emotionally she took with her after months of running, jumping and explosions in Jordan and the Maldives, she tactfully disagrees with the basis of the question itself. "I think, as an actor, you have to have quite a strong sense of self," Jones says. "It's not that I change from role to role. My job is to take on different characters for that time. Even if you're crying or doing emotional scenes, you're actually having a really good time. Contrary to the stereotype of the actor, you have to be quite stable, quite solid and consistent."
Up until now, Jones' has been known for her dramatic work — playing characters like Anne Frank's older sister, Miranda, in "The Tempest," Anna in the the improvised romance "Like Crazy" — culminating in an Oscar nomination for the role of Jane Hawking in "Theory of Everything." All very different from the word of blasters, Stormtroopers and Death Stars.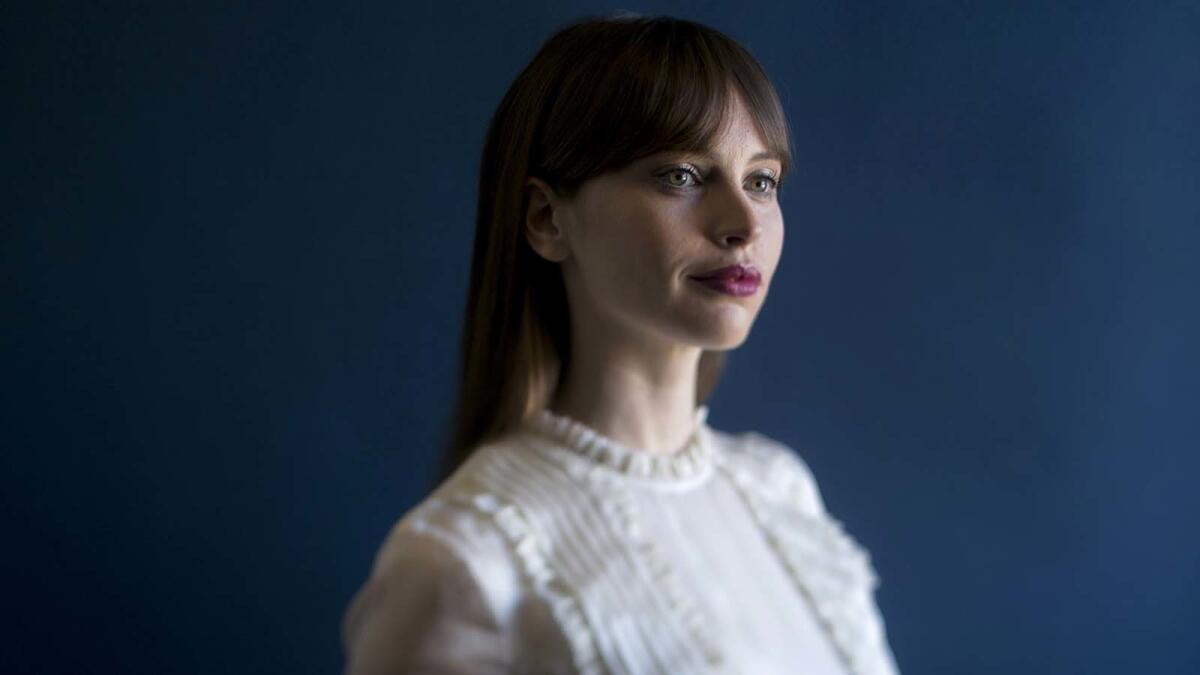 We've been doing these fan events for 'Star Wars.' The atmosphere is like being at a birthday party because there is so much excitement."
— Felicity Jones
How do the two differ? "There are less lightsabers on the awards circuit," She jokes. However, the perks of being a member of the galaxy far, far away is not lost on Jones. "We've been doing these fan events for 'Star Wars.' The atmosphere is like being at a birthday party because there is so much excitement and it's so infectious. You say 'Yoda,' and people just cheer."
No doubt people will be cheering at the name Jyn Erso soon. After a flurry of mostly positive reviews, Disney and Lucasfilm's "Rogue One" is on track for a global box-office opening between $300 million to $350 million. And this is with a band of entirely new characters — with a little help from Darth Vader.
The first film in this latest cycle of "Star Wars" movies, J.J. Abrams' "The Force Awakens," had the luxury of introducing new faces through the lens of the original players and the narrative George Lucas put in motion more than 30 years ago. "Rogue One" is the first "Star Wars" spinoff separate from the "Episode" movies.
As such, Jones' Jyn doesn't have to carry the same narrative burden that Daisy Ridley's "The Force Awakens" character Rey does. Instead, Jyn gets to set the world on fire as an ex-con who leads a band of Rebel scum into the belly of the beast (the Empire) to steal the plans to the Death Star. It is one of the more violent "Star Wars" offerings to date. Half heist movie, half war story, "Rogue One" appealed to Jones because of Jyn Erso's skeptical nature.
"She doesn't believe in anything," Jones says. "She's a little bit lost. She's actually on a search for, in many ways, an identity. She's lost both her parents. I liked how, true to 'Star Wars,' it's someone finding their destiny in the galaxy and finding their place. Someone who, actually, without being aggressive, finds her true leadership skills in appreciating what everyone else in the team has that could contribute to their mission."
Jyn becomes a reluctant Rebel and joins tortured rogue Cassian Andor (Diego Luna), the droid K-2SO (Alan Tudyk), a blind warrior named Chirrut Îmwe (Donnie Yen), his cohort Baze Malbus (Wen Jiang), and Bodhi Rook (Riz Ahmed) on their mission to steal those schematics — which puts them in the crosshairs of the ambitious Imperial thug Krennic (Ben Mendelsohn).
But at the end of the day, even though it's an ensemble, it's Jones' character who emerges as the film's hero — something that was baked into "Rogue One's" DNA from the beginning.
Having three daughters, it was very plain to me that they could use more strong female characters in 'Star Wars' that they could relate to."
— John Knoll,
"Having three daughters, it was very plain to me that they could use more strong female characters in 'Star Wars' that they could relate to," said John Knoll, the chief creative officer of Industrial Light & Magic and the person who hatched the idea of "Rogue One." And he pushed for Jyn to be cast as a female. "That's sort of where Jyn came from — a feeling that it was right for 'Star Wars.'"
Jones likens Jyn to Sigourney Weaver's Ripley from "Alien," but her real-life inspiration came from American mixed martial artist Ronda Rousey.
"A lot of the way I built [Jyn] was through her walk, I used to watch Ronda Rousey," Jones reveals. "In terms of getting that kind of energy and that sort of physicality."
But Jones is quick to explain that Jyn (and the rest of the characters in "Rogue One") are just ordinary people. That despite the running, jumping and shooting blasters, the story behind "Rogue One" is grounded in a sense of reality.
"Nobody has any bit of special, magical powers," she says. "I think that's what makes it very different from other 'Star Wars' films. They are coming with quite a lot of baggage, all of them. That's part of it. They're not clean and tidy."
See the most-read stories in Entertainment this hour »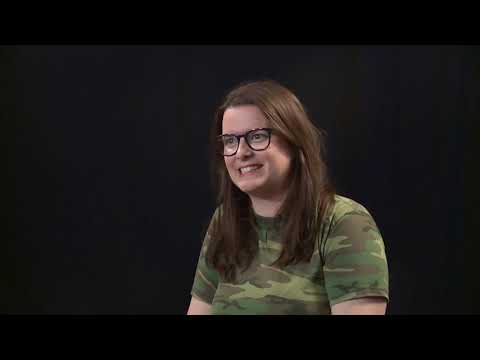 On Now
Cast of 'American Gods' drop divine secrets on the new Starz series
On Now
Liam Cunningham and Isaac Hempstead on finding the humor in 'Game of Thrones'
On Now
Acting opposite a giant Hollywood monster on 'Kong: Skull Island'
On Now
Luc Besson takes us inside his next space odyssey 'Valerian and the City of a Thousand Planets'
On Now
Norman Reedus on the secret Walking Dead' cast Comic-Con ritual
On Now
The cast of 'Orphan Black' reveal what they want to see resolved in the series finale
On Now
'Supergirl' cast on inspiring little girls to pick up a cape of their own
On Now
Video: Comic-Con: Wishing there could be a body swap between Fitz and Mac on 'Agents of S.H.I.E.L.D.'...
On Now
Charlie Hunnam on the hyper-stylized antics of 'King Arthur: Legend of the Sword'
On Now
Comic-Con: Ana Gasteyer and Wyatt Cenac on 'People of Earth'
Twitter: @MdellW
ALSO:
'Westworld' stars confront the nature of the fembot
Negan promises he's 'just getting started,' but have 'Walking Dead' fans already seen enough misery?
For the love of monsters: An insider tour of Guillermo del Toro's Bleak House before his LACMA show
Get the Indie Focus newsletter, Mark Olsen's weekly guide to the world of cinema.
You may occasionally receive promotional content from the Los Angeles Times.