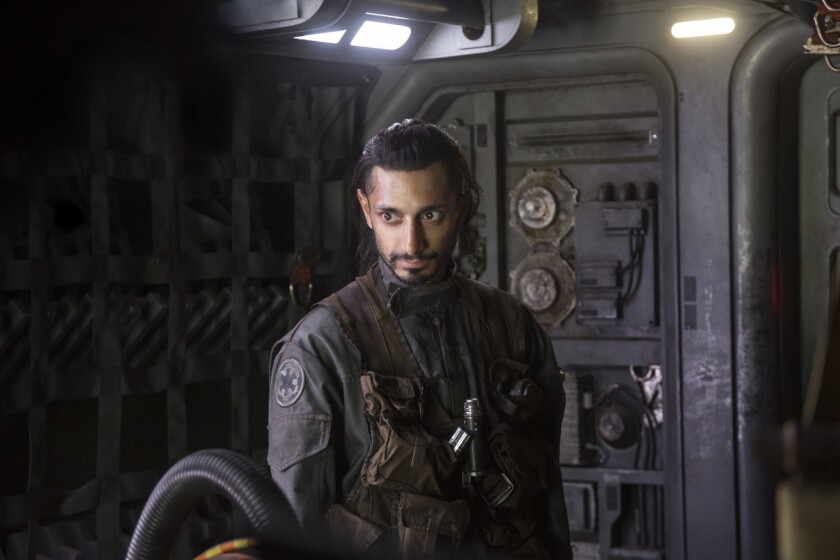 The "Star Wars" universe continued its expansion at the box office on Friday as "Rogue One: A Star Wars Story" remained the top movie in the U.S. and Canada, bringing in another $18.2 million.
The Disney-owned franchise is going to need at least a few galaxies to hold the profits: This first spinoff film in the popcorn-chomping series is expected to deliver about $65 million over the long weekend.
Since its release Dec. 16, "Rogue One" has banked $393.5 million domestically, and on Friday Disney announced that the movie had grossed $687.7 million internationally in its first two weeks. That's for a film with a production budget estimated at $200 million.
Disney will be well equipped to expand its galaxy of heroes in the next two years. "Episode XIII" is slated to ship in the fourth quarter of 2017, with a Han Solo-centered film to follow in 2018.
Fans frustrated that none of the future projects will be an animated musical variety show — a Jar Jar Binks vehicle, perhaps? — can take solace knowing that Friday's runner-up at the box office was Universal's "Sing."
The music-heavy kids movie, which features the voices of John C. Reilly, Scarlett Johansson, Reese Witherspoon and Seth MacFarlane, brought in $16.2 million on 4,029 screens for a 10-day North American total of $140.4 million.
Sony's sci-fi flick "Passengers," which stars Jennifer Lawrence and Chris Pratt, tallied $5.6 million on Friday for a total of $50.5 million.
"Moana," Disney's animated movie about forbidden reefs, secret caves, coconut pirates and the titular heroine, surpassed the $200-million mark by bringing in $4.3 million on Friday.
At No. 5 was the Denzel Washington-directed "Fences." An adaptation of August Wilson's play that stars Washington, it earned $3.4 million.
As 2016 comes to a close, one studio, Disney, reigned supreme at North American ticket booths. Its animated underwater adventure "Finding Dory," released in June, banked $486.2 million domestically and $541.4 million internationally to become the top-grossing film of the year.
The Disney-owned Marvel Studios once again proved its power with "Captain America: Civil War," which grossed $408 million to land at No. 2. And "Rogue One: A Star Wars Story" confirmed Disney's wisdom in buying Lucasfilm in 2012. The film stands in third place for the year.
For tips, records, snapshots and stories on Los Angeles music culture, follow Randall Roberts on Twitter and Instagram: @liledit
ALSO
'Rogue One' director Gareth Edwards on reshoots, inspiration and trepidation
Everything you need to know about 'Rogue One's' new 'Star Wars' space cape
Rogue One' star and fan favorite Donnie Yen almost passed on the film
---