'Bird Box' star Rosa Salazar has a genius pitch for a sequel
Fans aren't the only ones obsessing over surprise Netflix hit "Bird Box." Rosa Salazar, who stars alongside Sandra Bullock in the streaming thriller and makes her blockbuster lead debut next month in 20th Century Fox's "Alita: Battle Angel," has already dreamed up an idea for a sequel that would reveal her character's fate.
Salazar plays Lucy, a police trainee who finds herself among a motley crew of survivors holed up in a house when mysterious entities appear across the world, triggering an epidemic of mass suicide and mayhem.
She made a close friend in rapper and actor Machine Gun Kelly, who plays Felix, the housemate who becomes inseparable from Salazar's Lucy. Fans have been clamoring to learn the pair's fate, which is not shown on-screen, and Salazar and Kelly have already cooked up a pitch for "Bird Box 2."
"We're always scheming on how we're going to do it," exclaimed Salazar, who wrote, directed and starred in her own 2017 short film, "Good Crazy." "We have this dream of doing a sequel where we survived, and leaving was the best thing you could possibly do."
Meet Rosa Salazar, the 'Bird Box' star who lends heart and soul to 'Alita: Battle Angel' »
How exactly do Lucy and Felix manage to outlast most of the rest of humanity? The key, Salazar says, is in how already-deranged individuals manage to survive in "Bird Box."
"Alcohol makes you temporarily insane; drugs make you temporarily insane," she began. "What if the whole movie these two were on acid, or mushrooms, and [survive] because they've altered their state of mind?"
"Then you have this story that's 'True Romance' meets 'Fear and Loathing in Las Vegas,' only it's 'Fear and Loathing in Bird Box,' and because they are so resourceful, this punk rock combo in love, they manage to make a life and survive," she said, excitedly.
Well, maybe that's a bit optimistic for the relatively bleak apocalyptic world of "Bird Box" — although even director Susanne Bier imagines Lucy and Felix are still out there, somewhere. "[It's] quite exciting that we don't know exactly where they went," she told People.
Salazar says the duo could make a go of the outside world "up until a certain point. There need to be stakes." Maybe they run out of acid?
According to Netflix, a record-breaking 45 million subscribers watched the film in its first week on the streaming platform. Directed by Oscar-winner Bier, "Bird Box" is adapted by "Arrival" scribe Eric Heisserer from the Josh Malerman novel of the same name.
Within weeks of its Netflix debut, "Bird Box" became the subject of memes and tweets, and superfans flocked to the Craftsman-style Monrovia home featured in the film to snap blindfolded selfies, mimicking the characters who learn to survive by shielding their eyes from supernatural forces.
"I'm so pleasantly surprised that people are reacting this way because you never, ever know," said Salazar, who bonded with an ensemble cast also including Trevante Rhodes, Jacki Weaver, Danielle Macdonald, Lil Rel Howery and BD Wong during filming on the "creepy" "Bird Box" set.
Working with John Malkovich in particular was a wonderfully surreal experience, says Salazar.
"He's literally just walking around the house all day with a shotgun, being Malkovich. Then there are these moments when he's like, 'Do you think that this is a good Bitmoji to send my wife?'" she laughed, doing a spot-on impression of the two-time Oscar-nominee. "I'm like, 'Yes, John Malkovich.'"
If Netflix is game, Salazar can add "Bird Box 2: Fear and Loathing with Lucy and Felix" to her growing repertoire behind the scenes, one of the goals she's set for herself in the near future.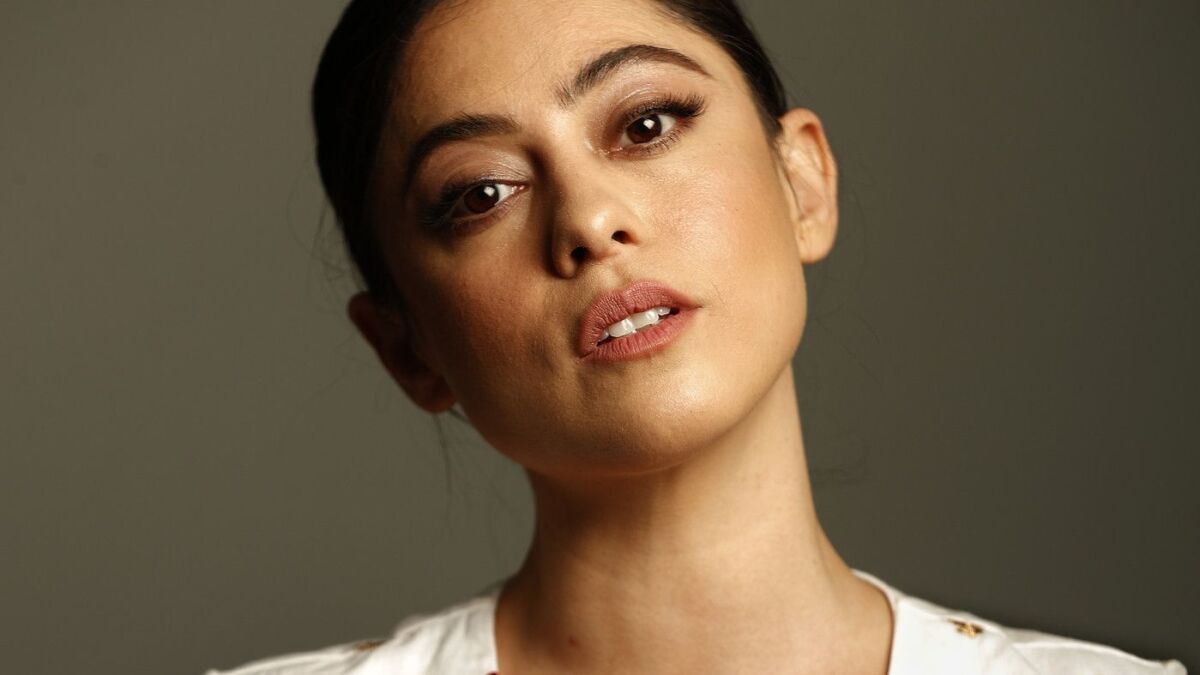 She recounts how her writing and directorial debut, "Good Crazy," came about before she'd even landed her big break as the star of Robert Rodriguez's upcoming "Alita" (opening Feb. 14).
During meetings with Rodriguez for the role, Salazar now grins, she seized the opportunity to get advice from the DIY filmmaker, whose book "Rebel Without a Crew" has been a bible for generations of indie directors.
"I was like, 'Yes, yes; "Alita" is great — but will you read my short film?' " she said. "I'd read his book! And he said, 'I would love to.' He gave me notes and tips, like, 'Go out there with a cell phone and just shoot it first. Then you know what you're going to do."
Between Salazar's filming of "Alita" and seeing it come together with state-of-the-art visual effects, her short — in which she plays a working actress named Rosa dealing with apathetic, brunch-loving industry types in a Los Angeles she doesn't feel like she fits into — premiered at Sundance in 2017. (She returned to the fest last year with a role opposite Maggie Gyllenhaal in "The Kindergarten Teacher," which also was released by Netflix.)
Her filmmaking goals include expanding the short for television. "I want to do this TV show about a first-generation Latin girl, and it has nothing to do with that, but this is who she is," said Salazar. "It's sort of an anti-love letter to Los Angeles."
Get our L.A. Goes Out newsletter, with the week's best events, to help you explore and experience our city.
You may occasionally receive promotional content from the Los Angeles Times.