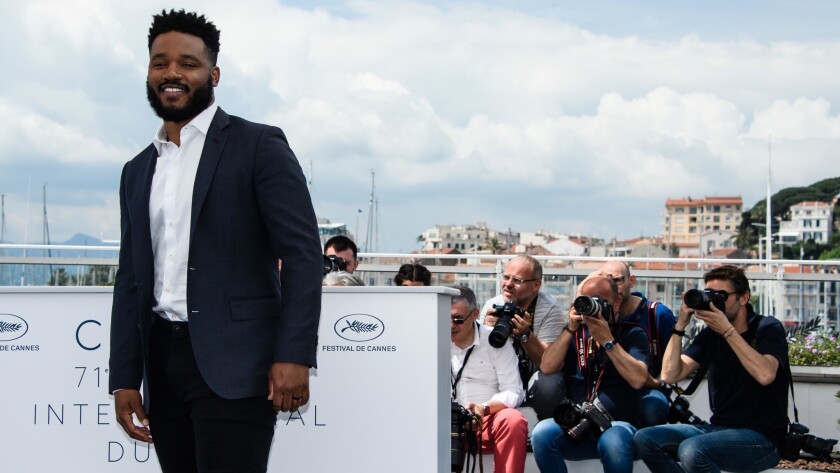 Since the global success of "Black Panther" at the box office earlier this year, Ryan Coogler has been in high demand in Hollywood. Actually, scratch that -- the instant his first feature film, "Fruitvale," debuted at the Sundance Film Festival in 2013 and won the top prize, he was heralded as one of his generation's most promising young filmmakers. And when you're that young -- Coogler is just 31 -- and at the top of your game, you're often asked how you made it.
For Coogler, that's meant appearing at a slew of film festivals and industry events, sitting for conversations about his career trajectory. So when he was asked to take part in a new series at Cannes this year called "Rendez-vous with" -- hour-plus-long chats with industry heavyweights like Christopher Nolan, John Travolta and Gary Oldman -- he decided to take a different tack.
"I've had an opportunity to do a lot of film festivals and a lot of talks in the past, and sometimes it can be challenging when you're in a talk and you don't see faces that look like yours," he said on Thursday, sitting opposite moderator Elvis Mitchell. "My first time I had ever been out of the country was at this festival, and it changed my life being around the festival and this many people who were excited about making movies. … It provided me with a lot of motivation. So I thought it would be cool if we could find some local filmmakers from the area and from Paris, and I thought it would be cool if they were also from Africa."
Indeed, the theater inside the Palais des Festivals was packed with 60 student filmmakers Coogler had recruited, and they listened intently to the director's behind-the-scenes stories in the movie business. The talk, which lasted nearly two hours, was far-ranging, with Coogler touching on his upbringing in Oakland, Calif., his collaboration with Marvel on "Black Panther" and the challenges he's faced as a newcomer in the industry.
On 2015's "Creed," the second film he directed, Coogler said he faced doubts from veteran "Rocky" star Sylvester Stallone — who had also directed four films in the series — about his ability to reboot the boxing franchise.
"One thing he was concerned with was me and [star Michael B. Jordan's] work ethic," Coogler shared. "He would always say, 'Do you know how much work this is gonna require?' For us, it was, like, never letting him see us not working."
On set, however, he grew close with the actor, whom he described as a "really complicated man" who has "been through a whole lot." Each day, Stallone would arrive with five pages of handwritten notes to share his thoughts on the day's scene. "It's like directing anybody else, but you just listen way more," Coogler said.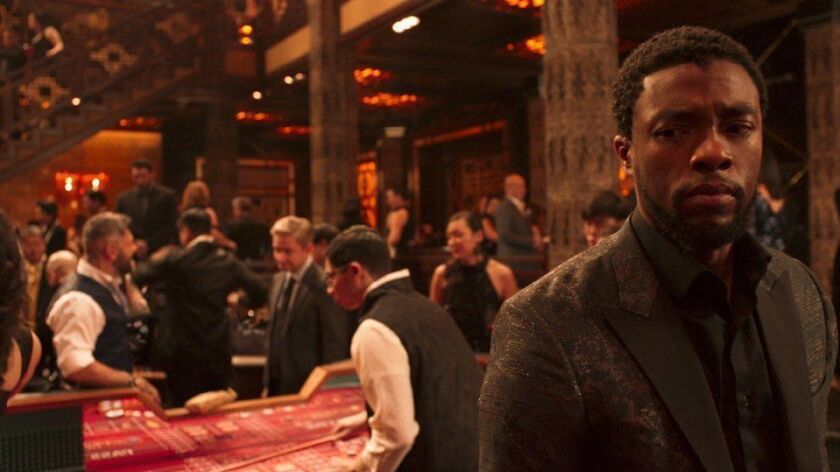 Tackling "Black Panther," of course, was an even greater endeavor, and Coogler said he initially had concerns about working with Marvel, the comic-book company that produced the Disney release.
"I had heard things about working with them as well, that it was a tough place for filmmakers," Coogler acknowledged. He recalled his first meeting with Nate Moore, a black producer at the company. He was surprised to learn that there were any black people working at Marvel.
"And he was like, 'Oh, there's plenty of us,'" Coogler said.
The executive told him that Marvel was interested in "Black Panther" becoming the James Bond of the company's cinematic universe -- a concept Coogler, a big fan of "Casino Royale," was excited by. He and his team began watching the entire Bond franchise before moving onto "The Godfather" -- a cinematic inspiration he tried to keep to himself.
"It wasn't something we could talk about because we felt embarrassed," he said. "Like. 'We're trying to make a superhero film, but we're trying to make it like "The Godfather." ' ...In art, some stuff is sacred, and for good reason."
Coogler's other references included the "Planet Earth" series for its aerial shots and the 2014 French-Mauritanian film "Timbuktu," which gave him a sense of modern-day Africa. To do research for "Panther," he traveled to the continent for the first time, visiting Cape Town, Johannesburg and Lesotho.
In Cape Town, the studio put him up in "Disney-approved hotels, so I kind of felt like I was still in San Francisco or something." To immerse himself further in the local culture, he said, he started hanging out with the staff working at the hotel and befriended a bellman who eventually introduced Coogler to his family. When he went on to make the film, "I was trying to capture the feeling that I had when I went to the continent, for sure."
The cast of "Panther" came from all over the diaspora, he noted, and all spoke with different dialects and slang. "It was really moving -- it felt like you were a part of something greater," he said.
When Mitchell pointed out the significance and popularity of the women in "Black Panther" -- including Danai Gurira's Okoye and Letitia Wright's Shuri -- the discussion led to talk of a female-driven spinoff. "That would be amazing if the opportunity came up," Coogler said. "They did it in the comic-book version."
Mitchell then asked Coogler why, given the fact that "Panther" grossed $1.3 billion worldwide, Hollywood has still yet to fully embrace the notion that black culture can be as influential as it has been in the music space. (The moderator pointed to the musician The Weeknd, who contributed music to the film's soundtrack and was in the front row for the conversation.)
"I dunno, I'm from Oakland, so black culture was everything where I'm from," Coogler said. "The idea that nobody will want to see a film about a bunch of Africans, I don't care how many spaceships or stuff is blowing up in it -- it can become truth if you don't have anything that disproves it. I just think we've gotta keep making stuff …
"I had a community of other filmmakers who were inspiring me the whole time -- Ava [DuVernay], Barry [Jenkins], Jordan [Peele], Donald [Glover] -- every time I turn on the TV and watch 'Atlanta,' my mind is being stretched by what we as a people do."
Follow me on Twitter @AmyKinLA
---