First-time nominee Sam Rockwell is excited about his Oscar nomination, but first he could use ...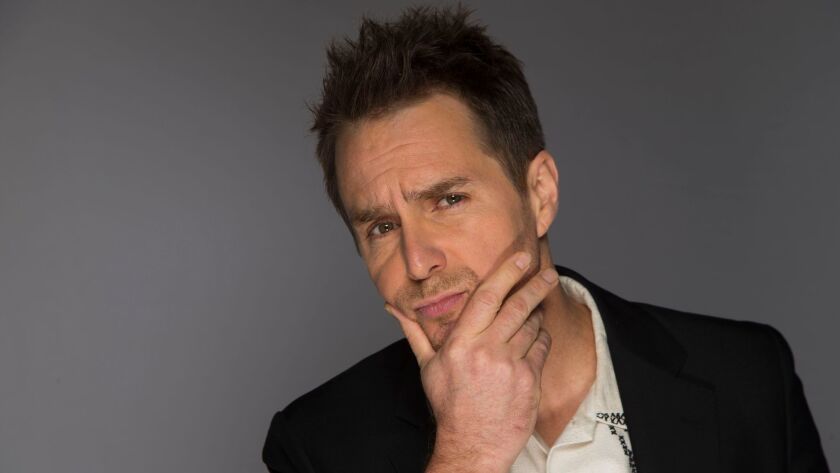 Sam Rockwell has already taken home Golden Globe, Screen Actors Guild and Critics Choice awards for his performance in "Three Billboards Outside Ebbing, Missouri," and on Tuesday the actor earned his first Oscar nomination. The Times caught up with Rockwell shortly after he received the news.
Hi, Sam. Congratulations.
Hey hey, how's it going? Just walking the dog, picking up dog poop.
That's a good way to stay humble, I guess. How does your first Oscar nomination feel?
Feels good, feels really good. I'm just glad I caught up with some sleep, but it feels amazing.
LIVE UPDATES: Oscars nominations 2018 »
Oh, you haven't been sleeping lately?
I didn't sleep the night of the SAGs so much, so I was catching up on sleep last night, so I slept in. So I just kind of got up an hour ago.
That's crazy news to wake up to.
Yeah, it's crazy! Crazy stuff, man.
Who was the first person you told when you found out?
Well, the first person that told me was Leslie Bibb, my beloved partner, Leslie Bibb. My one and only.
What was the scene? Did she wake you up with the news?
We woke up around … close to like 7:30 or something. She sort of stumbled out of bed and she got the phone and got all these texts and she told me that I'd been nominated for an Oscar. And now we're going about the rest of our day.
Do you remember what your initial reaction was?
I said, "Wow." [Laughs.] I was very excited.
How does it feel to be up against your "Three Billboards" co-star Woody Harrelson?
Up against Woody is fantastic. I'm just happy he's getting recognized in this movie because I think what he does is great.
Any competition?
Competition? No, not with Woody. This whole competition thing is kind of silly because it's not a sports event. It's an artistic endeavor so there's no finish line. Unless we all played the same part. … I think George Clooney said, "If we all played Batman, then we could judge who was the best Batman or who was the best Hamlet." Or who was the best Forrest Gump if we played Forrest Gump or something. But we're all playing different roles, so it's hard to — you can't really compare when you're playing apples and oranges.
"Three Billboards Outside Ebbing, Missouri" actor Sam Rockwell thinks it's funny a "city kid" like him keeps getting approached to play "redneck" characters.
Were you disappointed to see Martin McDonagh snubbed for best director?
You know, I'm sure it's an embarrassment of riches for Martin McDonagh, so I'm sure he's OK with that and happy ["Lady Bird" director] Greta Gerwig got something. And I'm sure Martin does not feel snubbed. He's got a lot going: He's got best screenplay, best picture and he's got some actors in the race, so I'm sure he's very happy. Getting best picture is almost like getting best director.
Who do you think is the biggest competition for best picture?
Oh boy, I don't know. They're all pretty good, you know. What are the ones again? It's "Get Out," "Dunkirk," "The Post," "The Shape of Water" — "The Shape of Water" ain't no joke, that's a good one. … "Call Me by Your Name," "Darkest Hour." There's a lot of good stuff. My boy Gary Oldman, he's kicking ass. ... That's a hell of a gang in that competition of leading actors and leading actresses, those are some real formidable people.
How do you plan on celebrating today?
I'm going to go to the gym and then I'm going to maybe take care of my doggy and then I'm going to maybe have a date night with Leslie. Little date night, maybe? And that's it, try to go to bed early and go back to New York. Try to get eight hours.
I think you've earned it.
Yeah, thanks! Time to rest up a little bit.
follow me on twitter @sonaiyak
---
Get the Indie Focus newsletter, Mark Olsen's weekly guide to the world of cinema.
You may occasionally receive promotional content from the Los Angeles Times.