Review: 'Secret in Their Eyes' has a strong cast and a familiar formula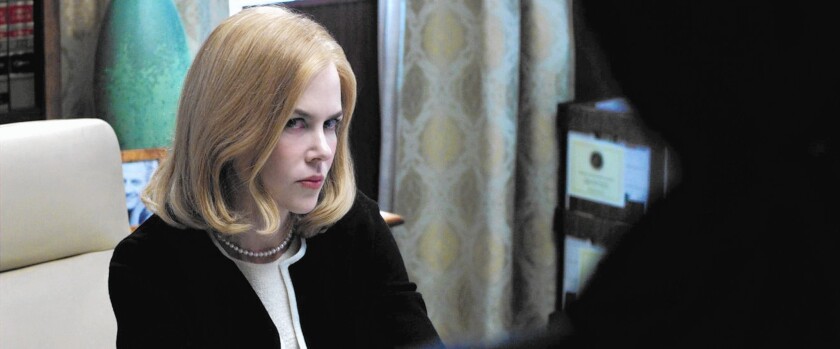 "Secret in Their Eyes," a thriller about a haunted trio dealing with loss, obsession and the cruelty of time, is a regrettably dry American retelling of Juan José Campanella's Argentine-Spanish film of the same name (with an added "The") that won the foreign language film Oscar in 2010.
Now set in Los Angeles and employing clunky flashbacks within flashbacks, the story has Ray, a dedicated FBI agent (Chiwetel Ejiofor), returning to the district attorney's office after 13 years to inform his former investigative colleague Jess (Julia Roberts) that he's located her daughter's rapist-murderer.
SIGN UP for the free Indie Focus movies newsletter >>
The pair were a tight-knit team in 2002 on a counter-terrorism task force until Jess' tragedy and Ray's dogged, unauthorized pursuit of that crime's prime suspect threatened to derail surveillance of a mosque. Also left unresolved years later are Ray's feelings about former crush Claire (Nicole Kidman), now the district attorney and wary of reopening a cold case that created many political and personal scars.
As screenwriter, Billy Ray's adapting the original's Argentina-centric trappings to a tense post-9/11 milieu is smart, but as director his style is hardly atmospheric. It's ironic that Campanella's movie was a sly mix of tones — office romance, conspiracy thriller, brooding murder mystery — befitting someone breaking free of directing "Law & Order" episodes, whereas the remake hits marks exactly like a TV procedural.
Ray's got good actors, though. Ejiofor is a naturally empathetic hero, so focused you believe the many times he's easily jolted by others, and though Kidman's whispery elegance never feels D.A. -ish, she nails a pivotal interrogation scene that hinges on sexual humiliation. It's a glamour-less Roberts' show, however, as a wily sleuth and broken mom with a warped idea of justice. She's the hollowed-out soul of an otherwise routine do-over.
--------------------
'Secret in Their Eyes'
Rating: PG-13 for thematic material involving disturbing violent content, language and some sexual references
Running time: 1 hour, 51 minutes
Playing: In general release
MORE REVIEWS:
Jennifer Lawrence and 'The Hunger Games' deserved a better ending than 'Mockingjay -- Part 2'
The beautiful and thrilling 'Carol' belongs among the best movie love stories
Want to live vicariously through Brangelina? They know and give us what we want in 'By the Sea'
---
The complete guide to home viewing
Get Screen Gab for weekly recommendations, analysis, interviews and irreverent discussion of the TV and streaming movies everyone's talking about.
You may occasionally receive promotional content from the Los Angeles Times.