In 'The Sentence,' a brother explores the toll his sister's imprisonment takes on their family
Reporting from Park City, Utah —
When Cindy Shank was in prison, her bed consisted of a metal slab and paper-thin mattress. And now, here she was in her own condo — one she'd been put up in, no less — with feather pillows.
"Yeah, this is not something I could imagine a year ago when I was in prison," the 45-year-old said, looking around the plush mountainside getaway.
It was January, and Shank had traveled to the Sundance Film Festival with her brother, Rudy Valdez. For the last decade, Valdez has been working on a documentary about his sister's time behind bars, and the toll it took on her three young daughters — now 14, 12 and 10.
"The Sentence," which is now playing in limited theatrical release and debuts on HBO on Monday, follows the family's journey after Shank is sentenced to 15 years in prison — the mandatory minimum sentence for drug charges — for conspiracy to distribute cocaine.
In the late 1990s, Shank lived with a boyfriend who was a drug dealer. He was later shot and killed, and she provided information to the police about his criminal activity, which she said she was not involved in. Still, in 2002, she was charged with conspiracy, but turned down a plea deal for 13 years and her case was dropped.
So it came as a shock when, roughly six years later, the cops decided to revive the charges and arrest Shank. She was now married to a man with whom she had two daughters, and a third was on the way. She would surrender to authorities just six weeks after giving birth to a daughter, Annalis.
When Shank was first sent away, Valdez legitimately felt as if a clerical error had been made.
"Like they didn't carry the one," the 39-year-old explained, "or made some mistake I'd be able to uncover on Google where I could say, 'Guys, look, she's not supposed to be here.'"
As he searched for a magical fix, he spent any extra money he had flying from New York to Michigan to spend time with his nieces. He didn't want his sister to miss any firsts, so he started filming them on home video. He wanted Shank to have more than just pictures to look at when she got out — he wanted her to hear her children's laughter, see their steps.
At the time, Valdez didn't know anything about filmmaking. He made his living as an assistant kindergarten teacher in Manhattan's West Village. But in his second year of teaching, he started talking about his affinity for cameras with a couple of his students' parents who were in the industry, Jamie Lustberg and Mark Benjamin. The husband-and-wife documentary team offered Valdez a side gig, helping them out on nights and weekends.
After a year of largely observational work, Lustberg told Valdez she saw potential in him and encouraged him to pursue the career further. Almost immediately, he went to the principal of his school and said he wouldn't be returning the following semester.
In the years that followed, Valdez worked every kind of job he could get. He was the camera operator on a TV series about people trying to escape polygamy. He was hired as the associate producer on an instructional DVD teaching young girls how to be a pop star like the Disney Channel's Hannah Montana. Last year, he served as cinematographer on a documentary about New York City's neo-burlesque scene.
All the while, he was still making trips to Michigan to film his family. He often shot Shank talking to her daughters during their 15-minute calls, which were divided into thirds for each girl. One night, Autumn, the eldest daughter, told her mom she was getting ready for a dance recital. Shank expressed disappointment that she'd be missing the event, but Autumn was calmly reassuring. After the recital, the girl told her mom, "I'm gonna lay down on my bed, I'm gonna close my eyes, and I'm gonna think about you."
I was in [prison] with my hands tied, thinking, 'People have to know what's really going on in here.'
— Cindy Shank
"That's when I became a filmmaker and this became a film," Valdez recalled of capturing the exchange. "Because I realized that there was an opportunity to tell a very special story — a story you don't always see, the other side of a sentence like this. ... The kids and the families that are suffering."
Balancing both his camerawork and his emotions would prove challenging. Often, his family members would start crying while he was talking to them about Shank, and he couldn't comfort them.
"I'd be filming my father crying, and my heart is feeling it but I'm also conscious of the ISO, whether I'm in focus, where the framing is, do I have enough time on my battery to finish the scene?" he said. "You know something is unfolding in front of you, so you hold the camera steady. But it took everything in my power to not put the camera down and hug him."
At first, Shank didn't realize how serious her brother was about the documentary — she was just grateful he was capturing her children on camera. But as the years progressed, she supported his larger mission: "I was in there with my hands tied, thinking, 'People have to know what's really going on in here," she said.
Shank spent most of her sentence in prison camps for nonviolent offenders where "maybe one or two guards watch 300 to 500 women," she said. She became an expert knitter and crocheter, sending her girls blankets and teddy bears whenever she could. She worked various jobs, learning to drive forklifts and eventually earning her commercial driver's license so she could get behind the wheel of a semi truck.
"I called Rudy and told him, 'I'm like Jackie from 'Roseanne'!'" she said with a laugh. "I did not see myself ever driving a big rig, but they offered it and I was gonna do anything I could to keep my mind just focused on something. My skin definitely got thicker. It was hard. I was always telling my family, 'I'm OK, I'm OK,' because above anything else: I'm gonna be OK. They might have right now, but they don't have my future.
"Granted, it wore on me, and the wait definitely took its toll on me. But it didn't take away the fact that I knew one day I was gonna be home and I was gonna get to my babies."
Because of the project, Shank spoke to her brother more than any of her four siblings or parents. She appealed to have her sentence changed three times — all were denied — and shared the details only with Valdez for fear of setting anyone else up for disappointment. Valdez continued to encourage Shank to apply for clemency, even though the odds weren't great. During President Obama's two terms, 33,149 inmates petitioned to have their sentences pardoned or commuted; 1,927 of those petitions were granted.
"I knew the odds were completely stacked against us, but they hadn't said no yet," said Valdez. "I wasn't going to say, 'Oh, that's too hard so I'm not gonna go for it.' I had to. I could never look her children in the face, or look her in the face —"
He choked back a sob and Shank's eyes filled with tears. She rubbed his back, repeating: "It's OK, brother. It's OK."
After a few moments, he finished his thought: "If I didn't give it my all."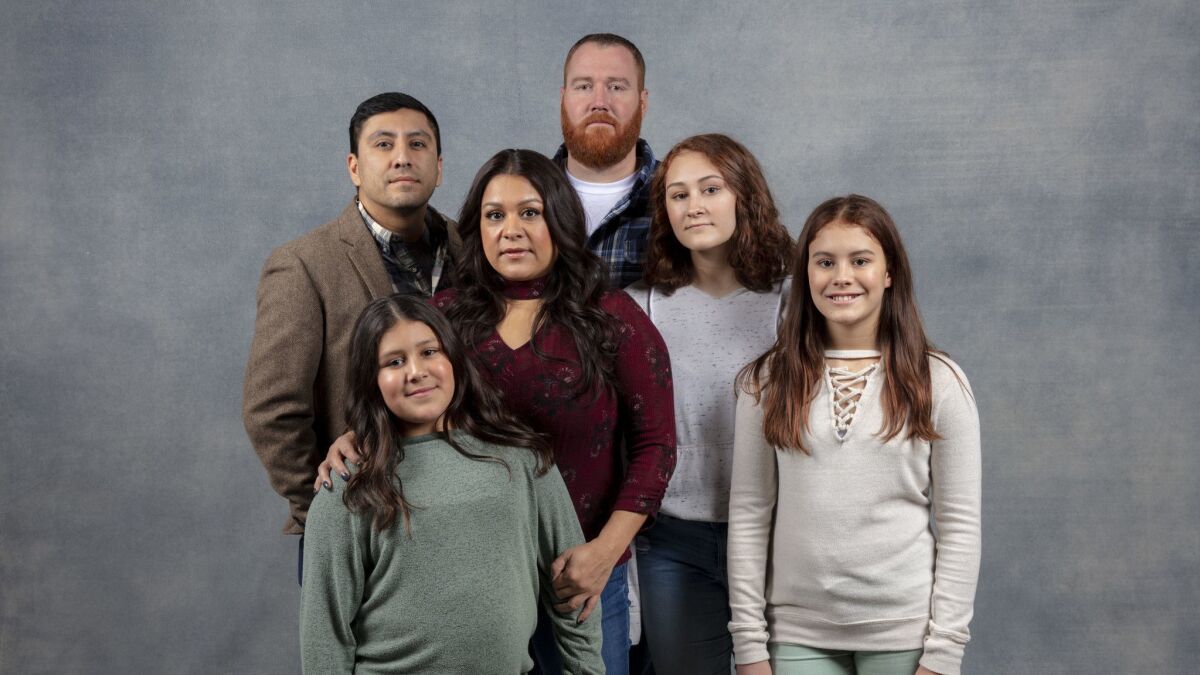 In March 2016, Valdez learned all of his effort had, miraculously, paid off: Obama named Shank as one of 1,600 inmates he planned to grant clemency before leaving office.
"When I got that call that Cindy was getting clemency, I kid you not — my shoulders and my back, it felt like somebody unwrenched them," he remembered. "I had been carrying around a decade of just worry and — I never, ever, ever want to say burden, because she was never a burden on me. But I worried about her, and I worried about her children, and that's what drove me. So when that call came, I felt like I was 3 inches taller. And I didn't even realize I was carrying that with me, but my shoulders straightened for the first time I felt in years."
He drove to pick up Shank just before Christmas, surprising his family with her early return just before the holiday — and capturing the emotional reunion on camera. Within a month of her return to Lansing, Mich., Shank landed a job doing administrative work at a car dealership, where she has since been promoted three times.
"I was always very upfront about everything, like, 'So, do you hire felons?'" she said, laughing. "'Here's my skill set, but I am a convicted felon. You can Google me! The president let me out, so he's got my back!'"
It shouldn't be about a single person. It's almost a band-aid for a larger problem. There are so many people just as deserving as Alice Johnson and my sister.
— Rudy Valdez, director of "The Sentence"
Meanwhile, she's relishing in the normalcy of being a working mom. She and her ex-husband live ten minutes from each other and share custody. She takes her daughters to soccer games, attends parent-teacher conferences, goes to choir concerts, packs brown-bag lunches.
"That's all the stuff I'm eating up right now," Shank said. "Every since I got back, the girls are like, 'Mommy!' They don't want to leave or get out of my bed. 'Rub my back, scratch my hair!' Autumn, she's 14, but the other two — forget it. They sleep with mommy."
Since Sundance, Valdez has been keeping busy with "The Sentence," which he recently screened on Capitol Hill with the support of Sen. Cory Booker (D-N.J.) and Sen. Mike Leigh (R-Utah). And people keep encouraging him to get the film in front of Kim Kardashian West, who in June successfully convinced President Trump to commute the life sentence of Alice Johnson, a first-time nonviolent drug offender.
"It's obviously amazing that she's choosing a platform, and Alice Johnson had been a poster child for clemency for a long time," Valdez said of West. "But it shouldn't be about a single person. It's almost a band-aid for a larger problem. There are so many people just as deserving as Alice Johnson and my sister. … And it's really disheartening that people have had a weird reaction to it being Kim Kardashian. I don't care who it is. It could be Count Chocula. Someone is using their platform for good: How can you possibly fault them?"
Beyond his political ambitions for the film, which he hopes helps move the needle on mandatory minimum sentencing, Valdez is slowly beginning to think about his next project. It's hard, though, after devoting a decade to something to personal.
"I've already come to terms with the fact that I won't have another 'Sentence,' and I'm happy about that," he said. "I have asked my sister if she's willing to go back to prison for a few years so I can have a sequel, but she won't. She's very selfish in that way."
'The Sentence'
Where: HBO
When: 8 p.m. Monday
Follow me on Twitter @AmyKinLA
---
Get our L.A. Goes Out newsletter, with the week's best events, to help you explore and experience our city.
You may occasionally receive promotional content from the Los Angeles Times.