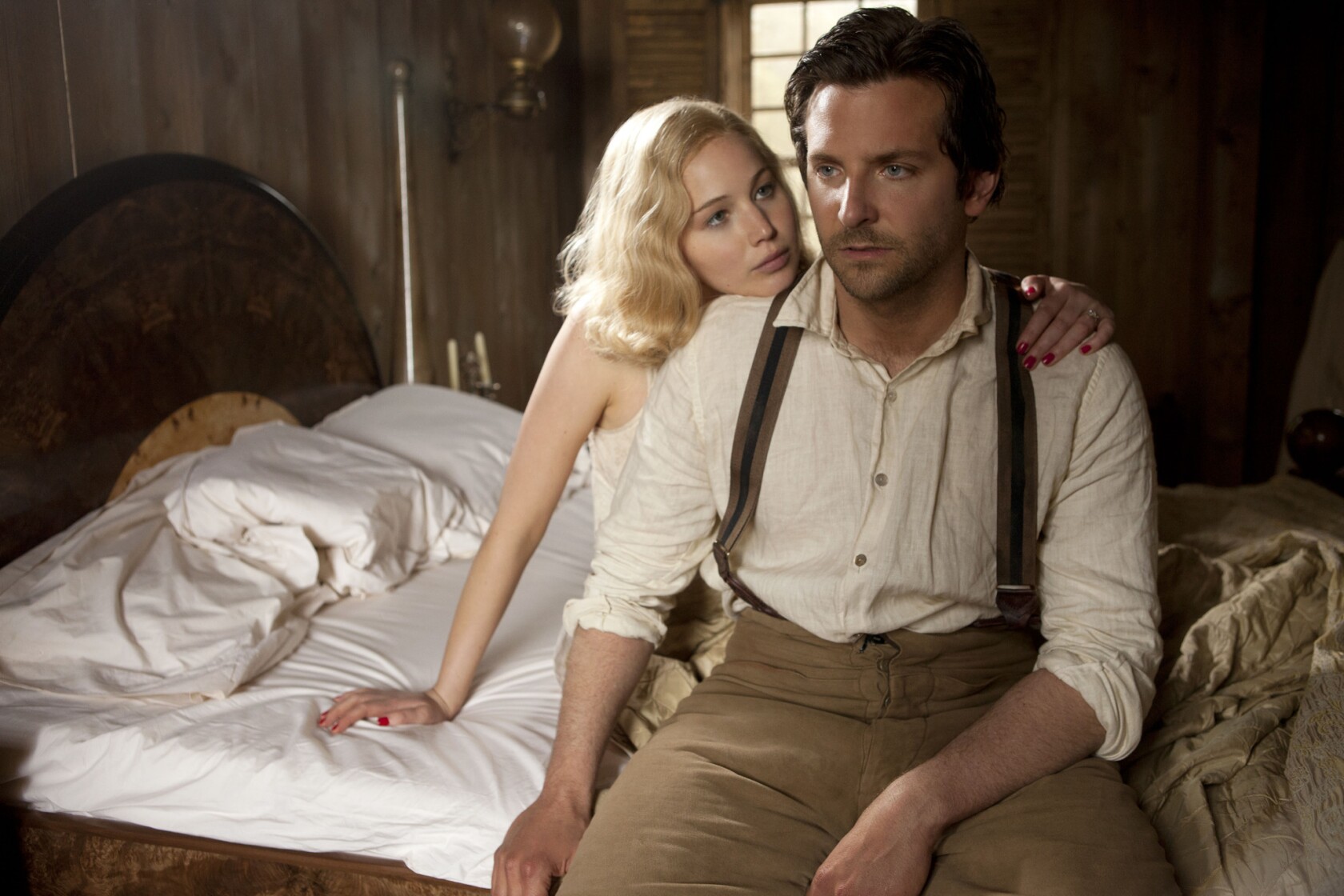 Jennifer Lawrence, left, and Bradley Cooper appear in a scene from "Serena."
(Larry D. Horricks / Magnolia Pictures)
Bradley Cooper appears in a scene from "Serena."
(Larry D. Horricks / Magnolia Pictures)
Jennifer Lawrence appears in a scene from "Serena."
(Larry D. Horricks / Magnolia Pictures)
Bradley Cooper appears in a scene from "Serena."
(Larry D. Horricks / Magnolia Pictures)
Jennifer Lawrence, left, and Bradley Cooper appear in a scene from "Serena."
(Larry D. Horricks / Magnolia Pictures)
Several months before Bradley Cooper and Jennifer Lawrence would become bona fide movie stars with the late-2012 release of "Silver Linings Playbook," they shot the Depression-era tale "Serena." However, unlike "Linings" and their third collaboration, 2013's acclaimed "American Hustle," the sandwiched-in "Serena" languished as a sort of misbegotten middle child. It's only now reaching domestic theaters following its video-on-demand premiere last month.
The film's unceremonious rollout belies a quite respectable, handsomely made drama that features a pair of solid star turns by Cooper and Lawrence. The performers are as beautiful to look at here as they are intriguing to watch.
Directed by Danish filmmaker Susanne Bier (2010's Oscar-winning "In a Better World") from a script by Christopher Kyle based on the 2008 novel by Ron Rash, the movie opens in North Carolina's Smoky Mountains in 1929. It's there that timber magnate George Pemberton (Cooper) meets and quickly marries the alluring Serena Shaw (Lawrence), a forthright blond with a dark past involving her Colorado logging family.
The story goes on to track George and Serena's deeply passionate, interdependent relationship, one that becomes marked by shady business dealings, personal tragedy, obsessive jealousy, an eerie prophecy and a rising body count. It's absorbing, well-played stuff until Serena's emotional baggage turns her into a kind of lethal Blanche DuBois and melodrama overtakes the film's muscular bearing.
Thanks to the film's fine production design and stirring cinematography, the Czech Republic proves a credible substitute here for the Tar Heel State.
------------
'Serena'
MPAA Rating: R for some violence and sexuality.
Running time: 1 hour, 49 minutes.
Playing: ArcLight Cinemas, Hollywood; the Landmark, West Los Angeles; Laemmle's Town Center 5, Encino; Laemmle's Playhouse 7, Pasadena. Also on VOD.
---