Shirley MacLaine talks about Oscars, Robert Osborne and her new film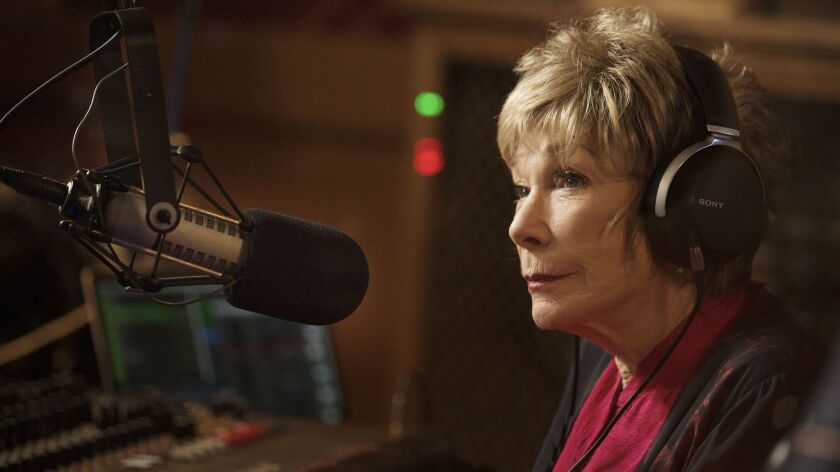 Shirley MacLaine is on a roll. She became a trending topic on Twitter and Facebook when she appeared at last month's Oscars with Charlize Theron. Earlier this year, she received the Los Angeles Film Critics Assn. Career Achievement Award and this month was honored at the Texas Film Awards in Austin with a Lifetime Achievement Award.
She's also been earning rave reviews for "The Last Word," an indie drama going into wider release on Friday, playing Harriet, a controlling retired businesswoman who decides she wants to control what is written about her in her obituary. So she enlists the paper's young obit writer (Amanda Seyfried) to write her life story.
MacLaine, 82, made her film debut in Alfred Hitchcock's 1955 "The Trouble With Harry" and earned acting Oscar nominations for 1958's "Some Came Running"; Billy Wilder's 1960 "The Apartment" and 1963's "Irma la Douce"; and 1977's "The Turning Point." She won the best actress Oscar in James L. Brooks' 1983 "Terms of Endearment."
Chatty as ever, MacLaine recently spoke over the phone about the Oscars, her new film and the loss of her friend Robert Osborne.
One of the best moments at the Academy Awards was when Charlize Theron said your performance in "The Apartment" was her inspiration and the two of you came out to a rousing ovation to present the foreign film award. Did you know Theron before that evening?
We've been friends. I've known her for years and years. I never knew I was her inspiration. They gave her three choices — who were the three people that you were most influenced by and she said I only have one. To have her choose me was ever so thrilling, obviously.
You looked fabulous.
Nobody looked but I was not wearing heels. I was wearing espadrilles. I got the clothes out of my closet. I don't know. I've always been good at matching black sequins.
How did you get the role of Fran in "The Apartment"? Did Wilder see you in a certain film?
He saw "Some Came Running." He didn't have a script.
Really?
We started with 29 pages.
With a career that spans over five decades, Shirley MacLaine's accolades and films are far too numerous to list. She has seemingly done it all, and this is a small taste of her career.
(Ricardo DeAratanha / Los Angeles Times)
Frank Sinatra and Shirley MacLaine in "Some Came Running." The 1958 film earned MacLaine her first Academy Award nomination.
(UCLA Film & Television Archive)
Jack Kruschen, Shirley Maclaine and Jack Lemmon in a scene from the 1960 movie "The Apartment."
(Unknown)
In "Some Came Running," MacLaine starred with Frank Sinatra. The film, co-starring Dean Martin, helped boost MacLaine into Sinatra's famous Rat Pack. Though never "official," MacLaine also appeared in a cameo as a drunken woman in "Ocean's Eleven," which to some, legitimized her membership.
(Courtesy of Atlovise Gore Davis)
Shirley MacLaine embraces her brother, Warren Beatty, at the 1966 Oscars ceremony.
(Los Angeles Times)
The Begum Aga Khan, left, with Shirley MacLaine at Villa Yakimour in Cannes, France, on May 12, 1967.
(Wherle / Associated Press)
Shirley MacLaine feeds cake to her "Can-Can" costar Maurice Chevalier.
(Los Angeles Times)
The multiple Tony award-winning Broadway musical was adapted into a 1969 film that starred Shirley MacLaine, center, along with Chita Rivera, left, and Paula Kelly. The film was directed and choreographed by Bob Fosse.
(TCM)
Shirley MacLaine co-starred with Clint Eastwood in 1970's "Two Mules for Sister Sara."
(File Photo / Universal Pictures)
Shirley MacLaine and Anne Bancroft in the 1977 film "The Turning Point."
(Los Angeles Times)
MacLaine finally got over the Oscar hump in 1983 when she won lead actress for "Terms of Endearment" playing Aurora Greenway, a mother who despite feuding with her terminally ill daughter Emma (Debra Winger), takes care of her.
(Handout / Los Angeles Times)
Shirley MacLaine, with her lead actress Academy Award for "Terms of Endearment" in 1984. Celebrating with her is Robert Duvall, who won for his performance in "Tender Mercies."
(Con Keyes / Los Angeles Times)
In 1989, MacLaine appeared alongside Julia Roberts in "Steel Magnolias." The film, set in Louisiana, illustrated the bond between women in a small town and also starred Dolly Parton, Olympia Dukakis, Sally Field and Daryl Hannah.
(TV Times)
Long before MacLaine portrayed a fictional former first lady in 1994's "Guarding Tess," she made an impact on the Hollywood political landscape. In 1970, MacLaine sued 20th Century-Fox for payment on a cancelled film, resulting in studios changing the way they dealt contractually with actors.
(Kerry Hayes / TriStar Pictures)
Shirley MacLaine wins the Cecil B. DeMille Award at the Golden Globes on Jan. 18, 1998.
(Ken Hively / Los Angeles Times)
Debbie Reynolds, front row from left, Joan Collins and Shirley MacLaine star in the 2001 TV movie "These Old Broads," which also featured Elizabeth Taylor.
(Ron Tom / ABC)
Nicole Kidman, left, and Shirley MacLaine star in the 2005 romantic comedy movie "Bewitched."
(John Bramley / Columbia Pictures)
Shirley MacLaine took on the role of French fashion designer Coco Chanel in a 2008 Lifetime movie called, fittingly, "Coco Chanel." Her portrayal of the cold couture maven earned her Golden Globe, SAG and Emmy nominations.
(Lifetime Television)
Shirley MacLaine and Hector Elizondo were one of the many couples in 2010's star-studded "Valentine's Day."
(Warner Bros.)
Shirley MacLaine as Marjorie Nugent and Jack Black as Bernie Tiede in the 2011 movie "Bernie."
(Deana Newcomb / Millennium Entertainment)
MacLaine's stage and screen accomplishments are many, and just as well-known are her autobiographical, self-help and spirituality publications. She's written or co-written more than 10 books covering many personal and spiritual journeys. "I'm Over All That" was released in 2011.
(Simon & Schuster)
In 2012, Shirley MacLaine was awarded the American Film Institute's highest honor: the 40th Life Achievement Award. MacLaine's younger brother, Warren Beatty, received the AFI honor in 2008. At left is Beatty's wife, actress Annette Bening.
(Frazer Harrison / Getty Images)
Kennedy Center honoree Shirley MacLaine, left, applauds during the ceremony in Washington, D.C., in 2013. With her are fellow honoree Carlos Santana, First Lady Michelle Obama and President Obama.
(Saul Loeb / AFP/Getty Images)
Shirley MacLaine guest starred as June Dolloway on the TV series "Glee" in 2014. Here, she is pictured with Darren Criss who plays Blaine.
(Tyler Golden / Fox)
From left, Amanda Seyfried as Anne Sherman, Shirley MacLaine as Harriet Lauler and Ann'Jewel Lee as Brenda in the 2017 film "The Last Word."
(Beth Dubber / Bleecker Street)
Did he just begin to flesh it out once Wilder saw you and Jack Lemmon in action?
Yeah, he watched me and he watched my life and he watched Jack and me together. I was involved with Frank Sinatra and Dean Martin, learning how to play gin rummy with the mob. That why he put those [card] scenes in.
Speaking of the Oscars, what did you think when your brother Warren Beatty and Faye Dunaway were given the wrong envelope and ended up presenting the best picture Oscar to "La La Land" when ….
Please don't ask me. I don't want to answer. I don't want to even think about it.
You must be thrilled with the strong reviews you have received for your performance in "The Last Word."
Well, let's see how it does because what I want to do now is devote my life to concentrating on roles for older women that can help this culture become more equal not only in gender but in age. That demographic of our society so often is forgotten on screen unless it's somebody with a really sad problem or somebody with very comical Alzheimer's. I hope it does well because that would influence the financing of the other scripts I've got.
You were friends with the late Robert Osborne, the beloved TCM host and film historian. What will you miss about him?
Oh my God. So many memories flood through my mind. I knew him for years. He was one of the first people who interviewed me. He loved all of us guys, you know. He just loved all the actors. What went with him was a golden history we are all a part of.
---
Inside the business of entertainment
The Wide Shot brings you news, analysis and insights on everything from streaming wars to production — and what it all means for the future.
You may occasionally receive promotional content from the Los Angeles Times.